Focusing on the customer
07/09/2017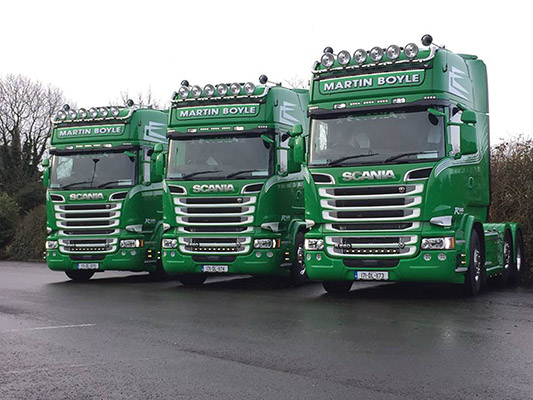 Providing a quality service and ensuring the needs of the customer are met are two attributes needed to be successful in any business.
And this is even more the case in the haulage industry, which has been proven to be one of the most competitive sectors to be involved in.
Experience is key in such a volatile market where overheads cut into rates like a knife into butter and one of the north-west's leading transport firms is Martin Boyle Haulage Ltd.
Based in Bunbeg, Letterkenny, Co Donegal, the company has over 35 years'experience in the industry and provide an exceptional service throughout Ireland and the UK.
Focusing on the needs of its customers and developing cost-effective solutions to meet those needs has seen Martin Boyle Haulage Ltd build a large customer base as they specialise in groupage with daily runs in Ireland and the UK.
Recently, the fleet was upgraded with the addition of three new Scania R580 Toplines from McElvaney Motors, which have been sprayed to the company colours of green and white.
"Business is going well enough at the moment,"said Martin. "We started here in 1982 and we have managed to come through a couple of recessions during that time, so we must be doing something right.
"All our work is in groupage, with Largo Foods in Ashbourne and RAP in Derrybeg two of our bigger customers. We might do 20-25 loads to the UK every week while we are in Dublin on a daily basis."
To help carry out the daily duties, Martin has 22 employees, all of who have great experience in their respective roles.
"We have a team of professionals with decades of experience within the transport industry. Many of the drivers have been with us for years and it is important to have drivers that you can trust and you know will do the job to the best of their capabilities.
"The loyalty of our drivers is another thing that we are extremely grateful for. Without them, and the respect they show our customers, the company would be nothing."
Martin added that investing in the business was essential if they are to maintain the standards that they have set themselves down through the years.
"Continued investment in the latest equipment and technology helps ensure total customer service satisfaction.
"Our services consist of dry goods haulage throughout the whole of Ireland and mainland UK. Our very distinctive green and white trucks are a regular sight on UK motorway network."
By choosing Martin Boyle Haulage Ltd, you have selected a progressive company that is committed to the safe and timely movement of your goods. You can rest assured that they are committed to understanding the individual needs of their customers.
"If we commit to a job, it gets done. I'd be confident that all our existing customers would vouch for that. We never let anyone down and all of our drivers are highly trained. We have a number of clients on the books at the minute who we work with on a continuous basis.
For Martin, it's all about attention to detail. They care about their customers and their focus is on providing a first class service for all their clients no matter how big or small.
"No matter what size of a job we have on, it will be done to the highest standard possible to ensure customer satisfaction."
As stated the haulage industry is a sector that has many overheads, but Martin stated that one outweighs the rest.
"Insurance costs have gone through the roof in the last few years. In 2015 our insurance cost trebled compared to the previous year. Last year we reduced it by 30% but that was only after shopping around a good bit.
"Insurance companies don't respect businesses like ourselves, they are just out to make money and they don't care whose expense it comes at. All we're trying to do is make a living and when you have overheads like that it makes it very difficult to do so."
The family run business has kept on trucking over the years and Martin feels that if they continue to operate to the standards that their customers are accustomed too then they will be around for a long time yet.
"We're happy enough with the direction of the business and I do think if we keep going the way we are then we will be ok. We have a good customer base and once they are happy, then so are we. I would just like to see the insurance rates come down, that would make a big difference."
Martin Boyle Haulage Ltd
Upper Dore,
Bunbeg,
Letterkenny,
Co. Donegal
Telephone: +353 (0)74 953 1711
Email: [email protected]
Taken from Irish Trucker & Light Commercials magazine, Vol 20 No 3, May 2017