Walker Vehicle Rentals are true specialists
05/09/2017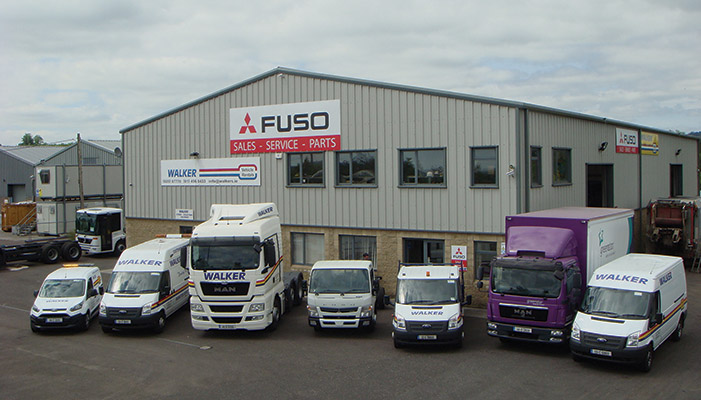 Vehicle hire has become more and more popular in recent years as business owners can see the benefits of hiring a vehicle instead of buying it.
Contracts are tailored to meet the customers'needs whether it be long or short term hire and this takes away the hassle of buying a vehicle and ensuring that it is maintained and roadworthy.
You pay for a service that is uninterrupted and has a fixed security in the fact that any issues are dealt with by the rental company and not by you. One of Ireland's leading vehicle rental specialists is a nationwide firm called Walker Vehicle Rentals who aside from their headquarters and a depot in Dublin, they also have depots in Cork, Wexford and Limerick.
Established in 1991, the company grew quickly and the amount of vehicles grew accordingly as they cater for the food, medical, haulage and logistics industries, to name just a few. Three years ago in March, the company opened its newest depot in Crossagalla Industrial Estate, Ballysimon Road, Limerick and Sales Manager Michael Kennedy tells us how the business has been going. Walker Vehicle Rentals cover a wide range of services that include vehicle rental, contract hire, fleet management, road sweeping and specialised vehicles.
"We would have between 50 and 60 vehicles for hire at any time,"said Michael. "There are ten people employed in the Limerick branch with the Depot being managed by Pat Barrett. Our customer base has increased considerably since we first opened and Walker's reputation for offering an efficient, reliable and competitive service is known throughout the country.
"Our Mobile Workshops are professionally fitted out to a very high standard and carry a broad range of general spares as well as specific parts unique to our fleet. Each of our mobile Service Units also carries diagnostic equipment that is multi-disciplined with a variety of programmes for both chassis and body."
Michael revealed that all the depots interact with each other to help ensure the customer gets what they are looking for.
"There are over 800 vehicles nationwide, so if a customer comes in looking for something that we might not have here, then we can get it in from one of the other depots."
In the van range of vehicles for hire, Walkers can supply up to 3.5 ton panel vans, low standard and high roof, Box vans, standard and Luton . Tail lift option, LWB Fridge Vans, Standard cab & crew cab 3 way tippers,
Trucks are rented in the following sizes: Box bodies 16ft –28ft Dry Boxes & Curtain Side trucks; Fridge Bodies 16ft –18ft; Tippers 7.5 ton –18 ton with grabs;
Tractor units come in 4 x 2 & 6 x 2 with and without tipping gear, A wide range of trailers including Box with tail lift, curtain side and draw bar to suit a range of distribution and municipal requirements are available.
Skip loaders from 12 –18 ton with telescopic equipment are also part of the vehicle portfolio.Hookloaders are 14·32 ton with/without sheeting systems and draw bar couplings, Rear-end loaders can be hired and they come in 6 x 4's with trade lifts, 8 x 4's with skip arms and trade lifts, while there are a selection with AMCS weighing & ID systems. There are also a range of refuse collection vehicles and road sweepers available.
"We can offer Vehicle Rental for short and long term hire, with daily, weekly & monthly rates available on our range of vehicles. Delivery and collection along with a 24-hour contact number are available nationwide. Our commitment to quality is our commitment to our customer."
Walker Vehicle Rentals are also main agents and sole distributors for some of Europe's largest municipal equipment manufacturers including Scarab Sweepers, Faun Municipal Equipment, Applied Sweepers, Fuller Tankers, Hyva Hooklifts and Skiploaders. The LGV part of the fleet is mainly Ford and Mitsubishi, while the HGV's consist of MAN, Mercedes and Scania. By engaging in all aspects of fleet management including contract hire, rentals, maintenance, repairs, sales and recovery, the company has the maximum control of all its fleet, which ensures a dedicated first class service all of the time.
"We have the management and resources to be able to expand in a competitive environment and to capatilise on opportunities within the market as they occur."
All vehicles come at competitive rates, while insurance costs are covered by the hirer's comprehensive insurance.
"Every aspect of vehicle hire is covered by us and if a customer has any issues or queries, they should just give us a call or drop in to us and our experienced staff will be on hand to help."

Walker Vehicle Rentals
Unit H,
Crossagalla Industrial Estate,
Ballysimon Road,
Limerick V94 TWA
Tel: +353 61 603022
Fax: +353 61 603012
Taken from Irish Trucker & Light Commercials magazine, Vol 20 No 3, May 2017