A one-stop shop for all vehicle repairs
01/09/2017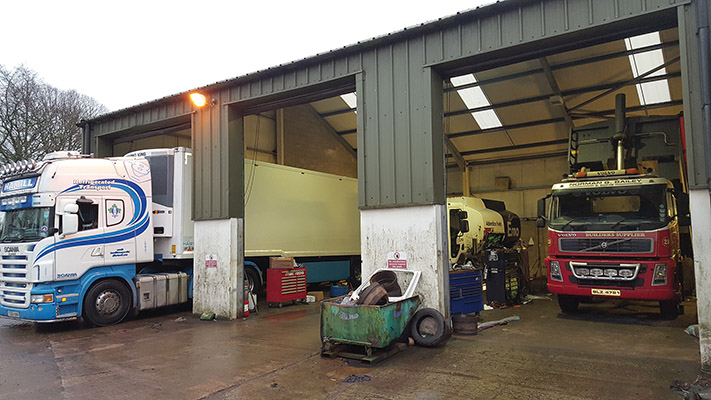 Located on the main road between Lurgan and Banbridge (A26), Waringstown Service Centre provides exceptional car and commercial vehicle maintenance and repairs services to motorists and operators across counties Armagh, Down and beyond. We dropped into their busy workshop in the picturesque village of Waringstown and met founder / proprietor Richard Dewart to get the inside line on this exceptional operation.
It would be fair to say that Waringstown Service Centre is a hive of activity. Within a relatively short period of time, Richard Dewart's brainchild has established itself as one of Ulster's premier car and commercial vehicle service and repair centres, providing a complete range of services to keep vehicles on the road and motorists happy.
Here, commercial vehicles are no mere afterthought. Rather, they represent a vital component of the overall business model (accounting for up to 80% of trade) and the fact that the founder comes from a haulage background himself means he understands implicitly the needs and requirements of operators and fleet owners.
Reflecting on the genesis of the enterprise, the amiable Armagh man notes: "I started the business up in 2013. We had our own transport company prior to that and initially set up the purpose-built workshop in 2010 to look after our own vehicles. We decided to get out of haulage because it wasn't working out for us and opened the workshop to the public, catering for all cars, vans and heavy commercial vehicles. It caught on quickly and within a short space of time we had a lot of customers."
Of course, this didn't just happen by chance. Only by providing exceptional service levels did Waringstown Service Centre become the go-to car and commercial vehicle workshop in the greater Armagh / Down region, covering a vast catchment area between Dromore and Armagh city, offering an exhaustive list of services including servicing, pre- MOT and PSV tests, vehicle checks and safety inspections, refurbs, repairs, breakdown recovery, etc. They also have a large commercial wash facility for washing all kinds of commercials vehicles.
The modern workshop features three bays for commercial vehicles and two for cars, with the best mechanics and technicians on hand to provide optimal solutions using the latest tools and diagnostic equipment. Workshop foreman Philip McNeice is backed up by three full-time diesel mechanics and Waringstown Service Centre handles a large volume of commercial vehicle maintenance work catering for medium-sized fleets of up to 14 vehicles.
On call 24/7, Waringstown Service Centre boasts a wealth of experience and expertise in working with all types of trucks and trailers from 3.5 tonnes up to 44 tonnes. When it comes to delivering customer satisfaction, Waringstown Service Centre's track record is exemplary and their customer service levels are second to none. But how difficult is it to tick all the boxes and provide solutions that are affordable, fast and professional?
"You have to find that balance. We focus a lot of our attention on preventative maintenance. If you can get the vehicle fixed beforehand then you shouldn't have any problems or have any vehicles off the road. Obviously, it's all about preventing downtime because the last thing any haulier wants is to have his truck off the road unnecessarily. By taking a lorry off the road for as little as one hour every eight weeks, owners can address and eliminate the small things that could potentially turn into big things."
Regarding the days when he was running lorries rather than fixing them, Richard explains: "It's very competitive. We just found that there were so many hauliers locally and throughout Ireland that we couldn't make it work. In getting out of it, that moved this business on to a different level. And naturally, having been in haulage ourselves, we'd understand the needs of people with fleets and the importance of getting them back on the road. Quick turnaround times are crucial.
"I live across the road from the yard myself and I'm available around the clock. People know they can give me a call anytime and I'll be only too happy to help them out in any way I can."
Richard has already invested heavily in the business and he intends to continue to do so going forward. "All going well, I'm hoping to put in a full MOT bay with brake rolling and plating for both cars and commercials. We can do literally everything here at the minute except test the efficiency of brakes and this investment would enable us to provide that service as well.
"We have been very lucky so far to have a steady flow of customers coming in and hopefully that will continue. We don't advertise at all. It's usually through word of mouth and repeat business that we get our work, which is encouraging."
Just over three years on from its inception, Waringstown Service Centre already looks like a resounding success story. "So far, so good,"Richard concludes.
Waringstown Service Centre,
Moss Road, Waringstown, Craigavon,
County Armagh.
Tel: 028 38881261
Fax: 028 38881453
Mobile: 077 6765 6619
Facebook: www.facebook.com/Waringstown-Service-Centre
Taken from Irish Trucker & Light Commercials magazine, Vol 20 No 2, March/April 2017