"You have to be prepared to do jobs that come your way"
19/08/2017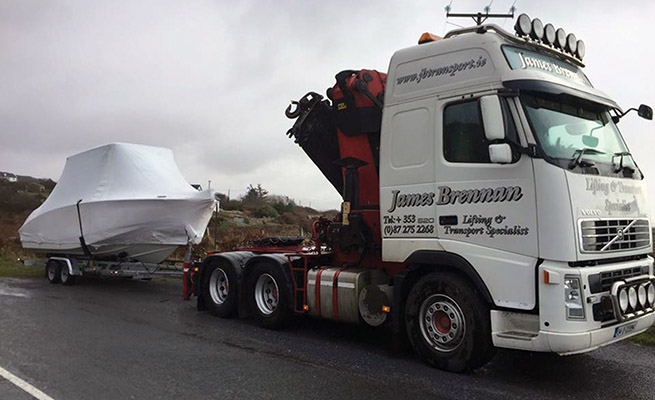 Despite running a one-man operation, James Brennan Transport boasts extensive local, national and international experience. Speaking to Irish Trucker, owner/operator James Brennan highlights what separates the service he provides from that of his competitors.
A specialist Hiab haulage company established in 1997, James Brennan Transport has developed a reputation for quality and service which is the envy of many of its competitors.
Conveniently located in North Co Dublin, the business is situated close to the main ports and motorway network making owner James Brennan available to service anywhere in Ireland, UK and Europe.
James followed in his father Jim's footsteps into the haulage business and he has built up a wealth of experience in specialist haulage and crane hire.
"I come from a family that has always been involved in the haulage industry in one way or another,"James revealed. "My father Jim has been involved in haulage all his life, he ran his own sand and gravel transport and general haulage business.
"So I grew up in it and in 1997, after working with a local company, I decided to go out on my own. Being a one man operation has its advantage in that I worked throughout the recession. It didn't really affect me because I only had myself to look after. Two jobs a day would keep me busy."
An expert in lifting and moving abnormal loads, James has seen a substantial increase in demand for his services in recent times and his client list includes the likes of Irish Rail, BJ Marine, Biocyle and Swords Traffic Management Company.
He provides a lifting and transport service for clients who need goods transported quickly, safely and on time to any destination. He caters for companies and individuals who need quality service at all times.
"A lot of our work is repeat business from clients who have experienced our services throughout the years. I pride myself on giving a good reliable service at all times, with me there's only one point of contact.
"I class myself as reliable and extremely competitive. Your rates have to be reasonable because you can't rip people off nowadays. They won't come back and will just go elsewere. There are challenges, like the cost of overheads and getting paid on time, but I'd be optimistic about the future."
Experienced in the lifting and movement of any type of load, usually a survey will take place prior to loading to determine the safest route and way of loading. James provide his own escort vehicle and all permits required for the job.
With his crane equipped vehicles, he can transport containers and cabins, boats etc throughout Ireland and the UK. His long reach Hiab's are ideal for this work as some sites are very confined and have restricted access. He also has new and used containers for sale and also has a 4000 sq ft warehouse for storage.
He is also an approved transport provider to the rail industry and has ongoing contracts with Irish Rail to move their rail parts and equipment throughout Ireland and the UK.
His extendable trailer can transport 18m lengths of rail and he is constantly transporting these to various locations throughout the country. His Hiabs are in demand for the movement of rail bogies to different maintenance locations and are also used for emergency trackside deliveries.
James Brennan Transport's vehicles are ideally suited for the transportation and installation of signage, steel structure assembling, delicate lifting and positioning of precious items etc.
At present his services are being used by JCDecaux for the installation and maintenance of their various advertising systems throughout Dublin City. He is also providing his services for the installation of equipment for Dublin Bikes Scheme.
His Boat Transport service takes his vehicles all over Ireland, UK and Europe. James can lift, transport and launch your boat anywhere while his Hiabs are also called upon to erect and transport masts.
"I specialise in boats up to 42 foot and also provide a towing service for boats that come on their own trailers."
Transporting boats takes me to places like France, Spain, Portugal and Switzerland. If a job comes in, I'll look at it and price accordingly. Distance is no object and you have to be prepared to do the jobs that come your way."
For a one man outfit, James Brennan Haulage's versatility knows no bounds. Feel free to contact James at the number below with any queries.
James Brennan Transport
Thomondtown
Ballyboughal
Co Dublin
Tel: 087 2752268
Email: [email protected]"[email protected]
Website: www.jbtransport.ie
Taken from Irish Trucker & Light Commercials magazine, Vol 20 No 2, March/April 2017