Quality starts with One Stop parts
15/08/2017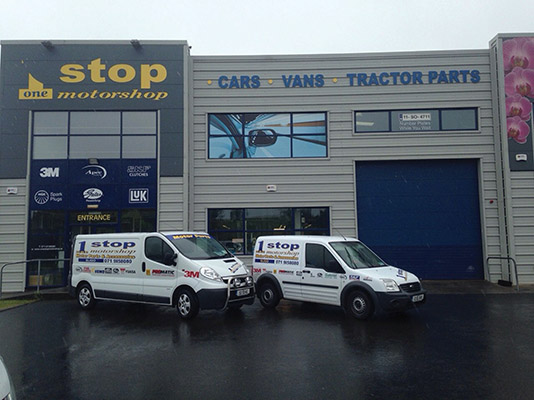 One Stop Motor Shop Ltd., Letterkenny and Sligo, came up trumps at the 2017 Irish Auto Trade Awards when scooping the Connacht / Ulster regional Motor Factor of the Year accolade. We touched base with founder / proprietor Charlie Doherty to find out more about this outstanding family business –the leading vehicle parts supplier in the North West.
For almost two decades, One Stop Motor Shop has been providing customers throughout the North West with an unrivalled motor parts service built on proven cornerstones of quality, service and value. With a fleet of nine vans on the road on a daily basis, a vast range of superb parts is delivered from the company's well-appointed bases in Letterkenny, County Donegal and Carraroe, County Sligo.
The main depot in Letterkenny was initially opened on the Port Road in 1998 and has since relocated to a spacious 6,000 square metre facility at Dry Arch Business Park. In 2011, a second outlet was opened in Old Dublin Road Business Park, Carraroe, enabling founder Charlie Doherty and his team to provide an even better service to a wider range of clients.
With more than 200,000 spare parts –at a conservative estimate! - featured in the fully-computerised warehouse stock, backed by a network of wholesale suppliers that can deliver orders within 24 hours, One Stop Motor Shop is quite literally the one stop shop for all car and van part needs, including ply lining for commercial vehicles and the distribution of selected product ranges into the trade in the vital spare parts industry.
The very best, manufacturer-approved car, van and tractor parts from all the major manufacturers are sourced worldwide and delivered across the North West –and increasingly beyond –five days per week. The outstanding quality of the products and service provided saw One Stop Motor Shop deservedly honoured as the region's motor factors of choice at the 2017 Irish Auto Trade Awards –an accolade which co-owner Charlie Doherty was only too pleased to accept:
"It was a big achievement for us and it was an especially positive reflection on the guys and girls who work here,"he notes. "It's their prize because they are the ones who are at the coalface every day representing the business and looking after our customers. A lot of them have been with us for a long time –some of them since the very beginning - and that continuity is important in ensuring that we provide the best possible level of customer service."
Gainful employment is currently generated for a team of 25 between the two branches, all of them qualified, experienced, knowledgeable and personable,
"Things are going really well,"confirms Charlie, who established the business some 19 years ago alongside his wife, Rosemary, and son, Cathal. "There's something to do every day, so we can't complain. We've been expanding our customer base and we've been taking on more and more nationwide work so things are definitely moving in the right direction."
Members of the FG7 Motor Factors Group –a coalition representing the leading powers in Northern Ireland's (and Donegal's) motor factor sector, with a 30,000 square foot warehouse in Cookstown, County Tyrone –One Stop Motor Shop are currently forging new deals and partnerships whilst making new contacts in the industry to guarantee their customers the best possible range of parts at the keenest prices.
"There's always a bigger and better range and we've introduced a lot of new lines in the past few years, especially,"continues Charlie, who is in the process of opening a second warehouse in Sligo to complement the existing one in Letterkenny. "We are a direct supplier for Rowe Oil, Vasco Filters, Japanparts, QuickJack 12v portable scissor jacks which are imported from the USA and unique to Ireland, Victor Reinz gaskets, Suplex coil springs, etc."
Every day is a busy one at One Stop Motor Shop, which is a veritable hive of activity delivering exceptional products and levels of customer service on a daily basis. They deliver parts, tools and accessories to all areas from Malin Head in Donegal to Swinford in Mayo twice a day, five days a week, servicing a growing number of body shops, hire companies, trade and DIY enthusiasts, valeting shops, garages and private individuals.
Parts are sourced globally. "We import jacks from the USA, oils from Germany, filters from Poland and parts from Italy, Singapore etc. –wherever we can get the best products at the best price, that meet manufacturers'specifications,"adds Charlie.
On the commercial vehicle front, One Stop Motor Shop specialise in ply lining for vans and other commercial vehicles. Ply lining protects commercial vehicles by improving their resale value. Ply lining systems offered include van lining panels and vehicle flooring systems. Ply lining kits are stocked for all popular vehicles and fitted in a purpose-built lining workshop.
A standard ply lining kit comprise 9mm floor, 6mm sides, 9mm wheel boxes, 6mm door panels (where appropriate), integrated cosmetic metal door strips and all kits are silicone sealed. "On the commercial end, which is a very important part of the business, we also supply a lot of paints, valeting products and oils to truck and bus companies,"concludes Charlie, who is confident that his extremely popular, award-winning family business –constantly evolving and moving with the times to ensure optimal customer satisfaction - will continue to go from strength to strength in the years and decades to come.
One Stop Motor Shop,
Roe House,
Dry Arch Business Park,
Drumore,
Letterkenny,
County Donegal.
Tel: 074 9128522 (Letterkenny) / 9158080 (Sligo)
Taken from Irish Trucker & Light Commercials magazine, Vol 20 No 2, March/April 2017