Happy 40th birthday to Kelcro Transport!
11/08/2017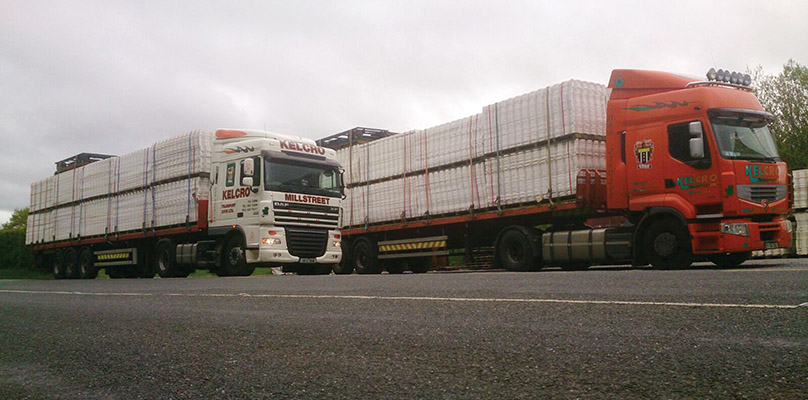 Kelcro Transport is a family run general haulage business based in Millstreet, Co Cork. In August of this year they will celebrate the noteworthy milestone of 40 years in business. Having survived the test of time, Transport Manager Shane Kelleher told Irish Trucker that they are bracing the future with optimism.
Kelcro Transport offer tailor made transport solutions for all kinds of local companies and being a family run company they have that 'can do' approach.
As a result they have built up good relations with big and small companies throughout Ireland. With regular contracts from loyal customers, they pride themselves on the consistent and reliable service they provide.
"We do one of jobs every now and again but 95% of our business would be from repeat customers,"revealed Shane. "I suppose one that that all of our customers say to us that that we are very reliable. Basically, they know they can bank on us."
Shane's father Donny Kelleher established the company in August, 1977 along with Sean Cronin - hence the name Kelcro!
The company started out life as a one truck operation and used to draw milk, powder, cheese and butter up to Dublin and Cork for Kerry Co-Op.
Fast forward 40 years and operating a modern 10 strong fleet of vehicles from a range of quality truck manufacturers such as DAF, Mercedes, Iveco and Renault, the team at Kelcro are committed to providing their customers with the highest level of service possible.
They have 12 enthusiastic and professional employees (nine drivers) on their weekly payroll and their valued clients lists includes the likes of Laois, Glenmorgan and Coolrain Sawmills.
Rola-Trac of Newmarket, Co Cork - which supplies floor rental, portable floors, safety flooring, concert flooring, temporary flooring, exhibit flooring and ground protection - also avail of Kelcro's services on a regular basis.
A mutually beneficial arrangement with Mid-Cork Pallets, meanwhile, accounts for 60% of Kelcro's business.
Founded a year after Kelcro in 1978, the Clondrohid-based Mid-Cork Pallets & Packaging is Ireland's largest and most comprehensive manufacturer of pallets, crates and boxes.
Licensed Euro-Pallet manufacturers, they also supply a wide range of packaging products, such as, corrugated cartons, single, plastic and aluminium pallets and containers and pallet collars.
"We're a general haulage company and a lot of our work is based around hauling pallets and timber,"Shane –who joined the company four years ago –explained.
"We transport concert flooring for all the big gigs in Croke Park for Liam Allen of Rola-Trac and steel and air conditioning units for Mark Eire. We also haul stone for N&C Enterprises."
Backboned by four decades of experience, Kelcro offer a quick response to their customer needs while they are a company that understands the need for continuous improvement.
Looking ahead to the future, Shane & Co have ambitious plans to build on the solid foundations that have been laid since the very beginning but, for now, it's very much a case of steady as you go. Having lived to tell the tale of the economic recession, they are proceeding with caution at this point in time.
"Business is good at the moment"he observed. "We have plans to expand but they depend on business continuing to stay strong. I am optimistic about the future."
From their depot yard and office in Millstreet, Kelcro Transport aims not only to serve their customers with commitment and professionalism but also to conduct their business so that they always come up to the standards that their customers have come to expect of them.
A well-established family business with a proud history of transporting goods, they have competitive rates, dedicated customer service and a superb record of meeting their customers' requirements.
Let Kelcro Transport take care of your general haulage and distribution while you concentrate on your core business.
Give Shane a call at the number below to find out more.
Kelcro Transport
Dromnahilla
Millstreet
Co. Cork
Tel: (029) 70296
Mob: (087) 7730837
Taken from Irish Trucker & Light Commercials magazine, Vol 20 No 2, March/April 2017