Driving School Serving Dundalk and theNorth East
09/08/2017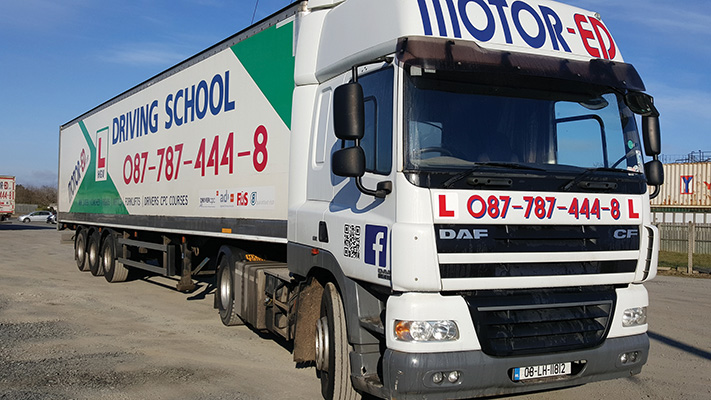 It was while working as a driver with Bus Eireann that Martin McLoughlin had the idea of setting up a Driver School. Ten years down the line and Motor-Ed Driving School Ltd of Dundalk, Co Louth boasts a reputation which few of its competitors can equal.
Back in 2011, Monaghan native Phelim McQuaid joined forces with Martin and their combined experience behind the wheel is the cornerstone on which the continued success of the business is built.
Motor-Ed is the only driving School in the North East who can take you through all your licences Motorbikes (IBT), Car (EDT), Trucks or Coach including all your continuous Training for Driver CPC.
Your goal is Learning to Drive or Passing your Test, their goal is helping you get there. Their courses are designed to offer structured, affordable training, regardless of your age or experience.
Whether you are just a beginner doing EDT lessons, nervous or getting ready for your Test, they have a course to suit you an intensive driving courses available in all Categories.
Primarily a Driving School for Learner Permit holders but much more. They supply qualified instruction Approved by the Road Safety Authority in Categories A (Motorbike), B (car), BE (car & trailer), Truck (C/EC), Mini Bus (D1) or D (bus).
"Prior to us setting up the majority of people from this neck of the woods would have had to go to Dublin for driving lessons in anything other than a car. Today, we have people coming to us from Cavan, Monaghan and Louth as well as some from north Dublin too,"Martin –who has manual and automatic vehicles available in the car category - revealed.
"We've developed a really strong name and a reputation that we're very happy with. We're also proud of our commitment to the learner.
"People are welcome to come to our offices here in Dundalk for information on the various tests and any application forms they may need. Theory test information and study material is also available while we guide people through applying for tests, especially people who may not be computer literate.
Readers of Irish Trucker will be interested to know that Motor-Ed Driving School Ltd use a Scania Truck for Cat C Driving lessons. It has a 4 over 4 gearbox which will suit you if you wish to move on to their Artic at a later stage.
Lesson plans are designed to suit your present ability whether you're an absolute novice or you already have some experience.There is no set course or minimum number of lessons required so you can control your own progress.
Instructors Martin and Phelim come from the Transport Industry and have helpful insights into real working life scenarios.
They regularly get enquiries from Transport Companies for employees, they are happy to take drivers that we recommend.
Their Artic is 4 x 4 gearbox and allows a smooth transfer up from the Rigid. It's a modern DAF CF model. They have a dedicated reversing area in their secure compound for you to take the first steps to your new career.
You will also receive assistance with the Initial CPC Theory and Practical Exam while trucks are available for test day hire
The C1 truck, meanwhile, is essential for anyone looking to do Paramedic service.
What advice would Martin give anyone who is considering embarking on a career as a truck driver?
"The one thing I would say is that it is probably for different types of people. The truck job is more of a solitary life. You're away on long trips so if you enjoy your own company then that could be the one for you.
"The bus end of things requires a different type of person, a person who has a friendly demeanour and enjoys dealing with people. And then there are different types of jobs within the bus job."
Motor-Ed use a Volvo B10m for Cat D Driving lessons. It has a 6 Speed gearbox and simple to operate controls.
Martin's background with Bus Eireann gives him a wealth of knowledge and experience to guide you through this learning phase and when you complete your training and pass your test you will have the tools and skills to join the ever growing number of Bus operators now servicing the country's Transport needs.
Meanwhile, the D1 Minibus qualifies you to carry up to 16 passengers and this type of vehicle is very popular now with Companies operating School runs, Private Hire (eg Concerts).
Again, Coach or Minibus is available for Test Day Hire while car, minibus and light truck trailer towing is also available.
For companies, Motor-Ed Driving School offer Driver Assessments which can assist in accident prevention, reduce your running costs and ultimately your insurance bill.
"That is an area of the business we're concentrating on developing more,"Martin outlined. "Because of the high insurance rates, the RSA are targeting driving for work and it is now incumbent on the employer to have an idea of what type of person they are putting behind the wheel.
"Insurance companies also want to know what polices companies have in place to assess their drivers. That's where we can help out.
"We also supply tachographs and offer a service where we analyse the cards through out office. That's a popular service with small operators who don't have much time on their hands."
Martin added: "We run RSA approved Driver CPC Courses in our training room and also deliver Manual Handling courses. We have plans to diversify into other areas of training in the future. We'd like to extend our range of courses and offer more to our customers."
Motor-Ed Driving School Ltd
Unit 4 Beagans
Newry Road
Dundalk
Co Louth
Mob: 087 787 4448

Taken from Irish Trucker & Light Commercials magazine, Vol 20 No 2, March/April 2017