Hegarty's and Ford celebrate milestone year
08/08/2017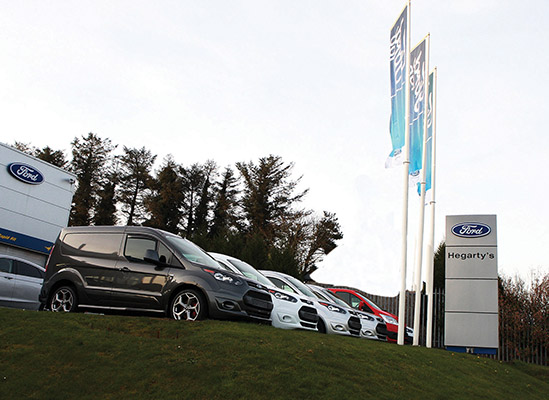 As Ford celebrates 100 years in Ireland, it's also a special year for Hegarty's Auto Services Ltd (Hegarty Ford Letterkenny) who have been authorised main Ford dealers for Co. Donegal for 40 years.
The family-run business offers new and used cars and commercial vehicles as well as a full range of support services as befits a top dealership.
Hegarty's Auto Services was founded in 1962 by the late Andy Hegarty and is now run by his sons Andrew and Paul. It has been proudly flying the flag for Ford in Co. Donegal since 1977, having sold countless new Ford cars, vans and commercials during that time. The garage also stocks an extensive range of used cars and commercials, provides parts, service and a body shop facility, and prides itself on its customer support services and after sales support.
In early 2003, Hegarty's acquired a large greenfield site at Carnamuggagh on Letterkenny's Kilmacrennan Road where work commenced on building new state-of-the-art showrooms. One year later, the company relocated to the new premises from nearby Ballymacool and has since gone from strength to strength. The dealership employs 24 staff, including six highly-qualified technicians, and caters for customers from throughout Co. Donegal as well as from parts of Co. Sligo and Co. Leitrim.
"As everyone in the industry knows, it's 100 years since Henry Ford returned to his father's home county of Cork to open the first Ford factory outside the US. We are also celebrating our own milestone of 40 years as a main Ford car and commercial dealership,"dealer principal Andrew Hegarty says.
"Irish motorists have a special affinity with Ford which spans generations and we're very proud to represent the brand in Donegal. We offer the full service from sales to parts and servicing, while our location close to Letterkenny University Hospital makes for easy access."
Open from 8.30am to 5.30pm Monday to Friday and from 10am to 1pm on Saturdays, Hegarty's Auto Services has established a reputation for excellence, complete customer satisfaction and value-for-money. The sales office is managed by David McGlynn, while Paul Hegarty is responsible for all warranty administration and gives his personal attention to each warranty claim.
A top team of Ford technicians is always on hand to provide workshop support. Working in unison with the service team is the parts manager Michael Molloy, who sees to the smooth running of that department for both workshop and customer needs. The workshop features the latest Ford diagnostic equipment along with a dedicated body shop. Svetlana Megannety along with Yvonne Duffy and David Alcorn are responsible for financial control and administration, with Andrew and Paul Hegarty overseeing the entire operation.
The high standards set by Hegarty's Auto Services are reflected by the display of awards in the reception area and the active involvement of the company in the local community and it has just been announced that they are the winners of The Ford Chairman's Award. This is Fords most prestigious award and winners belong to an elite group of top performing European Ford Dealerships. This award certifies that the winners have provided excellent customer service and high customer satisfaction levels –both qualities that are very important in terms of customer loyalty and increasing sales.
Hegarty's stock the complete Ford range of cars, Mpv and 7-seater vehicles, including the Ka, Fiesta, Fiesta ST, B-Max, Ecosport, Focus, Focus ST, C-Max, Mondeo, Kuga, S-Max, Galaxy and Edge. Andrew is happy to report that the new Ford Kuga models are performing exceptionally well, while the Focus continues to be a best seller. He is also eagerly looking forward to the new Fiesta's arrival this spring.
"The option of the ST-Line on the Fiesta, Focus, Mondeo and Kuga has certainly been good for business. There is a range of purpose-made features and styling details that enable customers to enhance the appearance of their vehicle. The ST-Line is the ultimate expression of sports-inspired designed in a Ford,"he explains.
Hegarty's also stock the full Ford range of vans and utility vehicles, ranging from the Fiesta and Focus vans to the Kuga Utility, Transit Connect, Transit, Transit Courier, Transit Custom and Ranger.
"The Transit and Transit Custom are very popular with tradesmen. Transit Connect sales are also on the increase. The Transit is essentially a brand of its own, being the market leader for decades. There's something for everyone with Ford's great range of vans and commercials."
The availability of a new low rate APR of 3.9% on the Transit, Transit Custom, Transit Connect and Transit Courier means it has never been a better time to buy a new Ford van / commercial. Now with a 5-year / 150,000km warranty, the Transit is tough and uncompromising, and offers class-leading fuel efficiency, low CO2 emissions and low running costs. As the largest vehicle in the new range, it offers load space from a generous 9.6 cubic metres up to a vast 15.1 cubic metres, and Gross Vehicle Mass options from 2,900kgs to 4,700kgs. With van, chassis cab, kombi, double cab-in-van or minibus variants in as many as five body lengths, and a choice of FWD, RWD and AWD, the Transit is ideal for any business.
The Transit Custom also comes with a 5-year / 150,000km warranty. The second largest vehicle in the Transit range, it is versatile and efficient, and incorporates many innovations such as a load-through bulkhead that allows 3m long pipes to be stored safely inside even the shortest van. It is also available in kombi and double cab-in-van bodystyles.
The smaller Transit Connect and Transit Courier models both come with 2-year / unlimited mileage warranties. A flexible dual front passenger seat allows up to three people to travel in the Connect, while the double cab-in-van and kombi versions are able to carry up to seven people.
Despite being the smallest vehicle in the all-new Transit range, the Courier provides class-leading loadspace of 2.3 cubic metres. In addition, it delivers best-in-class fuel economy and low running costs.
"There are various finance packages available to suit everyone,"the affable dealer principal continues.
"Overall, business is going well. 2016 was our best year since the recession and new sales for January 2017 were the same as the previous January, which was very pleasing. Commercial sales have come back strongly, which is perhaps a reflection of the improved economic climate. After a few extremely difficult years, things are starting to move again in our region with the establishment of new businesses and industry. However, everyone is nervously looking over their shoulder waiting to see what effects Brexit will have on trade and business."
Hegarty's Auto Services (Hegarty Ford Letterkenny)
Carnamuggagh,
Letterkenny, Co. Donegal. F92 CC82
Telephone: 074 9121095
Web: www.hegartys.com
Taken from Irish Trucker & Light Commercials magazine, Vol 20 No 2, March/April 2017