Limerick's 7th Diecast Model & Diorama Show 2017
28/07/2017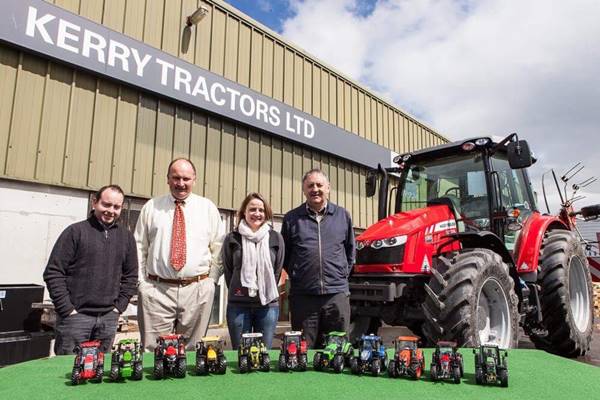 Mark Tierney of M&M Diecast Models in Co.Limerick will host Limerick's 7th Diecast Model & Diorama Show on Sunday 10th of September 2017 in the South Court Hotel, Courtfield, Raheen, Limerick from 10AM TO 6PM.
Due to the Success of the previous Six Years we already have a number of Traders booked in. Some of the Traders Confirmed include Diecastmodels4u Co.Galway Full Range of Diecast Model Cars. Collectors Toys Co.Cork full range of Tekno Model Trucks. Models & More from Co.Cork, Wood Creations Dublin Full range of Hand Crafted Wooden Cabinets, R&B Models Co.Tipperary Una's Dolls Co.Limerick Full Range of Accessories for Dolls Houses and of Course Show Organiser Mark Tierney of M&M Diecast Models Co.Limerick will have a full range of WSI Model Trucks Scale 1:50 and a Full Range of Agri Models Scale 1:32 plus ,many more Traders.

We have a great variety of Displayers confirmed from all over the country showcasing their Model Diorama's and Model Collections. These will range from Trucks,Farm,Plant and Construction,Cars,Trains and this year Lego.

This year we have a very special " Show Feature" whch is sure to attract the public as well known Collector/Model Enthuist John Cusack from Fedamore Co.Limerick is having a Modern Agricultural Machinery Line up called "The Farm Machinery Show in Diecast Form". as seen at the Farm Machinery Show in Punchestown Event Centre Naas Co.Kildare. This Special Show Feature will incorporate all the leading brand names of Agricultural Machinery sold by Dealers in the Agricultural Industry and used by Contractors and Farmers including Massey Ferguson, Claas, New Holland, JCB, John Deere, Fendt, Deutz, Valtra, Zetor, Kubota, Case, Landini, McCormick, Merlo, Same, Steyr, Hurlimann, Krone, Kuhn, Pottinger, Joskin, Lemken, Kane, Abbey, NC, Samson, Kneverland, Amazone , Gregor Beson, Pichon, Marston, Rolland and many more. This Diorama will consist of Tractors, Trailers, Forage Harvesters, Combines, Mowers, Tedders, Rakes, Balers, Loading Shovels, Slurry Tankers, Agitators, Teleporters, Sprayers, Ploughs, Power Harrows, Re Seeders, Lime Spreaders, Hedgecutters, Potatoe Harvesters. Their will be at least one Limited Edition Diecast Model that will stand out from the crowd on each stand. This is going to be one of the biggest 1:32 Sacale Agricultural Machinery Diecast Model Diorama's ever constructed in Ireland. John's Diorama will span 32FT Long by 10FT Wide with a replica of Punchestown Event Centre hand built to include LED Lights . John is blown away with the huge support to date coming from the Agricultural Machinery Dealers who have come on board from all over Ireland ,along side Contractors and Farmers in the industry for this event.This is a must see and not to be missed for every Machinery Dealer, Contractor, Farmer Diecast Collector and anyone working in the machinery industry.John and Mark have travelled to Machinery dealers all over Ireland from february to date . To Coincide with this we will have a few Agricultural Machines on display outside the show on the day.

Proceeds of the Show are in Aid of the following Charities Limerick Animal Welfare based in Kilfinane Co.Limerick and also Embrace Farm from Mountrath, Co.Laois. Embrace Farm was set up in 2014 as a Farm Accident Support Network. It supports families after the loss of a loved one from a farming accident.

Also a brand new Edition to the Show this Year we will have "Brick.ie" Displaying a Full Diorama Built with Lego along with the Shannon Model Plane Club from Shannon Co.Clare who will display some of their outstanding Diecast Model Planes. Remember without our dedicated Displayers their would be no show. Traders/Displayers can set up on Saturday the 9th of September from 5pm onwards .If you are interested in Displaying your Model Diorama or Collection don't hesitate in calling Mark on 087 3277757 or Email : [email protected] . Follow us on Facebook at facebook.com/Limerick Diecast Show. Also check out our Limerick Diecast Show Page on our website www.mandmdiecastmodels.com , watch out for competitions on the day. This show is a great day out for one and all both collectors, model enthusiasts, and all the family.