A local service from David Huey Haulage
26/07/2017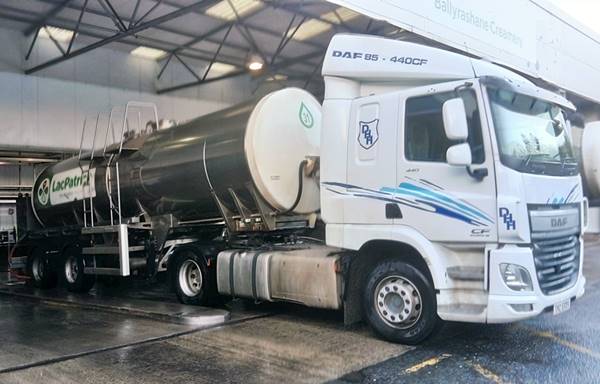 The farming community and haulage industry have closely knit ties as the transport of agricultural materials. Long gone are the days of a few milk cans being thrown up on an ass and cart before heading off to the local creamery.
Northern Ireland's oldest dairy, Ballyrashane Creamery in Coleraine, a co-operative owned by local farmers agreed to merge with the Town of Monaghan Co-op a few years ago.
The Coleraine co-op, which employs 150 people and Monaghan Co-op, which processes 500 million litres of milk annually from 1,000 farmers on both sides of the Border, joined forces to create a new company that is called LacPatrick.Ballyrashane, which has operated since 1896, is one of the North's largest liquid milk processors. It supplies dairy products to the retail stores Spar and Vivo and milk to Marks & Spencer stores throughout Ireland.Monaghan Co-op, which was founded in 1901, is headquartered in Coolshannagh but it also has a major facility, LacPatrick Dairies, in Artigarvan in Co Tyrone.
The co-op's Leckpatrick brand is exported to more than 30 countries across five continents while its Champion Milk brand is well know from Monaghan to Sligo, Louth and Dublin.
David Huey Haulage is one of the hauliers that specialises in milk collection from farmers to the factories in Coleraine and Artigarvan and he speaks to us about what it takes to make the business run smoothly.
Established 20 years ago, David runs a fleet of five trucks that focus solely on the collection of milk operating between both locations.
Trusted by farmers to transport their produce swiftly and safely all year round, David Huey Haulage are renowned for their reliability and professionalism.
"We have gathered a lot of experience over the years and we know what is expected of us on a daily basis. There are seven drivers working between the two creameries and they are familiar with the farmers and the lads they would be dealing with in the creameries,"said David.
"In this business each driver is the forefront of the company and I am grateful that my drivers are loyal, trustworthy and represent the business in a professional manner many of who have been with us since almost the start.
"We have a 24/7 commitment in ensuring that work is completed to the highest standard. We pride ourselves in providing a safe, secure, high quality service."
David operates a fleet of DAF trucks, which he has found are the most reliable and robust for the type of work and places that they have to go.
In late 2015, a new DAF CF 440 tractor unit was added to the fleet and having purchased a number of CF's in the past, the company know DAF is a brand they can depend on and David deals with TBF Thompson when purchasing his trucks.
Huey's fleet of top-quality tractor units is heavily relied on to travel country roads with heavy loads each day.
Aided by another dependable DAF, it's business as usual for David Huey Haulage. For regular servicing, maintenance and 24/7 support, the company need only contact TBF Thompson. Their fully equipped depots at Mallusk, Garvagh and Portadown are on hand all year round to keep customers on the road.
"It has been a revelation since we brought it in and it helps us do a wide variety of work. We have placed a big investment into the business in recent times and it is essential to have a reliable fleet of trucks. I'm delighted with the new trucks and we get a great service from TBF Thompson."
A reliable fleet is essential in order to avoid unnecessary downtime as the time constraints in this industry will not tolerate situations like that.
"The time constraints in this industry means that breakdowns cannot be tolerated, so we would have a spare truck ready if needed, but in fairness the DAF's are very reliable and there is very little issues with them, once they are looked after."
David admits that every decision in the haulage industry has to come with the utmost care as the profit margins are as tight as they have ever been.
"We've always tried to keep the overheads down and we've managed to grow every year. As I said, we are fortunate with the customer base that we have. We are there to provide them with the best service possible and once we continue to do that then we should be ok."
There are many overheads to contend with tax, insurance, diesel being the biggest issues at the moment and every decision with regards the business has to be taken with the utmost care.
The haulage industry is arguably the most competitive business to be involved as margins between success and failure are a very fine line.
There are so many issues to deal with on a daily basis that anyone outside and never involved in the industry would beg to ask the question why bother?
"It is something that I've always done and although it is hard sometimes, you just keeping working away and we're fortunate here to have a bit of stability with the customers that we have."We are there for the customer and anything they need done, we will do it to the best of our abilities. We have always prided ourselves on getting the job done on time. When you are working with the likes of milk there are time constraints in place and you have to get the job done on time."
David Huey Haulage is a family run business with David's wife Linda and son Jack showing an interest in the business.
"My wife Linda looks after the administration side of the business and with all the paperwork that's involved these days, it is not an easy task to keep on top of things, but she does very well, while our son Jack works here during the summer time."
David is pleased with the workload that he has on at the moment and is keen to maintain the level of service that his customers have become used too.
"Ah we would be happy enough with the way things are alright. I've good customers and as long as they are happy then we must be doing something right. We are working away and that's the main thing, sure we can't ask for anymore,"he concluded.
Contact Details:
David Huey Haulage,
Strabane,
Co Tyrone
Taken from Irish Trucker & Light Commercials magazine, Vol 20 No 2, March/April 2017