Still tipping away after 80 years
26/07/2017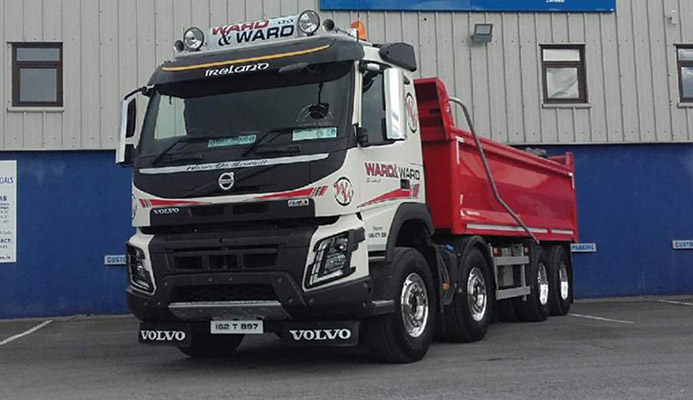 Specialising in bulk haulage, muck shifting and plant hire, Ward & Ward provides efficient, reliable and value-for-money services to an ever-growing customer-base in the Mid-West and beyond. The family-run business has the expertise and experience in haulage and logistics to get the job done right every time.

The company was set up in Birdhill, a village located on the Tipperary-Limerick border and just a short drive from Limerick city, in 1933 by Danny Ward. Danny, who passed away in 2002, handed the business down to his sons John, Jim and Donal. They have since been joined by John's son Shane and Donal's sons Ian and Martin. And not forgetting John's wife Joan, who looks after the administration.
Ward & Ward boasts a modern fleet of 10 tipper trucks and two articulated lorries as well as track machines ranging from 14 to 50 tonnes, a selection of loading shovels, three road sweepers and a new 70-tonne Caterpillar excavator. Through continuous investment in equipment and staff training, the company leads the way in standards of service and competitiveness to its existing and future customers.
"We are one of the leading bulk haulage and muck shifting specialists in the region," Shane proudly states.

"We have 10 tippers – nine Volvo and one Hino – and two artics on the road. We work for builders, quarrymen, farmers, fertiliser companies, tarmac contractors and local authorities to name but a few. We can haul anything from quarry products and muck to animal feed, fertilisers, grain, salt and coal. We hold a NWCPO (National Waste Collection Permit Office) licence which means we can haul muck to landfill. All of our muck shifting vehicles and road sweepers are available for hire."
Ward & Ward's biggest and oldest client is the Shannon Foynes Port Company which services six dedicated facilities on the Shannon Estuary that are fully ISPS compliant. The ports are strategically located adjacent to national road routes, national rail network, two international airports and the second, third and fourth largest cities in the country. Foynes is the main deep-water facility catering for all key cargo classifications and with a substantial land bank and large storage facilities.
Limerick Docks occupies a city centre location some 100km inland from the mouth of the estuary, at the heart of the thriving Mid-West region. There are four dedicated terminals: Shannon Airport with its aviation fuels terminal, Moneypoint and its modern coal transhipment facility, Tarbert Island for heavy fuel and Aughinish catering for bauxite and alumina imports and exports.
"We've been working for Shannon Foynes Port Company for 40 years. We are in and out of Foynes port and Limerick Docks on a daily basis. Some of our loading shovels have never left either location," Shane continues.

"We draw materials in and out of both ports for a variety of customers. For example, we draw bulk fertiliser for Grassland Fertilizer from Foynes and Limerick Dock to their depot on the Dock Road. We also transport farm feed and grain from Foynes to a store nearby. We enjoy a very good working relationship with Mullock & Sons, who are well-known shipping agents."
Ward & Ward has come a long way in 50 years as Shane explains: "My grandfather started out with a loading shovel and a lorry. The company has obviously grown quite a bit since then. My father and uncles have always worked well together with John running the fleet, Jim looking after the maintenance and Donal taking care of the plant and machinery.
"In the last few months, we've taken on extra work for a quarry which led to us investing in two artics. We also recently took delivery of a new 70-tonne digger which we're hiring out to quarry and construction companies. We've also started to provide a tipper service to the UK."
Shane concludes by thanking the haulier's loyal customers for their continued support.

"We've worked hard to build up the client-base we have today. I'd like to take this opportunity to thank all of our customers for their business. Regardless of their size, we treat them the same and guarantee them the same great service and price."
Ward & Ward Ltd
Annaholty, Birdhill, Co. Tipperary.
Telephone: 061 377147
Mobile: 086 2541245 / 086 8793561
Email: [email protected]
Taken from Irish Trucker & Light Commercials magazine, Vol 20 No 3, February 2017