An A+ commercial vehicle dealer
14/07/2017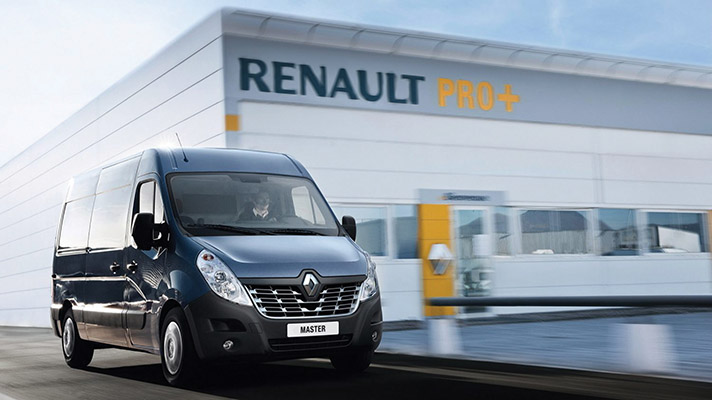 In conjunction with the Renault Pro+ specialist network, Joe Mallon Motors in Naas and Portlaoise offer light commercial vehicle operators wholly customer-focused solutions tailored to their exact requirements.
As this exceptional, market-leading family operation moves into its fourth decade in business, we touched base with director Philip Mallon to find out more.
Joe Mallon Motors celebrated their 30th anniversary in 2016. Synonymous with the prestigious Renault marque since its inception, the Naas and Portlaoise based dealership has earned a stellar reputation as one of Leinster's leading light commercial vehicle dealerships, providing owners with the full range of superb Renault vans and Dacia SUVs backed up by unrivalled levels of professional customer service.
When Renault opted to expand its service to commercial vehicles drivers by opening a select network of Pro+ centres, it followed logically that Joe Mallon Motors would be included in this specialist franchise dedicated specifically to business customers.
From owner-drivers to local fleets and semi-state companies, Joe Mallon Motors continue to offer excellent, one-stop shop commercial vehicle solutions to a veritable plethora of light commercial vehicle owners across Leinster and the midlands from their well-appointed, state-of-the-art showrooms and workshops in Naas, County Kildare and Portlaoise, County Laois.
More than three decades on from the genesis of the business, founder Joe Mallon is still at the helm, ably assisted by his children Philip and Eithne in Naas while Anthony runs the Portlaoise outlet, which threw its doors open to the public in January, 2011.
By offering the full range of new Renault and Dacia cars and commercials as well as high-quality pre-owned vehicles and a tremendous back-up service, this progressive dealership has really captured the public imagination both near and far.
The fact that commercial vehicles have always rated high on the list of priorities and have in truth been considered a stand-alone business rather than a mere afterthought is one of the key reasons why Joe Mallon Motors have benefited from a remarkable volume of repeat business from tradesmen, distributors and other fleet operators down through the decades.
In recent years, being part of the fledgling Renault Pro+ network has been instrumental in the consistent growth of this aspect of the business. "Renault Pro+ is a specialised service for light commercial vehicles and being part of that network means we have expertise here on site to deal with everything from refrigeration and panelling to ply-lining and full fit-outs and conversions,"Philip confirms.
"Ken Smullen is our dedicated fleet and commercial manager and he looks after the Pro+ element of the business, giving customers a professional and bespoke service that will be in line with their precise requirements."
The fact that Renault selected Joe Mallon Motors to be part of the network is a shining endorsement and this resounding vote of confidence has paid dividends for both manufacturer and dealer alike, with an increase in commercial vehicles sales of some 23% recorded over the past twelve months.
"It's a really important part of our business and something that we try to push because we have the Renault fleet of vans, which offer great benefits to both businesses and their employees. We can work within any budget to come up with a solution that is tailored to the customer's needs. With a Renault commercial vehicle, driver comfort is guaranteed.
"Access to Renault Bank is another major plus and they are available to finance conversions etc., which makes us a one-stop shop both for finance and commercial vehicle solutions. Renault Bank is extremely customer-friendly and easy to work with and is another feather in the cap. It's nice to be able to offer so many facilities and solutions and to be able to solve all of our customer's problems in one go."
Between both sites, Joe Mallon Motors generates gainful employment for a team of 37 highly-trained and vastly-experienced personnel. Investment in the best employees and equipment has been a strong facet of the business since Day One and Philip say this will continue to be the case in 2017 as no stone is left unturned in the relentless pursuit of outstanding service.
Regarding the strengths of the ultra-popular Renault fleet of commercial vehicles, he is confident that all boxes are indelibly ticked. "Renault cannot be beaten when it comes to reliability, price, convenience and expertise,"he states.
"The reliability of Renault vans has been proven over the years and the pricing is really competitive. The fact that Renault Bank is there to help with financing is another big string to their bow. From the Kangoo to the Master and Trafic - and the range of variances and options that are available right across the board –as well as the Dacia dealership, there really is something there for everybody.
"The fact that we have the expertise and knowledge of a dedicated commercial fleet specialist here on site is another feature that customers appreciate and can benefit enormously from.
"Renault is firmly established as one of the Top Three commercial vehicle brands in Ireland,"Philip concludes. "They have really raised their game and are going from strength to strength. Going into the New Year, we had a good strong order book for new models in both the Renault and Dacia franchises, showing growth of around 12% on the corresponding period for last year. It was a very encouraging start to 2017 and we are planning to push on and build on that."
Joe Mallon Motors,
Sallins Road,
Naas,
County Kildare.
Tel: 045 897675
Email: [email protected]
Taken from Irish Trucker & Light Commercials magazine, Vol 20 No 1, February 2017