Power and passion
05/07/2017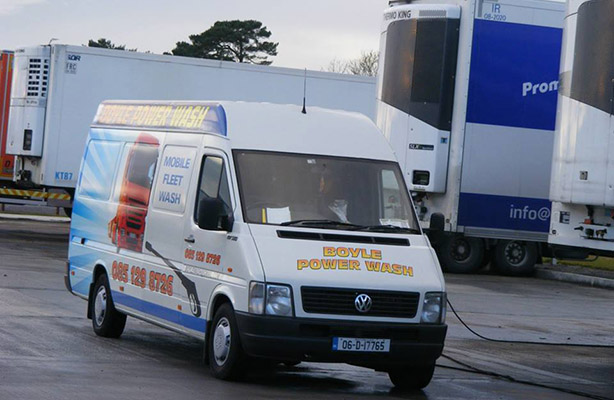 Providing exceptional mobile power washing services to commercial fleets across Dublin city and county, Boyle Power Wash Ltd. has gone from strength to strength since its inception five years ago. We interrupted founder Jason Boyle's busy schedule to find out more about this outstanding family enterprise.
Increasingly, hygiene and cleanliness have become prerequisites in the haulage and distribution sectors. Only operators who maintain their vehicles and premises in pristine condition can consistently attract prestigious high-value clients and contracts. To this end, Boyle Power Wash Ltd. plays a key role in ensuring the ongoing commercial viability of its ever-expanding customer base.
Established by Jason Boyle five years ago, Boyle Power Wash is an excellent family-run business providing professional, high-quality on-site cleaning services to commercial and private vehicles and properties. Since its genesis, the business has forged a superb reputation for high-quality workmanship and has evolved into one of Ireland's leading power washing companies by supplying exceptional solutions to some of the major frozen, chilled and ambient distribution haulage companies in Dublin and surrounding areas, including Clare Distribution Services –Ireland's premier refrigerated distribution specialist.
As well as prompt, thorough and dependable mobile fleet (truck, trailer (inside and out), van, coach bus etc.) washing services, delivered to the customer's exact requirements at competitive rates, Boyles also offer top-class private car, garden and paving, driveway, shopfront, wall and commercial premises power washing solutions.
Complemented by unrivalled workmanship, the state-of-the-art, fully-fitted mobile washing units are on call around the clock, 24/7, while –in addition to providing a friendly and personal service –the staff also carry safe passes, cherry picker licenses and full public liability insurance.
Reflecting on how he came to set up the successful business, Jason reveals: "My nephew is transport manager with Clare Distribution Services (CDS) and it was actually him who came up with the idea initially. I had done a bit of driving myself for a couple of haulage companies, so haulage was an area I was familiar with. I started off with a Transit van and a power wash machine and we built it up from there."
Since the beginning, the business has been based on hard work and honest endeavour. Power washing is labour intensive, involving a lot of manual work. "It's all done by hand,"Jason confirms. "We had to build it up through hard work, word of mouth and repeat business."
Boyle Power Wash enjoys a long-running relationship with CDS and also carries out regular high-pressure fleet washing work for a host of other leading distribution companies including Roskell Logistics, Independent Express Cargo, Liam Wright Transport, Derrynaflan Foods, Deli Lites Sandwich Company, Cable & Wireless Ireland, Martin Brower (distributor for McDonald's), Hendrick European and Shane Rice Transport.
From its ideal base in Ratoath, in North County Meath, the business is perfectly located to provide mobile services on site in haulage yards across Dublin city, county and beyond. "Convenience is key,"says Jason. "I drive to the customer's yard and set everything up and provide the service there."
A very proactive approach is taken and Jason takes it upon himself to ensure that all vehicles in his customers'fleets are kept clean around the clock. "We do whatever it takes to keep them clean. We'll wash them once a week and often twice a week during the winter. The washing is done to a schedule and I keep a record of what trucks they have and which ones have been washed. The onus is on me to go through all the artics, rigids, vans, trailers, etc. so I make sure every vehicle is always clean and presentable."
Gainful employment is generated for a cleaning crew of three: Jason, his son David and friend Stephen. Regarding the timescale required for carrying out a thorough job, he says: "Between the three of us, you'd be talking 40 minutes to do a tractor unit and trailer, outside and inside.
"Each vehicle is sprayed down with biodegradable chemicals before we start and then rinsed and washed. The inside of the trailers is washed down, including the fridge floor etc., using the best chemicals and cleaning products, which we source from Reflect Autocare."
Jason is pleased to report that he is extremely busy: "We're flat out. They need to be done twice a week at this time of year so there's plenty of work. We're working seven days a week at the moment and I'm hoping to take on more staff now in the new year.
"I was grateful to get some help from the Back To Work Scheme in setting the business up and it's really finding its feet now. Each year is getting better. We're ready to go to the next level and I'm going to restructure it this year and take on more staff, even if it's temporary staff. We're especially busy at the weekends, when a lot for trucks are off the road. During the week, you're often trying to fit in around delivery schedules and catch one here and there."
Jason says his only regret when it comes to Boyle Power Wash is that he didn't start up sooner. "I was in my 40s when I started and I should have done it 20 years ago,"he points out.
As for the future of the business, things are looking particularly bright: "I'm getting a lot of positive recommendations, which has resulted in people ringing me all the time,"he concludes. "Unfortunately, I've had to turn some work down but hopefully this won't be the case once we restructure. I've worked very hard to get the business to where it is today and I'm hoping it will continue to grow. I didn't even get a wage for the first four or five months because there was so much money that had to be paid out, but all the sacrifices were worth it. It's all coming together now and it has great potential.
"I owe a real debt of gratitude to Mark Clare at Clare Distribution Services. Mark gave me the start I needed and that was my first contract. He's still with me today and fair play to him. He's happy with the work we're doing and so are all my other customers. We've never had any problems and we've never lost a contract, so we must be doing something right."
Clearly, Boyle Power Wash Ltd. are doing a lot right!
Boyle Power Wash Ltd.,
196 Steeplechase Green,
Ratoath,
County Meath.
Tel: 085 1298726.
Email: [email protected]
Taken from Irish Trucker & Light Commercials magazine, Vol 20 No 1, February 2017