Delivering on time, every time
04/07/2017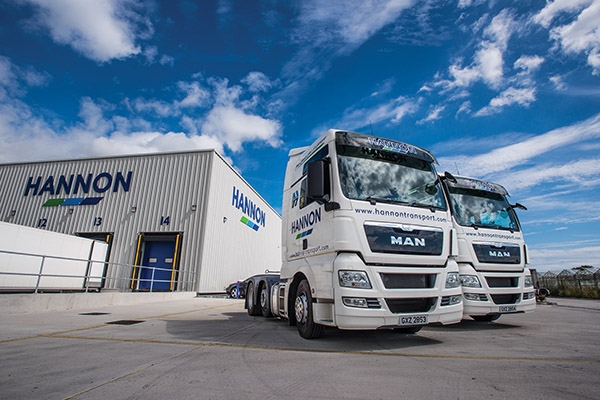 These are exciting times for Hannon Transport which is preparing to open a new state-of-the-art distribution facility in Rotterdam. The company also recently took delivery of 40 new Schmitz Cargobull refrigerated box trailers as part of an ongoing investment in its fleet.
Established in the early 1990s, Hannon has become one of Ireland's leading refrigerated and general hauliers, dealing with the daily transportation of cut flowers, plants, fruit and vegetables, meat, dairy and general goods. Headed up by managing director Aodh Hannon, the highly-regarded logistics provider has bases in Aghalee, Co. Antrim, Dublin, Rotterdam and Aalsmeer in Holland, with a new 37,000 sq. ft. facility due to open in Rotterdam in March.
Hannon Transport offers customers the same door-to-door service, whether it be for a full load or groupage. It provides core administrative, planning and fleet management services. The company's Irish offices and facilities are located within easy access to the M1 corridor and the ports of Belfast, Larne, Warrenpoint and Dublin.
Hannon Logistics BV and Hannon Logistics Ltd are also part of the Hannon group of companies. Hannon Logistics BV's offices and distribution facilities within The Netherlands are strategically located to service its customers. With depots located close to the main ferry terminals of Rotterdam as well as within the Aalsmeer flower auction, Hannon is perfectly positioned for direct collections at growers', brokers'and exporters'premises within Holland and Belgium. Its Dutch depots individually manage the collection, staging and transportation of freight from mainland Europe to Ireland and the UK.
Hannon's Rotterdam (Poeldijk) depot is responsible for shipments of fruit, vegetables, meat and general items, while the Aalsmeer depot near Amsterdam is responsible for shipments of cut flowers and pot plants.
Hannon Logistics Ltd is the Dublin arm of the operation and was created to fill the demand for a quality daily groupage service within Ireland. The facility in Blake's Cross is ideally located to take advantage of logistics and transhipping efficiencies. Hannon Logistics Ltd offers next-day deliveries and collections throughout every county in Ireland, every day. This is all done through Hannon's own fleet, without feeding into third party carriers, thus ensuring a consistent and quality service.
"We are always prepared to move our business forward, which is demonstrated by the opening of our hubs in Dublin and Holland. We are strategically placed so that freight passes seamlessly and quickly from Ireland to the UK or Europe and back, arriving at the end destination in perfect condition,"Aodh Hannon explains.
"Our offices and distribution facility in Poeldijk is at the heart of Holland's main fruit and vegetable market and adjacent to Europe's largest flower and plant wholesale centre at Honselersdijk. This allows easy access to our export customers."
In addition to cut flowers, plants and fruit and vegetables, Hannon Transport offers the Irish and European meat sectors an unrivalled logistics connection with daily groupage, part and full trailer load departures with express time deliveries. In recent years, the company has developed a niche market for Irish meat processors by offering meat deliveries throughout Holland, Belgium and Germany on a daily basis with groupage, multi drop and full trailer loads.
Hannon employs highly-trained and professional teams at its depots in Ireland and Holland, and runs a fleet of 150 trucks and 180 trailers. The trucks are predominantly DAF, while the trailers are mostly refrigerated with flats and curtain-siders making up the balance. The company's ongoing investment in its fleet and IT-led management systems keeps it at the top of the efficiency curve. In the past year alone, Hannon has invested in 70 new tractor units.
More recently, the company purchased 40 Schmitz Cargobull refrigerated box trailers, armed with the manufacturer's revolutionary TrailerConnect telematics system. With 20 mono-temp and 20 dual-temp units, the new additions bring Hannon's refrigerated fleet to 150.
The new trailers also feature MF6 Multifunction Floor. With its extruded aluminium form, it offers a 35 per cent longer service life with easy-clean profile that means hygiene can be completed in just 10 minutes. It also meets the PIEK requirements for low-noise loading and unloading, which enables Hannon to deliver flowers in urban areas early in the morning.
The Aghalee-headquartered firm continues to evolve, having created a new steel distribution enterprise last April. Operating from Karl Business Park in Muckamore, near Belfast International Airport, Hannon Steel supplies a range of steel products, including beams, bars, angles and plates.
"It's another string to our bow and has to potential to create more jobs,"says Aodh, whose brother Adrian is also a director of the company.
"We continue to grow our range of services to meet customer demand, e.g. strengthening our unique offering to smaller producers and processors. Our business model is based around service rather than price. Our customers are constantly at the forefront of our business plans. Our drivers and staff are fully trained which allows us to deliver on our promises."
Hannon Transport Ltd
21 Brankinstown Road,
Aghalee,
Lurgan
BT67 0DF
Telephone: 00 44 28 9265 1441
Fax: 00 44 28 9265 1995
Email: [email protected]
Dublin office:
Cold Winters,
Blake's Cross,
Co. Dublin.
Telephone: 00 3531 6430664
Fax: 00 3531 6430683
Taken from Irish Trucker & Light Commercials magazine, Vol 20 No 1, February 2017