Boylan point
30/06/2017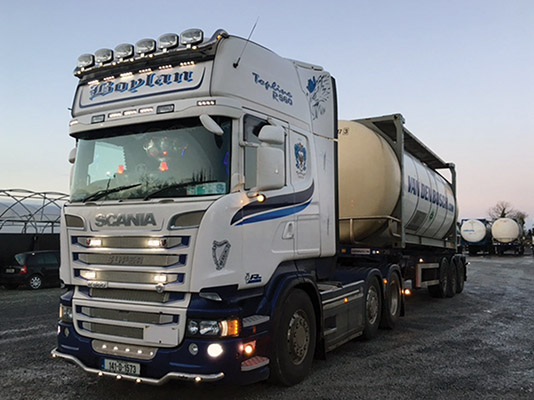 Tony Boylan Transport Ltd is a family run company formed in 2001 and based in Ashbourne, Co Meath. Their reputation is exemplary with a large amount of our work coming from repeat business or recommendations from their previous customers.
Professional, polite and reliable, Tony Boylan Transport Ltd pride themselves on offering a hassle free and affordable service where the customer needs always take priority.
When it comes to the transportation of food stuffs and liquids, they are confident that they can meet all of your requirements and can point to many satisfied and returning customers. You can rest assured that you are getting both excellent value for money and a personal service on each and every job.
"We always try to meet our customers' needs,"Tony's son, David, told Irish Trucker & Light Commercials.
High profile customers such as Glanbia, Lakeland Dairies, Abbot Ireland, Carton Bros, Frylight, Dale Farm and Kerry Foods wouldn't settle for second best so that's why they employ Tony Boylan Transport Ltd's services.
They have built a reputation for reliability and professionalism in the industry and forged strong relationships with their clients by offering an excellent balance of quality, cost and service.
"My father, who had worked on the continent for years as a truck driver, established the company 16 years ago and my mother, Terry, is joint Managing Director,"explained David, who joined the family business in January 2002. "We employ 16 in total including my brother Robert who is a driver.
"Tony started off the company from humble beginnings but he successfully added lorries and trailers as he went along. Today, we have 10 trucks and 20 trailers."
Incidentally, Scania is the truck of choice for Tony Boylan Transport Ltd.
"My father always went for Scania. When he worked on the continent, he drove a Scania so he has stuck with what he knows best.
"They're a solid truck with a good fuel consumption and resale value. There is a lot of wear and tear on our lorries due to the heavy work we do. We also take our drivers' opinion into account and they all recommend Scania.
"Plus the service we get from Delaney's of Naas is second to none. All in all, Scania suits us and our needs best."
The Meath based company pursue a policy of continuous investment in their fleet to keep it fresh and up-to-date.
"We took delivery of two new trucks in January. We traded in a 2009 R480 against a new R500 while we are leasing a G450. The oldest truck we have now is our fleets is a 141."
And, just in case you were wondering, the fleet's livery colour scheme –sky blue and navy –is inspired by Tony's passion for the Dublin gaelic football team!
How was business in 2016 for Tony Boylan Transport Ltd?
"Business was very good,"David answered. "We're growing constantly in conjunction with the demand for our services. We've diversified into different areas and it just seems to busier all round which is great news for everyone.
"As I said, we pride ourselves on the service we offer our customers and always try to meet their needs as best as possible. Tony has been dealing with a lot of our customers for a long time and has built up long standing relationships."
"Like everything else there are challenges out there. For example it can be hard at times to get good, reliable drivers where there are a lot of people out there now competing for the the same jobs. But, those are day-to-day challenges that goes with the territory."
Looking ahead to the future, David reflects on the difficult trading conditions of recent years but he sees light at the end of the tunnel and expects that the upward curve in the company's fortunes to continue.
"Recent years have been hard for everyone involved in the transport sector but we didn't let anyone go. We stuck it out and it had paid off. I'd have to say that is largely down to our drivers and their hard work. They're the front of the business, out dealing with our customers on the grounds and they know how to do their job correctly.
"We are deeply grateful to our staff and, indeed, our customers for their continued support down through the years."
So if you're looking for a transport company with many years experience in the field then look no further than Tony Boylan Transport Ltd.
Whether it's a query or a quote, pick up the phone and call David and the team at the number below.
They are dedicated to providing the highest quality, most cost-effective transport service achievable.

Tony Boylan Transport Ltd
Primatestown
Killbrew
Ashbourne
Co Meath
Tel: 01 8354048
Taken from Irish Trucker & Light Commercials magazine, Vol 20 No 1, February 2017