Mercedes-Benz commercials - celebrating 50 years in Ireland
28/06/2017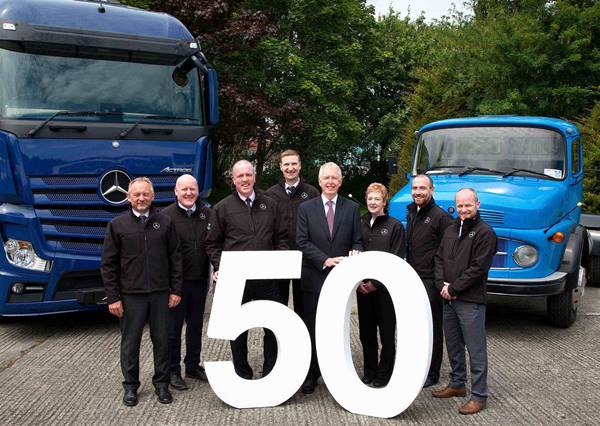 Mercedes-Benz is this year celebrating the 50th anniversary of the launch, in 1967, of their heavy commercial vehicles in Ireland.
Described by Chief Executive, Stephen Byrne as: "a development that transformed the position of Mercedes-Benz on the Irish market, enabling it to play a pivotal role in the development of our economy", the first model to arrive here was the legendary 1418.
Remembered for its distinctive 'bull nose' design, the 1418 became 'a truck-of-choice' amongst hauliers and fleet owners, opening an important niche for Mercedes-Benz in the heavy commercials market that has endured to this day.
Next mould-breaking model to arrive in 1973 was the NG series - forerunner of the modern Mercedes-Benz range. Heralding a complete change of direction, the flush-fronted NG reflected what was to become a new, more-modern approach to truck design.
In design, engineering and specifications, it shaped the later SK and MK series – SK being the first to offer semi-automatic gearshift and other pioneering features like ASR, ABS and EPS.
In 1996, the first generation Actros was introduced, becoming the first to offer intelligent maintenance, electronic brakes, ABS and ASR as standard (with a 20% shorter braking distance).
Marking a major evolution in truck design and specifications, the trend-setting Actros became an established favourite, winning the coveted 1997 International Truck of the Year award.
Two years later, in 1998, Atego made its appearance. Now in its fourth generation, it too was an International Truck of the Year – first in 1999 and later in 2011.
Alongside Actros, Atego is now a mainstay of the range. Popular as a delivery vehicle in food and other sectors, it spawned the now-familiar Econic bin collection truck familiar amongst waste collection specialists in Ireland.
Other innovations attributed to Mercedes-Benz in the course of their 50 years here include the introduction, in 2006, of its 'safety' truck then nominated 'the safest truck on earth' with features that included proximity and stability control and ground-breaking Active Brake Assist.
In 2012, Actros was again chosen International Truck of the Year with standard features that included lane and brake assist. In that year also, predictive cruise control and Fleetboard telematics were introduced to help hauliers manage fuel consumption more efficiently,
This focus on fuel saving took another major turn in 2016 when the second generation OM 471 engine arrived, offering operators consumption savings in the regions of 3%.
At the core of this development was its unique EGR system and second-generation X-Pulse technology – features that were to help Mercedes-Benz trucks deliver 'benchmark' fuel savings of 13% over a subsequent 4-years period.
Looking ahead, Fergus Conheady, sales manager for Mercedes-Benz commercial vehicles in Ireland said: "concept models coming from Stuttgart point to a bright future for Mercedes-Benz and its customers".
"In the pipeline are futuristic body shapes, sleek cab designs and advanced technologies, innovations in autonomous driving, alternative fuel sources, electric vehicles, occupant comfort and safety."