A customer-focused parts service
27/06/2017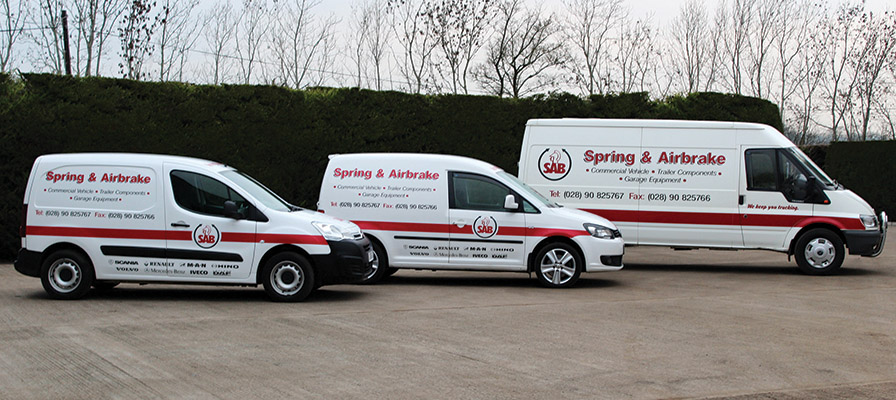 Spring & Airbrake Ireland Ltd. distribute a full range of high-quality commercial vehicle parts, trailer components and garage equipment. They are also a leading brake bonding and relining specialist. We visited their well-appointed Nutts Corner, County Antrim base and met up with Eleanor and Gareth Abbott to find out more about this exceptional family-run operation, which has been serving commercial vehicle owners for more than 40 years.
It's not difficult to see how Spring & Airbrake Ireland Ltd. has evolved into one of the island's leading commercial vehicle / trailer component importers and distributors. The Abbott family set out to achieve absolute customer satisfaction and this has led to a massive volume of repeat business as well as a reputation for excellence that is simply second to none.
Combining superb products and unbeatable customer service, Spring & Airbrake have gone from strength to strength since relocating to Nutts Corner as a family enterprise in 2000 and all the signs are that the business –which continues to grow and diversify, whilst tending to customers'every need –will remain on an upward trajectory for many years, nay decades, to come.
At the heart of the highly-regarded family business is a mutually beneficial partnership with customers, a relationship which enables both parties to prosper. "If the customer says jump, we say 'how high?',"Gareth Abbott states. "In this business, it's all about providing a great service to the customer."
Gareth's mother, Eleanor, elaborates on the lengths to which Spring & Airbrake go to in order to ensure 100% customer satisfaction: "As a family-run business, we take pride in giving customers a great service, which is paramount. We also offer competitive prices, which customers appreciate. And, when it comes to sourcing components, our staff will literally do somersaults to get that awkward part for an old lorry, even if there is only a small profit in it, or sometimes no profit at all.
"We've always been prepared to go the extra mile –going back to when my late husband, Hunter Abbott, was one of the co-founders of the business. We've had many customers who have stuck with us since the start."
"We have access to the shop all the time and we will use that to our advantage,"Gareth adds. "My mobile number hasn't changed since I was 16 and the phone is never switched off."
From Scania, Renault, MAN and Volvo to Iveco, Mercedes-Benz, DAF, Hino etc., literally any spare part can be acquired. The vast range of components sourced and made available at unbeatable prices includes –but is by no mean limited to - air brake valves, batteries, brake discs and drums, brake shoes and pads, springs, lighting, filters, exhaust systems, trailer axles and parts, body panel parts, workshop consumables, suspension components, mudguards, oils and greases and all vehicle accessories, while every conceivable piece of garage equipment is also supplied, including jacks, axle stands, hoists, compressors, tyre gauges, rolling roads, tools, etc.
In 2015, Spring & Airbrake installed a Mezzanine floor in their store area along with new racking, which has enabled them to almost triple their storage space. This leads to customers getting a faster turnaround on the quality parts they need.
Spring & Airbrake have been importing and distributing commercial vehicle and trailer spares and garage equipment to the UK and Ireland since 1975 and boast a proven track record for excellent customer service and quality of parts. They have also recently rolled out a specialist brake bonding and relining service for leisure, agricultural, wind turbine and construction machinery.
Spring & Airbrake pride themselves on being a close-knit family business providing a personal touch. Eleanor is joined by a team of eight, including son Gareth (director) and daughter Judith [Graham], who is office manager. Geoff Orr is manager and also plays a big part in the day-to-day running of the business.
Reflecting on the genesis of the company, Eleanor notes: "My late husband, Hunter, was one of the founding directors who established the business in Bankmore Street, Belfast. They relocated to Ormeau Avenue and then in 2000 we moved here to Lisnataylor Road at Nutts Corner beside my family home. We converted a premises here and Gareth entered the business that same year.
"Even though I'm semi-retired now, it's all about pride in the business and keeping it going in the family name. Gareth and Judith have a great grasp of it now and I'm confident they will carry it on with distinction after my time."
As well as fleet operators, other regular customers include education boards, local councils, quarries, recycling companies, fisheries and harbours, crane and forklift companies, farmers and agricultural contractors. "We also have a counter here where Joe Bloggs can come in and buy whatever he wants, but our main bread and butter at the minute is the tipper men and fleets, the councils and crane companies,"says Gareth.
"We started bonding brake shoes four years ago and that has opened up a new avenue for us. That got us into relining brake pads for cranes and wind turbines and created a whole new customer base. It's a specialist service and another important string to our fiddle. We can also sandblast and reline brakes on classic cars, motorbikes, caravans etc."
Not surprisingly, Spring & Airbrake Ireland Ltd. deal with customers from all over Ireland - and sometimes beyond. "Most of our business is in Northern Ireland but we do have customers in the south, from Donegal to Wexford, as well as England, Scotland, Holland and even Australia.
"It all comes back to customer service,"Gareth concludes. "People like to deal with people. You build up a customer relationship and you work with them and move with the times. You get to know what lorries your customer runs and you stock parts for those. You know if he's a Scania man, a Renault man or a Volvo man and you stay ahead of the game at all times. You build up as much knowledge as you can and use that knowledge to make sure your customers want for nothing."
Spring & Airbrake Ireland Ltd.,
19 Lisnataylor Road,
Nutts Corner, Crumlin, County Antrim, BT29 4TD.
Tel: 028 9082 5767 Fax: 028 9082 5766
Email: [email protected]
Facebook: www.facebook.com/spring.airbrakeireland
Taken from Irish Trucker & Light Commercials magazine, Vol 20 No 1, February 2017