Zell'of a service
26/06/2017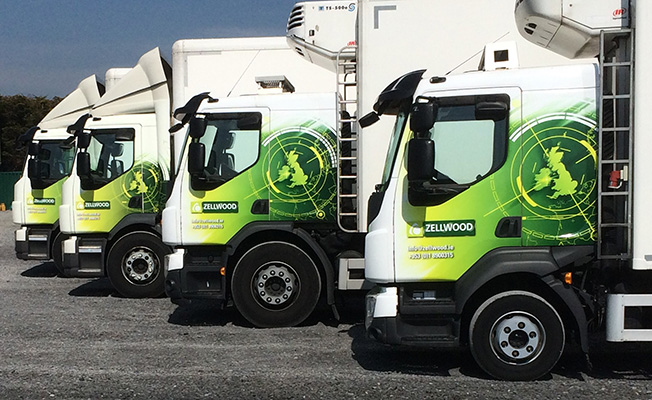 Zellwood Ltd is an award-winning contract management and logistics solutions provider based in Donabate, Co. Dublin and specialising in chilled goods distribution throughout Ireland, the UK and mainland Europe.
Established in 1995 by brothers William and Mark Flanagan, Zellwood has grown to become one of the country's leading retail temperature controlled distribution operators, employing almost 80 staff and running a modern fleet of 33 trucks and 22 refrigerated trailers. William and Mark oversee the running of the company along with operations manager Patrick Quearney and fleet manager James Plunkett.
A crucial factor in Zellwood's success and continued growth has been its ability to adapt its services to meet customer requirements. The company has developed a 'one-stop shop'capability over the years and is dedicated to providing a complete distribution solution for each customer. As a private company with a skilled, experienced management team, Zellwood can make decisions quickly without having to consult with board members. This leads to a more efficient operation with the flexibility to meet all customers'needs and expectations.
The North Co. Dublin firm prides itself in having the operational ability and financial resources to grow up with its customers. Zellwood understands the nature of its customers'business and works with them for mutual advantage. It strives to ensure that all clients are provided with a consistently high quality level of service.
"We feel it's vital for us as a distribution company to develop close working partnerships with our customers. We are very proud of the relationships we have built with their management and operational divisions. Much of our work has been obtained through word of mouth and recommendations from satisfied customers,"William Flanagan explains.
William and Mark received a good grounding in the business when they managed/supplied 150 drivers and 80 trucks between 1998 and 2003 to Tesco's distribution centre in St. Margaret's, North Co. Dublin.
"We basically ran it alongside Keeling's and Tesco,"William recalls. "It was a huge contract for a young company to take on. Nothing has fazed us since."
Zellwood is focused on catering for the needs of its main, blue-chip customers who are Gist Ireland, Lidl and Nature's Best. Gist Ireland is responsible for all the distribution of Marks & Spencer goods across Ireland and the UK and also for the distribution of Starbucks throughout Ireland, while Lidl is Ireland's biggest discount supermarket chain. Nature's Best, who Zellwood have been working with since 2002, is a Drogheda-based food producer supplying all the major retailers. Starbucks Coffee has made huge inroads into the Irish market and has 21 outlets in Dublin city centre alone.
The transportation of perishable goods requires reliability in terms of delivery times and consistency in product temperature. The deterioration or spoiling of products reflects badly on all parties concerned. To ensure that this doesn't happen, Zellwood is continually investing in its fleet which is mostly made up of DAF trucks, Schmitz trailers, Thermo King fridges and D'hollandia tail lifts. Regular maintenance programmes are completed through the main dealer on a contract service agreement.
"Every couple of years, the fleet is upgraded and this year we took delivery of 16 new DAF trucks. We have found over the years that the DAF brand delivers the best all-round performance. DAF also has a strong dealer support network throughout Ireland and the UK which is vital for us because we can't afford any downtime."
An ISO 9001, ISO 14001 and FTA Accredited company, Zellwood has been using a telematics system from Blue Tree Systems in Galway for the past 15 years. As well as delivering a vast amount of in-depth data including automated downloads of drivers'cards, real-time information on all driving working hours and end-to-end infringement reporting, the system can monitor fridge temperatures. The programme is set to send an alert to the office if a fridge unit deviates more than two degrees from the original set-point. This allows the office to contact the driver, discover what the problem is and then take the required remedial action.
"The system is perfectly suited to our needs. We can monitor vehicle locations and fridge temperatures 24 hours a day which is invaluable to our operation,"William says.
The affable managing director is full of praise for his 71 drivers and the rest of the Zellwood staff.
"Our drivers are fully-trained, reliable, professional, friendly and experienced. They can always be relied upon to do the job properly. Our staff and our customers are the most important people for us."
To help with driver training, Zellwood has its own Approved Driving Instructor (ADI) to carry out its driver training assessments and inductions. "We feel this gives us a huge advantage on driver selection,"William says.
Twelve months after winning the award for Best Livery, Zellwood did it again when it scooped the Fleet Transport / Transport Manager of the Year award on October 13 last. The haulier was also shortlisted for the Best Safety Practice award.
"We were both surprised and delighted to win an award for the second year running. Transport Manager of the Year is a prestigious award and one that was shared by the whole team who oversee the running of our fleet."
With the economy moving again, it would seem that further expansion is on the cards for Zellwood over the next few years.
"We're growing on a year-on-year basis. We are looking to develop our UK market and those in France and Belgium. At the same time, we are committed to maintaining the high standards our clients have become accustomed to,"he concludes.
Zellwood Ltd
Unit 18,
Turvey Business Centre,
Donabate,
Co. Dublin.
Telephone: +353 (0)1 8900 319 / +353 (0)1 8900 315
Email: [email protected]
Web: www.zellwood.ie
Taken from Irish Trucker & Light Commercials magazine, Vol 20 No 1, February 2017