Crane supreme
21/06/2017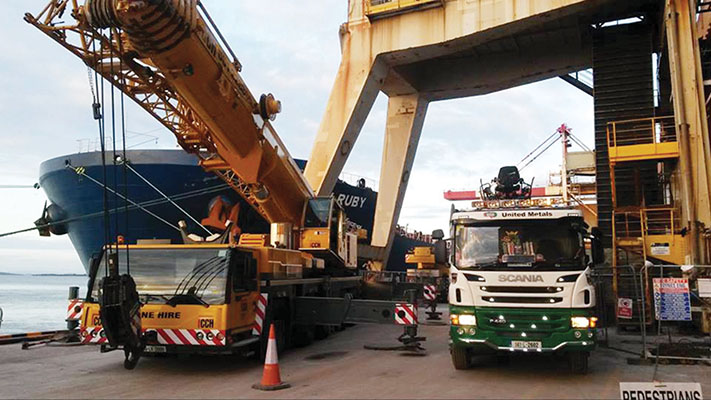 With over 40 years'experience, Nationwide Crane Hire Ltd. - formerly Cussen Crane Hire - is one of Ireland's premier crane hire specialist. In addition to crane hire, they also offer unrivalled concrete pumping; high-pressure water jetting; and transportation and storage solutions. We caught up with director / operations manager Brendan Rainsford at their Limerick city facility to find out more.
Nationwide Crane Hire Ltd. operate a modern fleet of Liebherr mobile telescopic cranes, ranging from 10-tonne city cranes with a reach of 20 metres up to 400-tonne cranes with a reach of 130 metres fully extended.
In catering for the diverse needs of an ever-evolving market, they also operate a transport fleet (flats, low loaders, extendable trailers) and offer storage facilities for long- or short-term hire as well as delivering professional, cost-effective concrete pumping (using 34 –56 metre truck-mounted concrete pumps) and high-pressure water jetting solutions. All equipment is available 24/7.
Since the company's formation in 1972, they have grown steadily, expanded and built up a loyal client base. By offering the best equipment and personnel, they have forged lasting relationships with a veritable Who's Who of national and international corporations, government bodies, main contractors and major chemical and pharmaceutical companies, all the time amassing a wealth of experience and knowledge within the crane industry.
NCH strive to achieve excellence, nay perfection, and their unswerving attention to detail, dedicated staff and excellent equipment combined with four-and-a-half decades of experience make them Ireland's crane hire company of choice.
Nationwide Crane Hire boast the requisite knowledge, experience and equipment necessary to complete every task safely, on time and within budget and they have been involved in a steady flow of high-profile projects, including Thomond Park Stadium, Limerick Tunnel, Regeneron Pharmaceuticals, Foynes Port Tank Farms, Foynes Port Wind Farm and Kerry Group's Powder Drying Plant.
Nationwide Crane Hire Ltd. operate a strict Health & Safety policy, with stringent equipment examinations undertaken by independent external assessors. All operators are trained to the highest standards in accordance with HSA regulations and the directors insist that all equipment and employees comply with the company's strict environmental policy.
As such, they were the first crane hire company in Ireland to be awarded ISO 14001 for Environmental Management and have also achieved ISO 9001 for Quality Management Systems as well as OHSAS 18001 for Occupational Health and Safety Assessment.
Continuous investment in the fleet ensures that NCH is perfectly positioned to provide service levels that are second to none. In 2016, two new Liebherr cranes were added - an LTM 1200 and an LTM 1130 –as well as a brand-new Faymonville five-axle ballast trailer. Every crane, concrete pump, jet washer and truck comes with an experienced operator, fully trained and certified in all aspects of crane operation including manual handling, load securing etc.
Gainful, direct employment is generated for a crew of 25 at present and the team is capably led by co-founder / managing director John Naughton alongside general manager Frank Haugh, sales & marketing executive Michael Burke and operations manager Brendan Rainsford.
Of course, it's pointless having a superb fleet of vehicles and equipment if you don't look after it. To this end, Nationwide Crane Hire maintain all their units in immaculate condition at all times. "We have our own in-house maintenance department with a team of qualified fitters who ensure that everything is performing as it should be,"Brandan notes. "When you look after the cranes, you can get a ten-year turnaround out of them, which cut down on overheads and ensures a better deal for our clients.
"We're doing a good bit of work with the cranes on wind turbines at the moment –offloading the towers off boats as well as repair work on-site on generators and blades,"he adds, regarding recent developments in the crane hire sector."
NCH's reputation for excellence and exemplary track record is such that they have worked with all the main contractors, construction companies and plants in Limerick, Munster and beyond, including Aughinish Alumnia / Rasal, Doyle Shipping Group, John Sisk & Son, John Paul Construction, Irish Cement, Roadstone, etc.
The fact that Nationwide Crane Hire is thriving by offering a diverse range of exceptional services, having weathered the worst economic downturn to hit the construction sector in living memory, tells us all we need to know about the inherent quality and strength of this long-serving operation.
"We were prudent in our purchases during the downturn,"Brendan continues. "When things were quiet, we parked the machines up and staff numbers decreased, but we're growing again now. We turned the corner in 2012 and have been growing steadily ever since.
"The wind turbines and wind farms are the biggest drivers of that growth,"Brendan concludes. "In wind, you need to have excellent equipment because the work is all weather dependent and the client expects you to arrive on site and do the job asap so that they can commission it. It's an in-and-out job that has to be done as quickly and efficiently as possible and we have the expertise, machinery and personnel to be able to meet these requirements.
"There are of course new techniques and developments that you have to learn and keep abreast of as you go along but, at the end of the day, it's all about service and we pride ourselves on delivering excellent service levels right across the operation, from crane hire to contract lifts, transport, concrete pumping and high-pressure water jetting."
Nationwide Crane Hire Ltd.,
Unit 3, Dock Road Commercial Park,
Dock Road, Limerick.
Tel: 061 228855 Mobile: 087 6862880
Fax: 061 229761
Email: [email protected]
Web: www.nchcranehire.ie
Taken from Irish Trucker & Light Commercials magazine, Vol 20 No 1, February 2017