Keeping the truckers truckin'
19/06/2017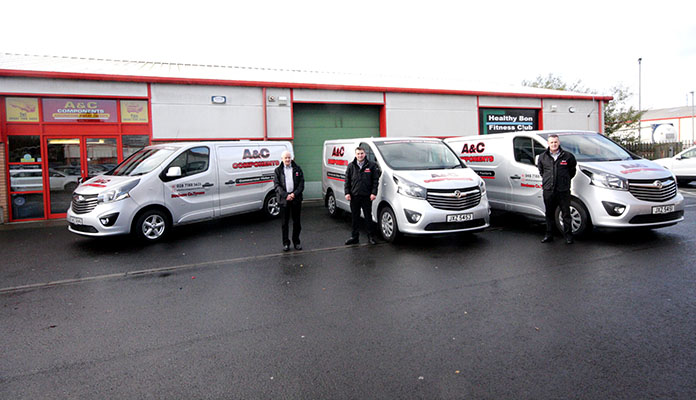 It seems like an eternity ago now that Tommy O'Brien left school to start working towards his current career as MD of A&C Components in Strabane, Co Tyrone. In a matter of months the business will celebrate its 30th anniversary.
Tommy is as modest as they come and he certainly doesn't like to brag about his achievements not least of which is the company having worked through four different decades.
Those decades brought many challenges, one of which happened in infancy which was the Flood of 1987 in which both premises and stock being destroyed.
This necessitated a move to the Melmount Road area of Strabane where A&C remained for many years before moving latterly its present location.
Originally the business was an agricultural and commercial vehicle component supplier (hence the A&C) the business focus is now on Commercial vehicles only. Due to customer satisfaction being a core principle of the firm A&C Components have a loyal and ever expanding customer base.
The impressive well stocked and organised store offers customers a wide range of components including those associated with braking, steering, suspension, transmission, lighting and vehicle marking.
A comprehensive range of parts are on hand to suit DAF, Hino, Iveco, Man, Mercedes, Scania or Volvo to name a few.
Whether your business involves the transportation of people, aggregate, food or any other freight, Tommy and his colleagues, Jude McFadden and Kevin Duffy who between them have over 35 years'service will do their best to keep you on the road to keep the truckers truckin'.
Before A&C's inception Tommy had years of experience in the auto parts business having cut his teeth early on as a store-man in Gilbert Tunney's garage Trillick, Co Tyrone, travelling the 10 miles from his home in Fintona by push-bike in the early 70's.
Following on from that, he found himself out on-the-road for Edmunds Walker at their then Omagh branch. Here, Tommy through dedicated service to customers built up a substantial customer base and he and his wife Bernie began to have thoughts about forming their own business and in 1987 they indeed put the wheels in motion to do so.
Now, almost 30 years later, Tommy in his own words gave us his thoughts on what the company is all about.
"We're based here at Orchard Road Industrial Estate in Strabane, Co Tyrone and we'll be 30 years old in 2017, we have four staff here, with my wife and myself being the two Directors, I took a chance starting the company 30 years ago and we're still here so we must be doing something right,"Tommy stated.
They certainly are. Tommy has learned the benefits of customer satisfaction and his company's first class service is the core reason why they continue to achieve repeat business to this day.
Never a duo to be complacent Tommy and Bernie are always on the look-out for ways to better service their customers and their needs always striving to respond to changes in vehicle technology making sure they have the correct components and knowledge on hand at all times.
With any anniversary looming there is always a desire to carry out some improvements so a little revamp for the premises is planned in the New Year.
At the moment though the O'Briens and their team are just happy enough to work through the busy Christmas period, as Tommy said: "We're going well enough right now and as I said I can't complain, we're kept busy and you can't ask for much more than that, hopefully it will continue. The 30 years milestone is something that we are counting down to here,"the Managing Director revealed.
"Already a fleet of three new vehicles have been purchased and this coupled with the planed refresh of the store will ensure a new look for the company which is important every couple of years."
The hope is to attract new customers to A&C Components. As Tommy says "you can never have too many clients".
The existing client base is indeed a loyal one and as Tommy commented: "We're dealing with all the locals here and there's a very good business relationship with them, we know them well and they know us and the benefits are mutual so it's a good situation. Our customers trust us to sell them proper products at a fair price so why would they go anywhere else?"
A fair point indeed. The O'Briens and their team would like to take this opportunity to thank their loyal customers for their support throughout the last three decades and look forward to servicing their needs well into the future.
Taken from Irish Trucker & Light Commercials magazine, Vol 20 No 1, February 2017