The Mega Euroliner specialist
12/06/2017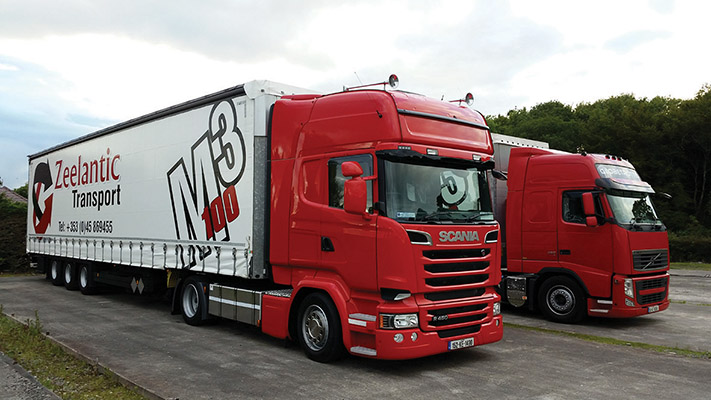 Zeelantic Transport Ltd is an international haulage firm specialising in Mega Euroliner trailers. Based in Clane, Co. Kildare, the company has built up a large customer-base since its inception just three years ago.
What do you get when you cross Zee (the Dutch word for sea) with Atlantic? The answer is Zeelantic, which is the rather catchy name husband-and-wife Eugene and Yvonne McArdle came up with when they formed the company in 2013. Since then, Niall Dowd has come on board as a third director.
Zeelantic Transport is no ordinary transport provider. Its speciality is Mega Euroliner trailers which are equipped to carry loads over and above the regular size. The trailers have an internal carrying capacity of 100 cubic metres with 3-metre vertical height available. They have the ability to take standard loads, but also the dual advantage of high volume or unique freight which is not achievable with standard European spec curtainsider trailers.
In addition, Zeelantic offers driver-accompanied transport to the UK and Europe. Its nine-strong team of drivers are fully-trained with CPC, ADR and air freight security certification. Customers can be assured of the location of their freight at any time thanks to a state-of-the-art satellite tracking system which enables the company to provide accurate collection and delivery times in an ever-changing environment.
"We offer a service that very few others can. We have Mega Euroliners with sliding roofs which can be loaded effortlessly with the use of a crane or overhead gantry through the roof. Goods can also be loaded via the back door or sides. They offer up to 3.00 metres internal height with the possibility to go to 3.05 metres in certain countries, which is well within the 4-metre legal operating height in Europe,"Yvonne explains.
"The service we provide to the Continent is availed of by a wide range of customers. For example, we have a lot of customers in the automotive industry. We had wanted to get into Mega Euroliners for a long time, going back to when we had another company that specialised in general curtainsider work to and from Ireland and Europe, which we sold in 2003. We had dabbled with Mega Trucks and Euroliners back then before deciding to specialise in them."
Zeelantic Transport runs a mixed fleet of Scania, Volvo and Mercedes Euro 5 and 6 Mega Tractor units. The latest addition is a Volvo Mega Low Ride 4x2 which boasts 500hp and was purchased new from Irish Commercials in Naas. "It's the first Volvo we've bought new and the biggest truck in the fleet. We have two other Volvos, one 400hp and one 460hp, a 450hp Mercedes and five 450hp Scanias,"Yvonne informs us.
The company also recently took delivery of three new Schmitz Mega Euroliners, bringing the overall number to ten. Each of the Mega Euroliners are fully equipped for general, automotive and high volume freight, and carry TUV Certification for Load Security in accordance with the DIN EN 12642 Code XL and Daimler guidelines 9.5.
As already mentioned, the high specification of the trailers gives clients the option to load and offload 3-metre internal height through the roof, by way of side loading and also via the rear doors. This in turn allows customers greater flexibility and ease of operation in manoeuvring their cargo safely whilst minimising the downtime of their workforce completing the task in hand.
Zeelantic's vehicles travel within Europe to and from Ireland on a weekly basis, with Germany and Austria being the main focus. The company will also quote for loads to and from the UK on request subject to availability. Eugene and Yvonne have a wealth of experience as drivers and are both very much 'hands on'. They have evolved their business model from a standard fleet into specialist Mega Euroliner equipment. This allows them to seamlessly combine the needs of both the traditional and niche markets.
Managing director Eugene is a natural communicator. When not in the office, you will find him on the road liaising with customers and ensuring that logistic expectations are not only met, but exceeded. He believes that Zeelantic, its staff and its fleet are ambassadors for their clientele and is exuberant in overseeing both the scheduled maintenance and pristine appearance of the fleet at all times. The Armagh native steps into the driving seat when required to assist in fulfilling collection or delivery commitments and acts as both a trainer and source of knowledge for the other drivers on an ongoing basis.
Yvonne is the hub of the operation. During her many years behind the wheel, she studied and qualified as a transport manager and bookkeeper. The affable Dubliner is the main point of contact for all Zeelantic clients and is responsible for the drivers'itineraries. She integrates these needs while ensuring that all of the drivers are within the legal remit of the Drivers Working Hours Regulations. She is always on hand to answer any queries that arise.
Niall Dowd was appointed as the company's third director last year. Like Eugene and Yvonne, the Longford man has worked in the industry for many years. He is also involved in the day to day planning and is playing an important role in Zeelantic's ongoing success.
Zeelantic Transport Ltd
Kilnamoragh,
Clane,
Co. Kildare.
Telephone: +353 (45) 869455
Eugene's Mobile: +353 (86) 8115586
Yvonne's Mobile: +353 (86) 8292525
Niall's Mobile: +353 (86) 4105425
Email: [email protected]
Web: www.zeelantictransport.ie
Taken from Irish Trucker & Light Commercials magazine, Vol 19 No 10, Dec 2016/Jan 2017