"I attend shows all over Europe and Full of the Pipe is the best"
08/06/2017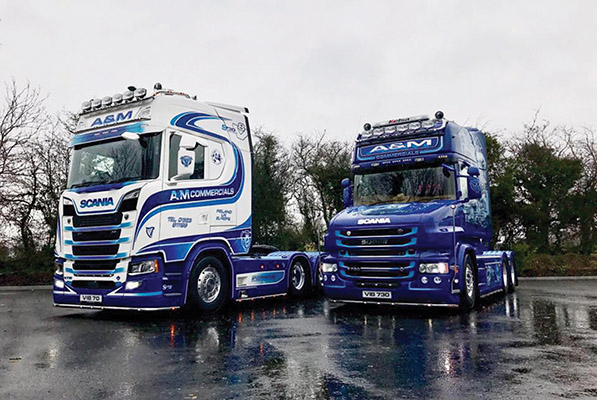 A truck show simply wouldn't work without truckers. These individuals are the very lifeblood of the event and they will be coming out in force to support Full of the Pipe 2017. We caught up with some of the people who are making the journey to Punchestown …
Martina McNally – A & M Commercials Ltd.
"I attend shows all over Europe and Full of the Pipe is the best," says Martina McNally - a popular face at truck shows near and far. The Monaghan lady will be at Full of the Pipe again this year, driving A & M Commercials' instantly-recognisable bullnose Scania. The truck is genuinely one of a kind, the custom-build flagship vehicle that epitomises everything A & M Commercials stands for.
With bases in the Republic of Ireland (Castleshane, Monaghan), Northern Ireland (Keady, Armagh) and the mainland UK (Warrington, Greater Manchester), A & M Commercials Ltd. is a wholly independent family business that sells a vast range of second hand (and sometimes new) tractor units, rigids and trailers to customers from all over Ireland and the UK.
"We were at Cavan five times and this is going to be our sixth year attending the show," says Martina. "I'm in favour of the switch to Punchestown. Cavan was a good venue but there was a big crowd there last year and there wasn't a lot of space. Punchestown is very central and people from all over Ireland can get to it more conveniently."
The magnificent bullnose Scania Martina drives was acquired brand-new and custom-built in 2016. "Last year was her first at Full of the Pipe. We brought over an older T-cab Scania before that. The bullnose is always our flagship and the one we bring to shows. We got our first one in 2000 and this is our fourth."
A & M Commercial's show truck was built in Holland and airbrushed in England before going back to Holland to have its interiors done. Martina has the pleasure of driving the spectacular Scania and has so far clocked up 13,000km.
"I took it to shows in Belgium, Holland, Scotland, England and Ireland. I drive over myself and get her polished the day before and then meet up with family and friends on the day of the show. In 2016, three Best Truck in Show awards were garnered as well as Best Interior in Belgium and three prizes at Full of the Pipe.
"This is the type of lorry you can't hide away because it's one of a kind, so it generates a lot of publicity. I get a great buzz out of taking it to shows and it makes it all worthwhile when people compliment you on the truck."
Martina got his licence on her 18th birthday and has been driving ever since. "I love it and couldn't see myself doing anything else," she notes.
The rest of the family team behind A & M Commercials are sister Aileen, twin brothers Michael and Aidan, dad Michael and mum Assumpta. "It's going well," Martina adds. "We have 400 trucks and trailers in stock at the moment. We've also started selling new trucks and sold 35-40 of them last year as well as 1,400 second-hand trucks and trailers. We'll keep it independent because that has worked well for us so far.
"Of all the shows I've gone to, Full of the Pipe is the best," she concludes. "There's a real nice atmosphere at it and it's really well ran, with no messing. It's nice that they give prizes to everyone and the show has come on really well since they started out. It's great to see a show in Ireland doing so well and bringing all the Irish people together."
A & M Commercials Ltd.,
Dublin Road,
Castleshane,
Monaghan,
County Monaghan.
Tel: 047 85908
Fax: 047 84335
Email: [email protected]