Highway Hero is not to be missed
07/06/2017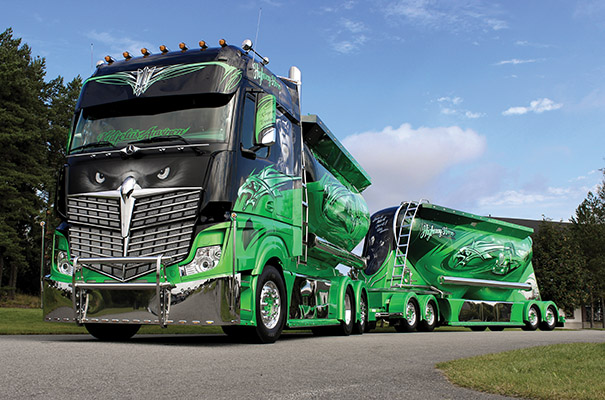 The Highway Hero Truck will be one of the star attractions coming to Full of the Pipe 2017.
'It was warm, sunny Sunday, August 2013. We were on our way back to home from the Nordic trophy. There on the ferry's sundeck we took super long drinks and enjoyed the sun. We were going through the weekend, how nice it was and coming third place with x-tar. Then someone said that it would be nice to build a winning truck which ain't Scania or Volvo. There came ideas of big chrome bumper, big pipes up... on that very day Highway Hero was already planned.
'A lot of planning for details and time schedules was required, so that we are ready the next August for a competition. Truck was built in Hio-mex and painted in mjölby bil lackering. The day before going to Power truck show in Finland, we were still putting everything together. Thursday morning 4am. most of us went home for a little rest. Thursday 10am, we started our trip to the first show. The rest is history, we won the Nordic trophy with a Mercedes truck. No one has ever won with anything else than Scania or Volvo.
'After Easter 2015, we started working with Highway Hero. Like every show truck that has been and still is in the company. We deliver industrial powders like cement, ash and limestone to our customers. We only drive in Finland. The company was established in 1953 and located on Helsinki which is the capital of Finland.
Company: Kuljetus Auvinen Oy
Truck: Mercedes-Benz Actros 2651
Driven now: 235000km.
Truck specifications.
Mercedes- Benz Actros 2551
Year 2014
Empty weight with trailer 20400kg
Maximum total weight (Finland) 64000kg
Painting: mjölby bil lackering ab
Pictures painted by Perttu Papunen
Interior: Lasse Vänttinen verhoomo prima
Stainless steel, aluminium and body work hio-mex oy