"This is all about giving the drivers the recognition they deserve"
06/06/2017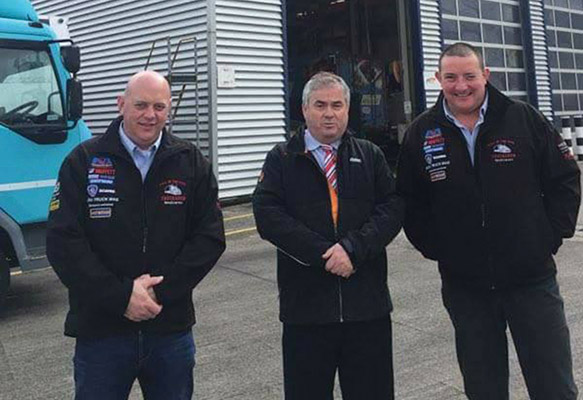 The 2017 Full of the Pipe Truck Show Ireland is set to be the biggest in the eight year history of the show.
From humble beginnings, this event has grown into Ireland's finest truck show and in order to cater for the increasing amount of trucks attending, the 2017 event will be held in Punchestown Racecourse.
Event organisers Kevin Mulqueen and Colin Hegarty have gone to great lengths to ensure that the show is held in a venue that is able to cater for their needs.
"We just simply outgrew Cavan. Little did we think six years ago that we would outgrow the venue. We never in our wildest dreams thought that would be the case," said Kevin.
"Once we saw Punchestown, we knew that it was the ideal location for us. There is more than enough space and we have the capabilities of expanding if we ever need too."
Kevin pointed to the fact that there is an excellent road network to and from Punchestown which is a major plus for truckers.
"The road network is excellent for almost everyone attending especially those coming from the U.K and Europe as Dublin Port is not that far away.
"This is the ideal location for the show and we have indoor and outdoor facilities available to us. I would like to thank Punchestown's Erica Elliott for all she has done for us. As soon as we saw the venue, the deal was done very quickly and Erica has been a great help as she welcomed us with open arms," added Kevin.
The new venue has all the facilities needed to cater for such an event, while there will be live music all weekend, country radio will once again be broadcasting the event and for the first time ever, we have a national radio station covering the show as Classic Hits 4Fm are on board this year. Their Business Accounts Manager Lisa Sheridan has been working with us to promote the show and it is great for the organisers that it will be recognised on a national level.
Kevin and Colin have been busy promoting the show since the new location was secured, attending various trucks both here and the U.K and Kevin revealed that they have got a lot of positive feedback.
"There is massive interest from the U.K and Europe this year with a large number of trucks coming over. That is not to say we have forgotten the people that have supported us over the last eight years.
"Some truckers may feel that they cannot compete against the trucks coming in from other countries, but we must stress our aim is not to promote competition, but to offer a relaxing weekend to truckers. There is no emphasis on entering the categories, if people want too, they can, if not, there is no problem at all. The trucks are on show for people attending the event to give them the opportunity to see the type of trucks that they would only see on TV or the internet."
One truck sure to a popular attraction is coming from Finland as the fully customised 'Highway Hero' makes its first appearance at the show.
Despite being a truck show first and foremost, Full of the Pipe has always been very family orientated and that is the case once again in 2017. There will be a more diverse range of trade stands on display, while kids' attraction as always will be a common sight.
RC Ireland will be giving a demonstration of their products as they have done in the past few years.
Of course, the event would not be possible without the sponsors who so kindly support the show.
Calor and DAF Ireland are the main sponsors this year, while the likes of Derry Bros, Moran Signs, Westward Scania, Applegreen, Reflect Auto Care, Michelin,, Truck Tech, Midland Tyre Centre, Moffats, APR, Fleet Data, Elite Country Radio, CES Environmental and Mercedes Ireland. Also joining the fold is Kinahan Commercials, while all the main truck dealers will be represented there too.
"We are delighted to have the sponsors on board once again and all the main dealers will be there, while we have world renowned Michelin Tyres there as well and Moffat's will be doing a demonstration. So you can see the standard of interest that will be there. It is great to see such renowned companies involved and we are looking forward to the event."
Of course, Full of the Pipe has always supported some charities down through the years and this year they are continuing their support of Heart Children Ireland.
The event will once again take place on the weekend of June 10th and 11th. Registering begins on the Friday of that weekend as trucks come along and for the small fee of €35, they are guaranteed a great weekend's entertainment.
"Trucks register on arrival and we will start taking them from the Friday afternoon. It is €35 for the weekend pass, while we also have daily and camp-site passes available.
"Anyone want to wash their truck can do so free of charge, while we also can accommodate anyone that wants to park up their trailers.
"This is all about giving the drivers the recognition they deserve. Without the Irish participants, the show wouldn't happen; it's as simple as that. I must stress again that it is not about the competition for us, it is about organising a weekend that can see truckers unwind and relax for a couple of days. The standard of truck in Ireland is phenomenal and truckers deserve to be able to showcase them at an event like this. We look forward to seeing everyone there."
For anyone who would like further information on the event ring Kevin at 0860850015 or Colin at 0868051222.