Busy times for R & N Transport
01/06/2017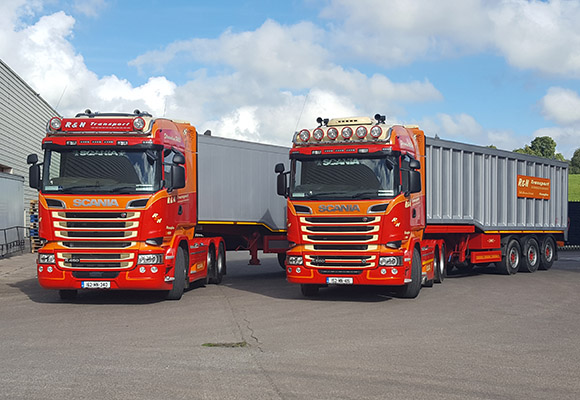 Coming up on a quarter of a century since its establishment, R & N Transport in Co Monaghan continues to lead the way in animal feeds haulage. Irish Trucker caught up with Raymond Brady to find out more about business that he and his brother Niall run together.
It's now 24 years and counting for Monaghan-based haulage outfit R & N Transport and for company directors Raymond and Niall Brady the years have flown by.
Along with his brother Niall, Raymond has followed in the footsteps of his late father John in running a successful animal feeds haulage business, while also maintaining nine poultry houses of their own.
When we spoke to Raymond in October he had over 20,000 turkeys ready to go through the doors, so, needless to say, these are busy times indeed for the Bradys with Christmas just around the corner.
The man himself will tell you that his line of work sees him kept busy 12 months a year, but surely December has to be peak time in the poultry trade?
"Our busiest time of year here would be all year round really,"explained Raymond. "That's because we have two companies on the go really, which can make things pretty hectic at times. You can't complain about that though."
It isn't a bad complaint to have at all, considering that January will see R & N Transport marking 25 years since the company put its first truck on the road.
They haven't looked back since either and giving us some background into the business, Raymond also outlined his brother's initial involvement with the company a couple of years back which saw the 'N'come into R & N Transport.
"We're based here in Tydavnet, Co Monaghan and we're established 24 years,"said Raymond, a man that has been involved in the haulage of animal feeds all of his working life.
"We've one driver and a couple part-time as well. My brother Niall and I run the company together and he would have become a partner here over a dozen years ago."
So what is it exactly that R & N Transport does?
Raymond explained that an unfortunate set of circumstances for Pattons Feeds in Monaghan a couple of years back saw the Bradys having to haul their feeds elsewhere.
The trips to Co Longford started to become more and more frequent for R & N Transport as Paul & Vincent were satisfied with the service they were getting. The latter have been at the forefront of the Irish compounding industry in the blending and manufacture of high quality feed for the supply to farmed livestock.
The working relationship between both parties has been strong from the start.
"We haul animal feeds for Paul & Vincent in Edgeworthstown and we've been busy with them,"stated Raymond.
"We were originally doing it for Patton Feeds in Monaghan before it went on fire. As I said, my father started this company in the early 1980's and would have first done work for them back years ago. Around 1991, '92 he took sick and I took over running the company.
"In 1995, the curtainsider that we bought was the first one that came to Patton's Mill and a year later I bought my first arctic. My father was into lorries all of his life and his father would have been a farmer, so I suppose this was always going to be the kind of business that we were in."
And business is good. Even during the economic downturn the work kept rolling in for R & N Transport and the business continued to thrive.
At the moment, Raymond and Co are "flat out"on all fronts, with their trucks going to Longford and poultry heading west as well as south.
"It's going well,"he said. "It was steady for us throughout the downturn and we were always taking on work and looking for more at the same time once Patton's went on fire. We're involved in the poultry end of it and have nine poultry houses at our base in Drumbenagh. Five of those houses would be broilers and the other four would be turkeys. We'd 22,000 turkeys come in yesterday.
"Western Brand in Ballyhaunis is where the broilers go and we would be a rearer for Whitakers in Cork as well. Niall's in charge of that."
As for the fleet on the road, the Bradys continue to put their trust in the Scania brand.
Dealing with McElvaney Motors Ltd in Monaghan, R & N Transport recently bought a brand new Scania 6x2/4 Highline. The truck is a class looking outfit with very striking livery.
"We have three lorries on the road and bought a brand new Scania 560 in September off McElvaney's in Monaghan, who we've dealt with for years now,"said Raymond.
"We traded in a 2009 480 and have a brand new 450 which we bought in August of this year as well.
"In February, we got a new Wilcox trailer for the 560, which is our second trailer here, and we've a maintenance contract with McElvaney's to make sure that they're well looked after."
McElvaney's are well known for looking after their customers and Raymond likes the brands that they carry.
Since buying his first Scania, he hasn't strayed away from them.
"I used to be a Volvo man years ago, but I got in my first Scania in and just kind of stuck with them after that,"Raymond explained. "They're a great truck to drive and very reliable, which is what you need when you're in this line of work."
Next year will see R & N Transport turning a quarter of a century old and the way things are going, it seems Raymond and Niall can expect another busy 12 months ahead.
What other way would they want it?
Taken from Irish Trucker & Light Commercials magazine, Vol 19 No 10, Dec 2016/Jan 2017