Delivering promises on a daily basis
31/05/2017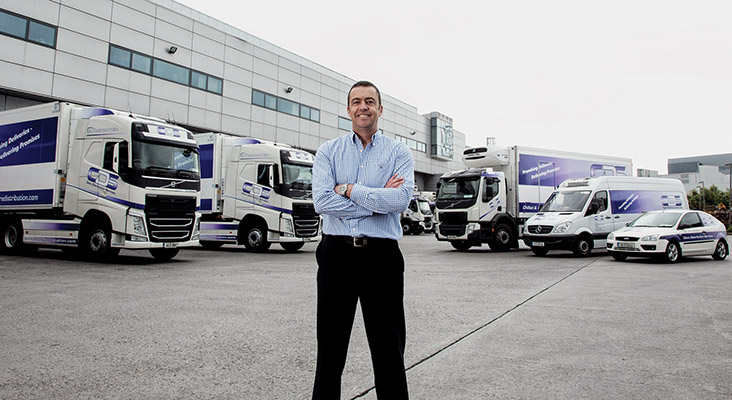 Since their inception 20 years ago, Clare Distribution Services have strived to be the very best in their chosen field – island-wide, temperature-controlled distribution. This quest for perfection is relentless and has hugely benefited customers, who are guaranteed efficient, reliable, unrivalled, award-winning service levels.
To coincide with their 20th anniversary, Clare Distribution Services have been named 2017 National Haulier of the Year and overall Irish Haulier of the Year at the prestigious Fleet Awards. At a gala dinner in the Citywest Hotel on October 13th last, the Dublin company scooped the top prize, with 850 industry representatives present on a never-to-be-forgotten night. We touched base with MD Mark Clare to find out more about what the accolade means to CDS and to get an update on his company's relentless pursuit of excellence:
"It's nice to be recognised by the industry itself for doing what we believe to be a good job,"notes the founder / MD, who established the family business in 1997 alongside his wife Ann Marie. "It's all about providing the service. That's all we focus on. We don't produce or manufacture anything, so we concentrate fully on providing a stellar delivery service that's second to none. Regardless of the volume of work we're doing for them, we treat every customer as though they are our only customer."
This is a philosophy that has served Clare Distribution Services –and their customers –extremely well down through the years and has resulted in steady growth on an annual basis. When you set the bar as high as Mark Clare has, there is no such thing as resting on one's laurels. By optimising and maximising the company's strengths - embracing technology, automation and tracking systems etc. in the manner that best suits his own requirements –Mark continues to become more efficient, more competitive…
To achieve and maintain the high standards pinpointed by Clare Distribution Services as being critical to the smooth, efficient and profitable execution of the business, substantial investment is a prerequisite. To this end, Mark has demonstrated the courage to follow his convictions by investing in the best equipment and personnel. CDS operates a truly stunning fleet of vehicles comprising some 46 rigids, 22 tractor units, 40 refrigerated trailers and three curtainsiders at the time of writing, with gainful employment generated directly for a team of 95.
Regarding the ambitious investment programme that saw six brand-new Volvo rigids, three Scania tractor units and twelve new trailers added to the fleet in 2016 alone, Mark reveals: "It's all part of the cycle and we will change another eight-ten units this year again. We didn't buy new trucks between 2008 and 2012 due to the downturn but we started to follow an investment programme from 2012 onwards. We set out with a five-year programme of freshening up the fleet and that has really stood to us in the long term. We have put ourselves out there as a serious distribution company and I like to think that people will look at us and say 'this is the way it should be done'."
As for employing close to one hundred people –in addition to the spin-off work generated –this must be a source of enormous satisfaction for Mark and Ann Marie? "We are very proud of what this company has developed into,"the former continues. "It's all about the people within the business and it has been a real pleasure to watch them grow. We have given them the opportunity to go out and develop their own personal skills and to be proactive within the business, so it's been very rewarding from a personal point of view to observe that individual growth as well as the growth of the business."
Since the genesis of Clare Distribution Services, the transport sector as a whole has been completely revolutionised by constantly-evolving technology. Mark has embraced these changes and has installed the latest software, systems, apps and innovations to guarantee optimal service levels across the board. "We've started using the TranzSafety app from Tranzaura, which gives us data on vehicle defects in real time, taking away the paper trail, and I also find the Blue Tree fleet management system to be very good. It has served us really well and Blue Tree have been very proactive in working with us to enable us to get the very best out of their systems."
As a hands-on proprietor, Mark makes sure he is fully proficient in all systems before even considering introducing them to his highly-efficient business model: "I make sure I fully understand everything before we implement it and how it's going to benefit us,"he confirms. "The next move will be to install CCTV in all the vehicles, which I'm going to start rolling out in January."
Clare Distribution Services specialise in the distribution of temperature-controlled products, delivering chilled, frozen and ambient products as well as a small percentage of pharmaceutical goods. They pride themselves on building longstanding relationships with all of our customers as well as providing an efficient and reliable service.
CDS are now recognised as the leading temperature-controlled distributor in Ireland and have taken their service to the next level by moving to dual temperature across the entire fleet. Regular investment in a reliable, pristine fleet that's never off the road is part of the CDS commitment of guaranteeing uptime - something which is particularly essential in the refrigerated distribution sector.
Customer requirements are always met, if not exceeded. The team at CDS takes great pride in what they do and set targets week in, week out to become even better. A process of continuous improvement culminates in more value for money for customers and, in turn, more customers.
Is there room for further growth or is it time to consolidate? "What we have achieved to date has been fantastic and we won't be getting complacent or taking any of it for granted, but I believe there is still more to do. For example, the pharmaceuticals sector is an area in temperature-controlled distribution that we can target in a bigger way."
By any standards, Clare Distribution Services is a vast operation, with vehicles travelling through all 32 counties on a daily basis. How challenging is it to manage the logistics of a business with so many constantly-moving parts?
"We have an operations manager and a transport manager plus eleven other people working internally, who all help with that and ensure the smooth coordination of the business on a daily basis. I'd like to stress that this is very much a staff effort and each and every member of staff deserves recognition for what they bring to the business,"Mark concludes.
"They are encouraged to act proactively and they all add value to the business. They have a vocation for it and have enabled us to grow and to continue to set the bar higher."
Clare Distribution Services,
Unit B9,
Kingswood Business Park,
Lower Baldonnell Road,
Baldonnell,
Dublin 22.
Tel: 01 4032727
Fax: 01 4032728
Email: [email protected]
Taken from Irish Trucker & Light Commercials magazine, Vol 19 No 10, Dec 2016/Jan 2017