Rocking all over Europe
30/05/2017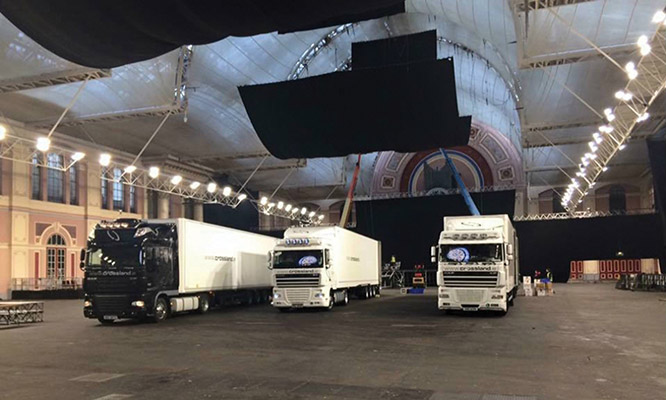 Celebrating 10 years in business this January, Rockstar Logistics Ltd has grown into a real success story under the directorship of Malachy McMullan. Irish Trucker found out more about his business, which sees him touring all over Europe.
If you were to ask Malachy a decade ago where he would be when he started off his Rockstar Logistics venture, it would have been hard for him to predict.
From having one bus on the road 10 years ago, business has grown exponentially year-on-year thanks to the professional approach adopted by Malachy and his wife Caroline from the outset.
He took time out of his hectic schedule coming up to Christmas to tell us about his unique business.
"The company started in January 2007 and between full-time and part-time we now employ 27 staff,"Malachy outlined.
"Our remit is to transport bands and musicians, and their equipment from venue to venue. It started when I bought my first truck back in 1988 and after some years I began to look for something a bit more bespoke. I was introduced to this line of work by someone who had the right contacts. When we talked about it initially, I honestly didn't know anything about it, but my curiosity was piqued.
"Eventually I decided to take a gamble and bought our first bus. We were busy from day one and it was clear that it was the way forward."
Within 12 months of setting-up shop, Malachy had come to realise that he was on to a winner in Rockstar Logistics.
The Co Derry native also started to understand the full demands of the business and what would be needed to ensure its success. He gave us some of the rundown:
"You are planning for perhaps up to three months before you pick up a band and you have to be well prepared. A tour can be 7 days long, or it can be 77 days long. Regardless of the length of the tour, all the checks and regulations must be adhered to, which is a challenge on its own, however the ramifications of not complying with the law effectively would destroy my reputation and my business, so planning is paramount. Double drivers have to be flown from city to city and so many other things have to be put in place that it's mind-boggling at times.
"When bands are touring, their vehicles simply have to keep going so the planning in place must work."
"The artists and crew we work for must have the best and it's a constant battle to keep things modern. Safety is paramount as well and we're proud of our dark green safety rating here from the authorities in Belfast."
Touring around Europe with some of the most famous bands on Earth (Malachy would rather not name them here) would seem like the dream job for the majority of people.
Malachy plays down the supposed glamour side of it though and very much sees it as a pressure job to get the artist(s) 'from A to B'.
"Travelling to so many cities across Europe may lead people to think that it's a very glamorous job, but I can tell you it's far from it,"he said.
"It's really all about getting to the next show. That's the case with each tour regardless of who the customer is or what end of the budget scale they are on. At the end of the day, they're all customers and deserve the best service."
Good relationships more often than not tend to develop from a good work ethic. Combine this with the excellent fleet which Rockstar Logistics operate, the dedicated team of drivers and internal support in the office, and it's not too hard to figure out where their success has come from. Customers return time and again to the comfort and reliability they have become accustomed to with Rockstar Logistics.
The company's new headquarters in Swatragh were purchased four years ago and have been maintained to the highest standard, which is something that Malachy views as compulsory.
"I bought the new premises in 2013 and turned them into what they are today –state of the art,"he stated. "Our workshop is fully equipped for our two full-time, highly qualified mechanics to service and maintain the entire fleet. Bus interiors are fully customised on site in our premises as well. However, of course there are times when we need assistance on the road, and it is key that I have support 24/7 across the continent. I don't think anyone can touch DAF when it comes to backup. Our local DAF dealer is TBF Thompson in Garvagh. Their base is 4 miles from our own so we deal with them for our trucks, and the DAF network across Europe is an invaluable resource. Equally, for our Setra busses we have a great rapport with Mercedes."
In the years after setting up the business, Malachy and Caroline also created a large storage facility so bands wouldn't need to be concerned about shipping gear back home.
It was something that proved a hit with their customers with regards to both convenience and cost.
"It's an aspect that has become a good part of the business for us,"said Malachy. "You can imagine the cost of bringing equipment across the Atlantic, so we offer to store it here for them instead for the next time they tour.
"Growing the business as a whole has been a challenge that I have enjoyed immensely. The key for me is I happened to be introduced to the right person who has developed a good relationship with American bands touring in Europe; and through time and dedication the identity of our company has also grown immensely with Irish, UK and worldwide customers. We were thrilled and honoured in 2016 to have been shortlisted for "Favourite Bussing Company"in the long-established TPI Awards, held at the Battersea Evolution, London annually. In fact, this year we have been included again in that shortlist."
He added: "As we approach the Christmas holidays, the tours come to an end for the year, and January is usually a quiet time for us; time for us to take a break and a holiday before it all begins again. There's a lot of management involved, but the last 10 years have really flown by."
Needless to say, if the next 10 years fly by as quickly as the last, Malachy will be more than content.
"It's a very bespoke business and an interesting business to be in,"he said. "We've gone to Lisbon, Moscow and Istanbul and everywhere in between with bands and it's often tough going but highly rewarding at the same time."
Rockstar Logistics Ltd
Address: 'The Factory'
31-33 Garvagh Road,
Swatragh, N. Ireland,
BT46 5QE
Tel: +44 (0) 28 7940 1268
Web: crossland.ie
Taken from Irish Trucker & Light Commercials magazine, Vol 19 No 10, Dec 2016/Jan 2017