An award winning formula from Virginia International Logistics
24/05/2017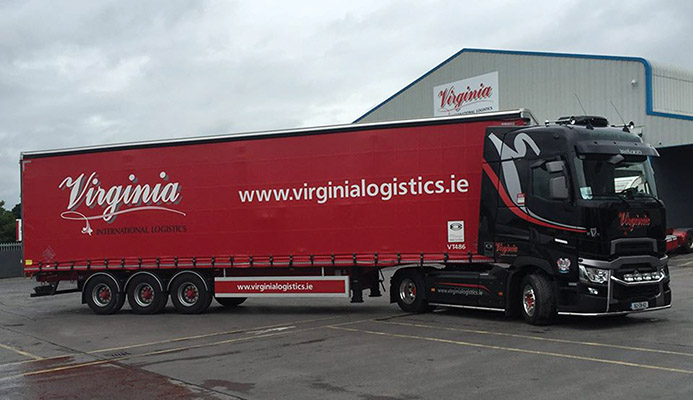 Irish Trucker caught up with Virginia International Logistics Bryan Dolan to reflect on the company's success at this year's Fleet Transport Awards in the 'International Haulier of the Year' category.
Virginia International Logistics is a family owned Irish transport and logistics company which specialises in transport and logistics services between Ireland, the UK and throughout Europe as well as containerised goods worldwide.
The origins of the company can be traced back to the 1960s. The company was started by Johnny and Bridie Cole and was then called Ramor Transport, Johnny began collecting milk in the area with his Ford 14.9 for Bailieborough Co-op and Virginia Milk products.
In 1982 Virginia International was founded and today Johnny's four sons, Sean, James, Eamon and Ray, are directors of the company. It's fair to say that the County Cavan Company has come a long way from its humble origins.
Virginia International has grown over the years and now have a fleet of over 100 modern trucks and 300 trailers with a customer base of over 800 companies. The company has achieved this expansion through investment in people, technology and the fleet.
As a consequence, they were worthy winners in the 'International Haulier of the Year' category at the Fleet Transport Award's Gala Dinner which was held at the Citywest Hotel, Dublin on Thursday, October 13th last.
The awards recognise all that is good about the Irish transport industry and Virginia International Logistics certainly fits the bill when it comes to excellence in their field of expertise.
"It's a great honour that obviously reflects well on the company,"commented Driver & Fuel manager Bryan Dolan who has worked with the ever burgeoning company for the past five and a half years.
"The judging process covered all areas of what we do and we were one of three companies nominated in the category. There was an interview conducted by the judges and we were fairly optimistic about our chances after that because we felt the interview went very well.
"We were up against stiff competition but the judges were very impressed with how we do things here. We're at the forefront of trying out different things, we operate a gas truck for example, so to win the award outright was a great honour for us and a recognition of how we run our business."
Virginia International Logistics currently offer Full-Load & Groupage services within a variety of industries including Foods (FMCG), Electronics, Pharma and Manufacturing.
They strive towards providing a quality focused transport and logistics solution to their customers which is evidenced by their ISO 9001:2008, ADR, GDP and Border Control accreditations.
At Virginia International Logistics, they believe in providing a first class personal and professional service whilst also offering the best sustainable logistical solution tailored specifically to each customer.
Virginia International Logistics undertakes the management and delivery of projects on behalf of their clients which will have an impact on reducing cost and improving process.
They aim to improve any part of a client's business process which has an impact on the supply chain cost base and work closely with their clients to identify improvements in both internal and external operations effecting supply chain.
"Initially, the company started out concentrating a lot on refrigeration and container work but now we've moved towards an all-in-one service. We've a warehouse here in Cavan and also one in Dublin. In addition, we offer our customers' custom clearance and freight forwarding - complete project management from door to door."
Virginia International work closely with the customer in all areas of the supply chain reviewing information technology, strategic management and process management. They will assist with implementing new procedures, technologies and overcoming resistance to change.
They can also assist with your specialist moves from end to end, including lifting equipment, specialist transport, (road, sea, rail, barge or air) and Government and local authority permits and documentation.
Virginia International's meticulous attention to detail helps them to stand out from the crowd.
"We always strive to make sure we offer a first class service in meeting our customers' needs. A lot of our customers have been with us since day one, like Glanbia here beside us in Virginia. We consider ourselves fortunate in that we enjoy a lot of repeat business and we are obviously concentrating on expanding our client base."
Not known for resting on their laurels, Virginia International, which employs just shy of 150 people, opened a new UK Depot in Dordon, Tamworth in Staffordshire in February, 2015.
"We've a manager there and are running eight trucks out of it,"Bryan revealed. "It's our first step in to the UK, we'll use it as a stepping stone to see how it works out how but with Brexit on the horizon nobody really knows what the future holds in store."
If their track record is anything to go by, it's safe to assume that the award winning team at Virginia International Logistics will overcome any obstacles that stand in their way as they inevitably make a success of their new UK venture.
Virginia International Logistics
Maghera
Virginia
Co. Cavan.
Tel: +353 (0)49 854 7403
Website: www.virginialogistics.ie
Taken from Irish Trucker & Light Commercials magazine, Vol 19 No 10, Dec 2016/Jan 2017