East Coast Recovery celebrates 10th anniversary
18/05/2017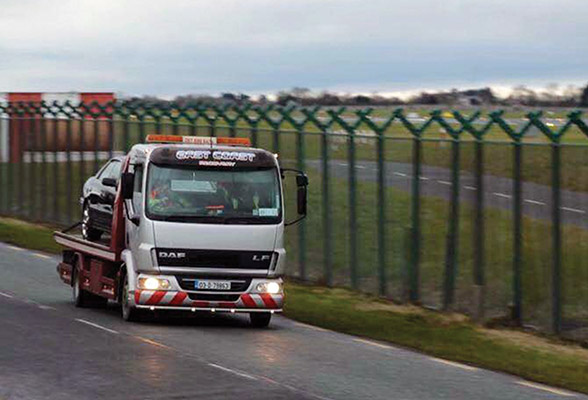 Celebrating 10 years in business, East Coast Recovery is Dublin's premier vehicle breakdown recovery tow truck service. Owner Gerry O'Callaghan explains more.
When it comes to vehicle breakdown recovery, breakdown assistance and vehicle towing in Dublin and surrounding counties, look no further than East Coast Recovery. The Swords-based tow truck company provides a prompt, professional, reliable, friendly and cost-effective service that has marked it out as the leader in its field. East Coast Recovery will assist with any sort of a vehicle breakdown emergency, whether it is a breakdown, flat battery, wrong fuel or a puncture.
"We specialise in 24-hour recovery for motorbikes, cars, vans, buses and HGVs. We have the expertise and experience to recover just about anything,"Gerry says.
"I was only 21 when I set up the business and I feel like I've grown with it. We pride ourselves on the reliable, professional and courteous service we offer customers. When we give an ETA (estimated time of arrival), we stick to it. The less stress and waiting for the vehicle owner, the better."
Passionate about their work, Gerry and his fully-trained team are on hand around the clock to deal with your emergency. Their state-of-the-art recovery vehicles are equipped with all essential roadside recovery tools to restart engines, repair punctures or to refuel in the case of running out, and defuel in the event of petrol in a diesel tank or visa-versa.
East Coast Recovery ranks very highly in terms of customer satisfaction and has worked with some of the biggest names in the business. The company is thoroughly professional and works to very competitive pricing structures.
"We endeavour to get to your emergency as quickly as possible. If we can get you on the move, we will, but we will also tow you to a destination of your choice should that be necessary,"Gerry continues.
"We have come across many situations where people just don't know where to take their vehicle to, but with our experience in the towing business and our vast knowledge of repair centres and garages, we will nearly always be able to advise you of the nearest location during business hours."
East Coast Recovery's 24-hour towing and breakdown service includes mobile battery replacement, mobile jump starter, mobile wheel change, out of fuel, puncture repair, wrong fuel / fuel fix and airport jump start. The company stocks a huge selection of batteries for most vehicles, but will only recommend that you buy a new one when all jumping attempts fail to initiate electrical power and a test has been conducted revealing inadequate voltage and a dead battery.
The most common causes of deterioration in a battery are age (anything over three years can be problematic) and inactivity (idle for long periods). East Coast Recovery receives many calls every year from car owners who have just touched down in Dublin Airport, only to discover that their battery is flat from lack of use.
"Our rapid airport jump start service has got many people out of a spot of bother. The last thing they want is to be stranded in the airport carpark after a long flight. Our close proximity to Dublin Airport means we can be there to assist within a matter of minutes,"the affable managing director explains.
The company also offers rapid wheel change, fuel replacement, puncture repair and fuel fix services. If you notice you've made a mistake in putting the wrong fuel into your vehicle straight away, Gerry advises not to turn the key in the ignition as this will only send diesel or petrol racing around the lines and into the engine. By not turning the key, the East Coast Recovery team can flush the vehicle's system and replace it on the spot and everything will be fine.
If you have driven off, they may still be able to help, although this is on the basis of how far you've travelled and how long the wrong fuel in the engine has been circulating. Assuming you have noticed the mistake quickly after driving away, they may still be able to flush the system and again replace it on the spot.
Gerry is currently running three tilt-and-slide tow trucks, a van and a 4x4, and is due to take delivery of another tilt-and-slide soon. As well as being just a stone's throw away from Dublin Airport, East Coast Recovery is located beside the M50 and M1, which are two of the busiest routes in the country.
"We couldn't ask for a better location. As everyone knows, there has been a huge increase in traffic on the roads and that has obviously led to an increase in breakdowns. We're very busy, not just in Dublin but in the surrounding areas too. If a vehicle needs to be towed down the country or even in the UK, we can look after it. There is never a dull moment in this job and we're going from strength to strength I'm delighted to say."
Here's to the next decade of East Coast Recovery!
East Coast Recovery
Unit 8, Drynam Road,
Swords, Co. Dublin.
Telephone: 087 6986474
Taken from Irish Trucker & Light Commercials magazine, Vol 19 No 10, Dec 2016/Jan 2017