Bringing the personal touch to freight forwarding
17/05/2017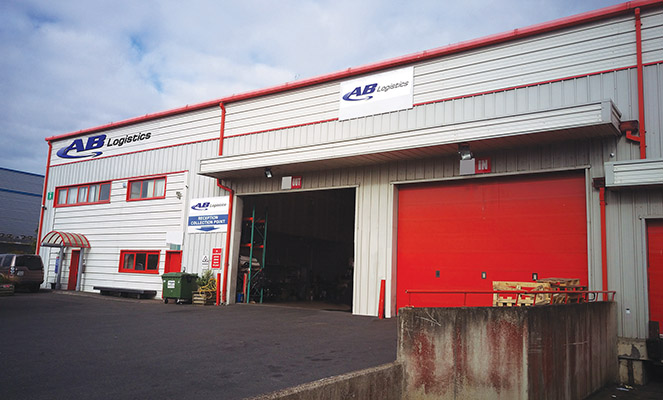 AB Logistics is a family-owned global freight management solutions business based in Dublin. Managing director Dave Bergin explains more.
The company has been trading since 2003. However, its directors have over 50 years of combined experience in freight forwarding and international transport. Before setting up AB Logistics, Dave Bergin headed up Wilson Transport & Warehousing Ltd, a large logistics freight and transport company based in Damastown, Co Dublin.
Dave, who has been in the transport and freight forwarding industry for 42 years, is joined in AB Logistics by his brother Paul and sons Alan and Dave Jnr. They employ a total of six skilled staff members who take an active role in the development of the company. Paul, who is operations director, is responsible for the day to day running of the operation. Paul has immense experience in the industry having worked previously for companies like Euromode-Eurosped and Wilson Transport & Warehousing Ltd.
Alan's position as accounts director gives him the responsibility of ensuring accounts are managed positively and that suppliers and sub-contractors are paid on time, which is crucial in operating a family business. Dave Jnr has responsibility for the sales and development side of the company, while engaging a lot with overseas customers, Dave also works closely with major corporations who require international movements for personal effects worldwide.
Dave Snr explains: "The AB Logistics team are fully committed to ensuring that their customers'needs are fully adhered to. Because we're family-owned, we offer a personalised customer service which has enabled us to build up a large client-base over the years. Some freight companies tend to close their doors come normal closing times but in a competitive world I think you need to offer clients an open door and our customers appreciate the fact that we are here 24/7 for them. We will facilitate any request and we are always willing to go the extra mile.
"We are also available for one-to-one consolidation should this be requested and every customer is treated the same regardless of their size. Our policy is very simple. You have to be 'committed to compete', and that's why customer attention is always a priority for us."
AB Logistics offers global representation for air freight, sea freight, road freight and courier services. The firm also has full ICD (Customs Bonded) facilities along with its own in-house customs clearance arrangement. In addition, AB Logistics offers full warehousing facilities for long or short-term storage as well as a full crating and packaging service. Here in Ireland, dedicated vehicles offer next-day delivery to most counties and where required immediate on-the-spot vehicles with fully trained drivers are available to cater for that urgent, special delivery when needed.
AB Logistics only use trustworthy and reliable sub-contractors. Reputable transport operators such as Loane Transport, Lavery Transport and Mulgrew Haulage are but a few. All sub-contractors are fully vetted by the company's independent auditors which is a requirement for all its major clients as insurance in transport is a major factor, especially in consideration for the product AB Logistics carries.
Being based in Rosemount Business Park, Ballycoolin, Dublin 11, AB Logistics is only a stone's throw from the M50 and therefore is strategically located to offer clients a network of distribution throughout Ireland. The family-run concern actually operates from the same premises as the Europa Worldwide Group which is one of the largest privately owned transport and logistics companies in the UK specialising in European express services, international air freight, international sea freight, logistics and warehousing.
Dave continues: "They are a similar company to us but operating on a larger scale mainly through their European network. The facilities at Rosemount are excellent, Europa provide the necessary handling personnel at their 30,000 sq ft warehousing facility which caters for our daily operations, so we do work closely together and complement each other's services."
Air freight, sea freight and road freight are three of AB Logistics'main areas of expertise. Shipping by air can be expensive but is also very efficient. To be competitive, you have to be proactive in securing the best possible rates for your clients. Through its network of global partners, the company does exactly that, offering nightly consolidations to and from all major airports with a fast and efficient transit time. AB Logistics provides weekly departures worldwide for its sea freight customers, Services to and from the USA, Canada, the Far East, Africa, Europe, Australia and New Zealand. Both FCL and LCL services are available. Transit times vary depending on the origin or destination, but rates are very competitive.
AB Logistics can arrange door-to-door (Paid Home) consignments or simply just to its receiving depot at the destination city or port. Additionally, the firm operates nightly road freight services (full load and part load) to and from the UK, covering all of England, Scotland and Wales. Its services levels are based on both economy (48 hours) and premium (24 hours). With its premium service, AB Logistics can offer pre-10am delivery by special arrangement.
In addition, the company operates daily services to and from Paris and Brussels and twice weekly departures to and from Germany, Italy, Spain, Portugal, Switzerland and Austria. Weekly departures to and from the Baltic States are also available. Full Marine Insurance cover is available on request.
The AB Logistics team excels in providing a high quality, professional and friendly service on a daily basis. In partnership with its global agency network, they provide seamless global freight management and tailor-made solutions for an ever-growing customer list both at home and abroad.
For all your freight forwarding needs, be sure to make AB Logistics your next port of call.
AB Logistics
Unit 9,
Rosemount Park Drive,
Rosemount Business Park,
Ballycoolin,
Dublin 11.
Telephone: +353 1860 8580
Fax: +353 1860 8585
Email: [email protected]
Web: www.ab-logistics.com
Taken from Irish Trucker & Light Commercials magazine, Vol 19 No 10, Dec 2016/Jan 2017