On of Ireland's premier Volkswagen dealers
15/05/2017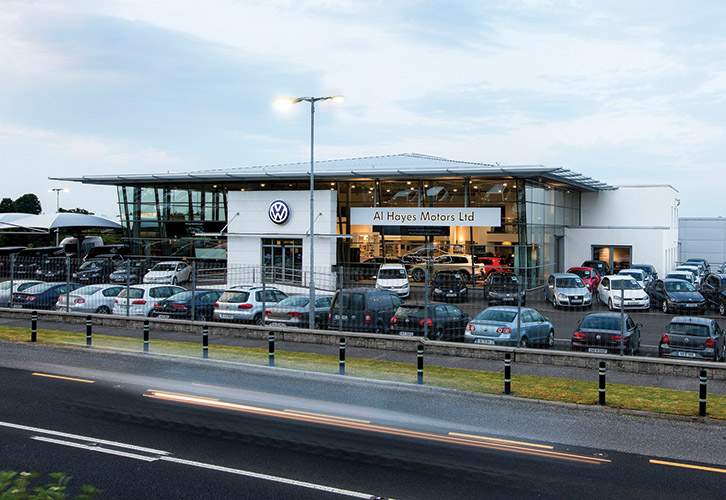 Voted by Volkswagen as LCV Retailer of the Year in 2015 and Passenger Car Retailer of the Year in 2016, Al Hayes Motors is now firmly established as Ireland's leading nationwide VW dealership. We travelled to Portumna, County Galway and caught up with Niall Hayes to find out more about this exceptional, longstanding, multi-award-winning family business.
From humble origins, Volkswagen has grown into one of the most popular car and LCV brands in the world. The Volkswagen success story arrived in Portumna through the endeavour of Al and Noreen Hayes from Churchill after Al made the bold decision to build a garage in the field beside the family home in 1982.
In November of that year, Cooleen Motors was established as a one-man operation. In 1987, Al secured the agencies for both Volkswagen and Audi. Since then, Al Hayes Motors has expanded and in 1993 its founder was heavily involved in Ireland winning the much-coveted 'Volkswagen Importer of the Year'award.
In 1997, a new car compound and showroom was added to commemorate the tenth anniversary of the Volkswagen dealership in Gortanumera, with ISO certification following in 2003 as well as the Mitsubishi brand.
At this stage, Al and Noreen recognised the need for expansion and had the entrepreneurial vision and conviction to open multiple sites. Thus, in 1998, new Al Hayes Motors sites were established in Borrisokane and Tuam.
However, as the organisation continued to grow, a strategic decision was made to move the entire operation into Portumna town. Curley's field was purchased and on this site the largest Volkswagen retailer outlet in the country was built. The state-of-art garage, showroom, body repair shop and compound opened its doors for business almost exactly a decade ago, in December, 2006.
The site boasts a large 14-bay, high-tech workshop with two five-tonne lifts, an NCT preparation bay and a diagnostic bay. It also features an eight-car valeting bay and modern, spacious body shop complete with state-of-the-art spray oven.
The gleaming showroom - the largest in Ireland - can hold 16 cars and encompasses a new vehicle car handover lobby. Retail departments within the modern operation include car sales (new and used); commercial vehicle sales (new and used), car loan finance and car insurance; vehicle service / preventative maintenance; parts; valeting; body shop / repairs; warranty fulfilment; accessories; and merchandise.
Since its inception, Al Hayes Motors has consistently been a top performer within the Volkswagen network, quickly establishing itself as the largest volume Volkswagen passenger car and commercial vehicle dealer in Ireland. These achievements have not gone unnoticed in recent years and the Al Hayes Motors history is decorated with awards and recognition from within the industry and specifically the VW network itself.
In 2005, workshop manager John Treacy was recognised for his commitment to the Volkswagen brand with a prestigious Volkswagen Gold Pin award - the highest honour that any Volkswagen staff member can receive. The award capitulates all core brand values including knowledge, loyalty and customer service. Al Hayes himself received a Gold Pin award in 2011.
The awards kept coming…Al Hayes Motors received the International Volkswagen Service quality award in 2012, which listed the company in the Top 100 service centres across Europe. In 2013, Niall Hayes received a Gold Pin award. In 2015, Al Hayes Motors was announced as Volkswagen Commercial Vehicle Retailer of the Year; in 2016, the Portumna place of excellence was named as the Volkswagen Passenger Car Retailer of the Year to complete a landmark double inside twelve incredible months.
Both awards are hugely significant, representing the highest individual honour any dealership can receive. They are awarded to the dealer who outperforms all others in the VW network, in all aspects of the business (including vehicle, parts, finance and accessories sales, customer service and customer satisfaction).
"It's almost impossible for a dealer of our size to win a competition like this as it's rated by per-unit sales,"notes Volkswagen Brand Manager Niall Hayes. "We spoke to customers to highlight the benefits of our finance packages and focussed on increasing sales in all areas of the business."
Commercial vehicles are an integral part of the overall business model. "Volkswagen are synonymous with excellent commercial vehicles and these are exciting times for the brand with the new-look 2017 Crafter (International Van of the Year!) launched recently and a new Amarok V6 also on the way,"Niall continues.
"We sell commercial vehicles nationwide and benefit from a high volume of repeat business as we offer an excellent product with a great back-up service. Volkswagen vans are second to none –the Caddy and Amarok come with two-year warranties, while the Transporter comes with three and the Crafter has four."
In October 2015, Al Hayes Motors expanded once more by opening a new Skoda garage in Ennis, County Clare. This is the first time Skoda has had a dealer in Clare and presents an exciting new challenge for the firm and one that has thus far been a resounding success. Meanwhile, a third garage n Tuam specialises in non-franchise, second-hand sales.
Al Hayes Motors in now a multi-site, multi-brand car company, generating direct employment for a team of 53. As well as offering motorists exceptional products and service levels at competitive prices, the business is also an inherent part of the community it serves. To this end, Al Hayes Motors has always played a significant role in local life, forming long-lasting links with a large number of local charities, social and religious events and sporting organisations. The golf club, cycling club, soccer club and GAA club are just some of those to have benefited from this strong sense of community spirit.
Since its creation, Al Hayes Motors has expanded through a strong foundation of honesty, hard work and high levels of customer satisfaction. These values have established Al Hayes Motors as the biggest and best-known dealership in the country.
Al Hayes Motors have always seen themselves as a solution provider –be it in sales, motor finance, service, parts or warranty / body shop work –and the business has growth year on year by providing customers with a level of service and satisfaction that is simply second to none. This award-winning company has come a long way during the past three-and-a-half decades and the signs are extremely encouraging that there are many chapters remaining to be written in this impressive success story.
It's very much a family business, with founder Al joined by his children Niall, Alan and Orla in Portumna, Damien and Ronan in Ennis, and Derek in Tuam. Looking to the future, Niall concludes: "We hope to continue to grow. We have expanded into the Skoda brand as of October, 2015 and the goal is to continue to get bigger and better."
Al Hayes Motors Ltd.,
Portumna,
County Galway.
Tel: 090 9742200
Email: [email protected]
Web: http://www.alhayesmotors.com
Taken from Irish Trucker & Light Commercials magazine, Vol 19 No 10, Dec 2016/Jan 2017