Assure Services cuts a dash with stylish Mercedes-Benz vans
10/05/2017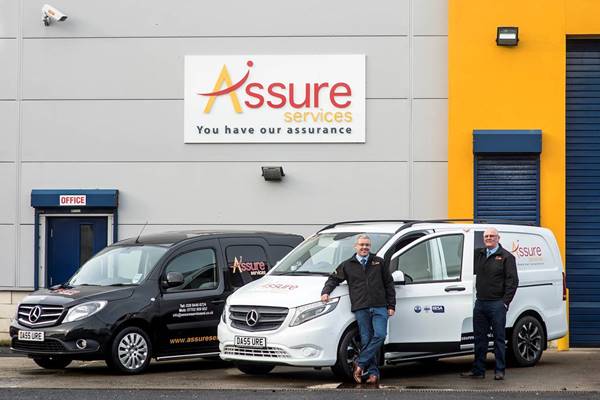 Image is important to Antrim-based Assure Services, which helps to explain why its Mercedes-Benz vans are some of the sharpest on the road.
Managing Director Damien Martin chose an eye-catching Vito crew van from Newtownabbey Dealer MBNI Truck & Van, while Sales Manager Adrian Maguire is driving a dynamic Citan Sport.
Mr Martin's Vito 114 CDI Long is powered by an advanced 2.1-litre diesel, which offers outstanding economy of up to 44.1 mpg in the combined cycle. Air-conditioned and specified with colour-coded bumpers and door mirrors, and tinted glass, all factory options, it was also retro-fitted by the Dealer with powder-coated black sidebars and 20-inch Wolfrace alloy wheels.
The Long-bodied Citan Sport used by Mr Maguire features a number of visual enhancements as standard. In addition to colour-coded bumpers and door mirrors, it is fitted with daytime driving lights, a chrome front-grille, sidebars and tailgate trim, and 16-inch, multi-spoke alloy wheels. Inside, meanwhile, Citan Sport customers ride in air-conditioned comfort, and get a leather-trimmed steering wheel, Sports mats and badging.
Assure Services specialises in cleaning kitchen ducts of grease and other residues, for caterers and food manufacturers located throughout Ireland. The company employs cutting-edge technology, while its staff are all trained to the exacting TR/19 Heating & Ventilation Contractor Association Standard.
Damien Martin said: "Our first Mercedes-Benz vans were a bit of a treat. They're both pretty funky-looking and we've had loads of positive feedback from clients and others who've seen them out and about, and have commented on how smart they look."
As a crew van, Mr Martin's mid-sized Vito came with a second row of seats. "This means that as well as using my van to transport colleagues during the week, I can also ferry the kids around at weekends," he said.
"I'm really impressed with my Vito, not least because as well as being very comfortable it's also returning well over 40 miles to the gallon. Adrian loves his Citan Sport too."
The Citan is the smallest member of the Mercedes-Benz Vans range and incorporates a number of fuel-saving BlueEfficiency measures as standard, including the ECO start/stop function – which turns off the engine whenever the vehicle is stopped in traffic, then restarts it as soon as the driver depresses the clutch – low rolling resistance tyres and optimised alternator and battery management systems. The 90 hp engine which powers the 109 CDI variant offers impressive diesel returns of up to 65.7 mpg (combined cycle).
Assure Services' Vito and Citan are the subject of a flexible, low-cost Agility funding agreement from Mercedes-Benz Financial Services. Like all Mercedes-Benz vans they are covered by three-year, unlimited mileage warranties, while the manufacturer's MobiloVan scheme includes free, round-the-clock emergency roadside assistance.