An impressive fleet
05/05/2017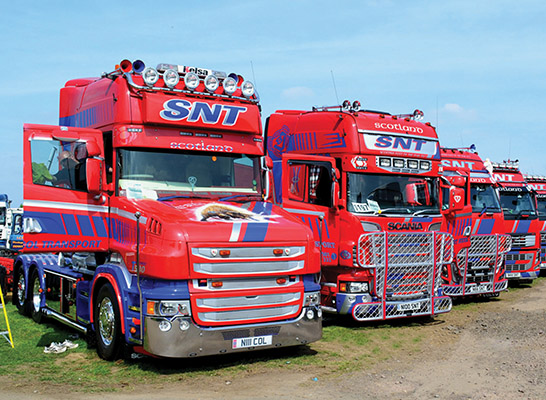 Trucks Shows allow hauliers to not only showcase their vehicles, but it also a chance to unwind from what can be a very stressful industry. The haulage industry is arguably the most competitive business to be involved as margins between success and failure are a very fine line.
There are so many issues to deal with on a daily basis that anyone outside and never involved in the industry would beg to ask the question why bother?
The common answer is that there is a love of trucks and some people are born to be involved in the industry. Trucks are a driver and owner's pride and joy as they become their home from home.
That is why great care and attention is taken to trucks, and although this can cost a lot of money, hauliers feel that it is worth it.
This year's Full of the Pipe Truck Show saw hauliers come from not just all over Ireland before from further afield also.
One haulier who sent over trucks from Scotland is Stuart Nicol who owns and operates a fleet of trucks from his base in Shotts, Lanarkshire.
Stuart is a truck show enthusiast and has been entering his trucks into various shows around the U.K since he started the haulage firm over 20 years ago.
With a fleet of 55 trucks, the owner takes great pride in the appearance of his trucks and he goes to great lengths to demonstrate that.
"Some of the trucks that I have would have been specialised painted. I have a couple with great Scottish racing drivers on them, one has Colin McRae and the other has Jackie Stewart, while another truck has been painted in homage to the classic trucker movie Convoy,"revealed Stuart.
"There is a lot of time and effort put into the artwork and it does cost a lot, but it is something that I am passionate about. I recently had a truck built in Holland and it underwent specialised artwork."
SNT's fleet comprises of Mercedes, Scania, Volvo and DAF with these normally bought brand new before they are painted in the company's colours of red with blue and grey trimming and Stuart added that it was not only he who took an interest in the trucks.
"The drivers also take great pride in the trucks that they drive, they are the ones spending most of the time in them and they bring them to the shows. We have 90 drivers and operate a double shift system and all the drivers are mindful of keeping the trucks clean.
"We have picked up a good few awards over the years at the shows and it is nice to get the recognition of the work we put into them.
"This year, I sent two trucks over to the Truck Show in Cavan and we enjoyed it thoroughly. It was a well-organised event and the location was perfect. I couldn't speak highly enough of it other than stating we will be back next year for definite."
SNT specialises in UK Domestic Services, Overnight Trunk Services, Contract Logistics (Incl. Site implant where required), Multi-drop Services (vehicles deployed in various areas daily), Trans-shipping Services (Multiple partner Depots throughout the UK), Ad-hoc UK Hot-Shots, Timed Deliveries (UK all areas) and Full-Load and Groupage Movements.
SNT also provides a European service that involves Overnight Trunk Services; Direct Drive and Hot-Shots and Dedicated Vehicles.
Through hard work and dedication, Stuart has built the business from the ground up and their headquarters are now on a very impressive six-acre development comprising an office suite containing the all-important traffic department, a 12,000 square feet warehouse and transit shed and workshop with a full length pit and a roller brake tester: purpose built premises that provide both a solid foundation and a springboard for the company's future successes.
"I started off when I left school at 17 and hired a Mercedes Sprinter and spent the next two years shifting air freight between airports from Aberdeen to London Heathrow.
"Over the years, I expanded the fleet as the workload increased and we would cater for a large customer base these days."
SNT have storage services comprising 12,000sq ft facility catering for all their customers'storage needs, while additional services include Transport Management, Customer Liveried Trailers, SEPA Waste Carriers License, Air and Ocean, Freight Provision, Daily Rate Driver and Vehicle service, Level 4 Aviation Security Compliant and ADR Compliant.
"We do all our own maintenance work and offer a full garage service to other companies."Stuart added: "The haulage industry is a very competitive, but we are pleased with the direction that the company is head and with the workload we have at the moment.
"We pride ourselves in our service and reputation and are determined to grow and build on it. If you have the attributes to help us achieve our goals and maintain our high standards then get in touch and let us know why."
Contact Details:
Stuart Nicol Transport
High St Industrial Estate,
Shotts
ML7 5DR
Tel: 01501 829333
e-mail: [email protected]
Taken from Irish Trucker & Light Commercials magazine, Vol 19 No 9, October/November 2016