Goggins Transport offers complete service
27/04/2017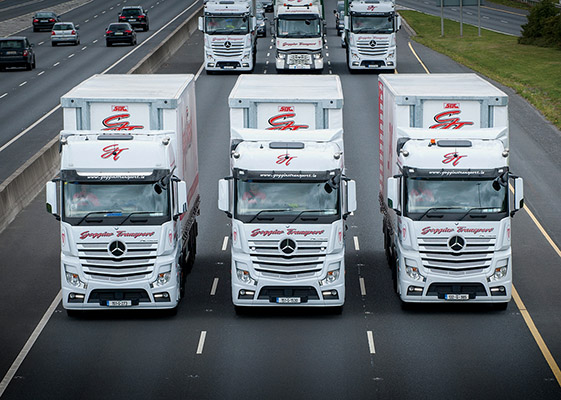 Goggins Transport Ltd has been providing transport and logistics services between Ireland, the UK and mainland Europe for over 35 years. Specialising in haulage, heavy / abnormal loads, ADR / hazardous loads and temperature control goods, the family-run business has a lot going for itself as business development manager Tommy Byrne explains.
Established by Martin Goggins as a one-man operation in Galway in 1979, Goggins Transport Ltd has grown into one of Ireland's leading haulage companies with over 80 tractor units and 150 trailers, and a 110-strong staff. The company prides itself on an excellent, reliable, cost-effective and professional service which can be tailored to suit it clients'specific needs.
Goggins Transport has four depots, two depots in Dublin (Dublin Port and Greenogue Business Park), one in Liverpool and one in Galway. The geographical profile of these depots leaves the company perfectly positioned to offer customers full coverage of both Ireland and the UK. While Martin runs the busy Liverpool depot along with his son Tony, his other son Declan oversees operations in Dublin.
"The three lads are very hands-on. They have worked hard to make the business what it is today. Our expansion into ADR and temperature control wouldn't have happened without Declan who places a huge emphasis on compliance and attention to detail. It's an area in which the company excels,"Tommy explains.
The Goggins fleet operates across the UK and Ireland, while also covering mainland Europe upon request. Full GPS tracking is provided on all trucks, which are divided equally between Ireland and the UK. The company has the capability to deal with large tenders and procurement processes, closely monitors and controls its fuel emissions as well as educating and training its drivers in best practices in order to achieve these desired targets. The Goggins'are committed to the long-term sustainability of this sector and regularly engage with various transport organisations to ensure that their finger is fully on the pulse of an ever-changing business landscape.
The Mercedes Benz-dominated tractor units are always immaculately turned out, as are the mostly SDC trailers. Menapia Software is currently developing an integrated application suite covering vehicle monitoring, fuel usage, dispatch and accounts which will make Goggins Transport even more efficient than it already is.
Whatever the size and quantity of your goods, Goggins'provides tailored transport solutions for your specific needs. With both flatbeds and extendable trailers as part of its arsenal, it can cater for all types of out of gauge, heavy or abnormal loads. While the safety of the goods is of paramount importance during transit, the company sources the relevant permits needed, ensuring all aspects of the goods transportation is adhered to.
"All of our tractor units are six-wheelers which means we are able to carry any load with the maximum carrying capacity,"notes Tommy.
Goggins Transport is equipped to carry all categories of ADR material such as hazardous gases, flammable liquids, self-reactive solids and toxic / corrosive substances. As an extension of this, its staff are trained in the stringent health and safety aspects of the proper carriage and transportation of all hazardous materials. Being holders of the relevant waste permits in both Ireland and the UK, Goggins can also carry waste loads.
Among the newest additions to the fleet are full-spec refrigerated trailers designed for the more sensitive and demanding cargo. These temperature controlled units are fully regulated and monitored for 24 hours a day, while also providing temperature readouts through the journey and a full readout at the end of the journey.
Other services include distribution, bespoke transport solutions, traction and haulage services, domestic distribution, roll on roll off transport and airfreight / container shipping.
Among the companies Goggins Transport has long-standing relationships with are Gwynedd Shipping and LPR. When Goggins Transport and Gwynedd Shipping combine their resources, they have a formidable presence with over 1,000 pieces of equipment, including tractors and trailers of all shapes, sizes and specifications, giving them enormous scope for high-volume projects.
Goggins operates the transport, storage, repair and distribution of LPR pallets, having recently opened new depots at Dublin's Greenogue Business Park and Galway in partnership with what is Europe's second largest pallet pooling provider. The official opening of the Dublin depot was performed by Kilkenny hurling legend Henry Shefflin on February 23 last.
An initial investment of more than €500,000 across both new sites allows for the movement of one million pallets, with both having the potential for further expansion. Employing 18 staff, the depots are equipped with state-of-the-art equipment, including two inspection towers, Vac-u-Lifts, two repair benches and semi-automated in and out feeds. The Dublin facility also boasts a new paint booth. The operating hours are from 6am-10pm Monday to Friday in Dublin and from 8am-5pm Monday to Friday in Galway.
Goggins'LPR Contract Manager Mark Prendergast commented: "We've enjoyed a good working relationship with LPR and the time was right to extend that partnership with the two new depots. We both have ambitious ideas for growing the sites and ensuring that our customers receive the level of service that they demand."
LPR UK and Ireland general manager Adrian Fleming said: "Working in partnership with Goggins to open Dublin and Galway is an important development as we continue our efforts to expand our customer-base within Ireland.
"Our focus in Ireland over the past couple of years has paid off, as we have recorded a 40 per cent year-on-year increase in pallet movements, taking our market share to 14 per cent of the market, but we recognise there is even greater potential.
"Investing in these two new sites demonstrates that we are very serious about expanding the business in Ireland and that we see it as a key target in our strategic plans. We are also working with a number of customers and prospects on how we can continue that growth. Importantly, we are prepared to work with our customers to secure further land in other areas of Ireland, if required."
Taken from Irish Trucker & Light Commercials magazine, Vol 19 No 9, October/November 2016