First for truck tyres
25/04/2017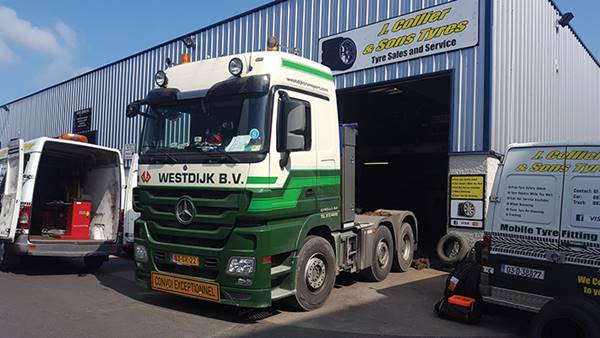 In business for almost half a century, John Collier & Sons Tyres supply and fit a full range of tyres for trucks, vans and cars throughout the capital. We visited their well-appointed Rathcoole base to find out more about this exceptional family operation from Stephen Collier.
Offering breakdown assistance across Dublin city, John Collier & Sons Tyres are one of the premier tyre replacement / repair specialists in the capital. They have a comprehensive range of major tyre brands in stock –including Pirelli, Michelin, Dunlop, Goodyear, Semperit, Continental and Bridgestone –and also provide a fast and affordable puncture repair service as well as having the capacity to vulcanize tyres if required.
The excellent services provided cover both commercial vehicles (trucks, coaches, vans etc.) and passenger cars, with the friendly and professional care afforded to customers quite simply second to none. The expertise and attention to detail of the John Collier & Sons Tyres team is renowned throughout Dublin, so it's clear to see why this outstanding family business is still thriving some four-and-a-half-decades after its inception.
On the commercial vehicle front, John Collier & Sons Tyres cater for a wide and varied customer base from owner-drivers to large fleet owners / managers, offering a comprehensive range of services including re-grooving of truck tyres, their three-strong fleet of mobile service vans covering the city morning, noon and night to keep operators on the road around the clock.
The very nature of tyres is that it's a customer-focussed business and the Colliers have left no stone unturned over the decades in making sure that they provide extremely high levels of service, resulting in a large volume of repeat custom and a steady flow of new trade.
"The business goes back 45 years and I'm third generation,"says Stephen Collier. "My grandfather, John, started off initially on the North side, in Ballybough. He did mostly garage work and it was my dad, Denis, who started offering the breakdown service around 30 years ago.
"We have the three mobile service vans out on the road now and we are available to our customers –or to somebody recommended by one of our customers –24/7, catering for cars, trucks and vans. We carry a full stock of tyres for all types of vehicles including lorries, commercial vans and jeeps, vans, buses, forklifts etc. We'd have a huge selection of tyres here in stock in all makes and sizes and we can also source any tyre that might be needed in double-quick time."
Renowned in the haulage community for their professionalism and competitiveness, John Collier & Sons Tyres have up to 30 fleets on their accounts –including the likes of J Toner & Son, Smurfits and Zeus Packaging - as well as a large number of owner drivers. "We look after all of their tyre requirements and can provide free weekly checks, if required,"Stephen adds.
To not just survive but thrive for 45 years in a sector of the transport industry as competitive as tyres is no mean feat. Stephen attributes the ongoing success of the family business to the consistently high levels of service provided: "Service is definitely the main thing,"he confirms. "Even though we have such a large customer base here in this industrial estate and in surrounding estates, we have never taken on too much work. We will never leave ourselves in a position where we are not able to fully look after our core customers.
"We'll stick by them and give them the sort of care they deserve, including rapid call-outs throughout the city. If one of our customers breaks down due to a tyre problem, we are guaranteed to be with them within an hour and we are very competitively-priced on both products and labour costs."
A friendly service is also guaranteed. "All the staff here are like family and are vastly experienced and professional,"Stephen continues. "One man has been working here since before I was born, so that gives you an indication of the small turnover of staff. Our men can give a very efficient and personal service, with no toing and froing. We guarantee no-nonsense solutions and that's what our customers want."
Efficiencies are important when it comes to keeping costs down and, to this end, John Collier & Sons Tyres'ideal location and excellent network of contacts means they don't have excessive sums of money tied up in stock. "We carry a very good variety of tyres at all times but, as some of our suppliers are local, we can also pick up tyres in a matter of minutes, which is very convenient,"says Stephen.
"For hauliers, we have a continuous stock of what they would require at any given time and they are never left waiting unnecessarily. Truckers tend to go with the premium brands of tyres to keep fuel consumption at a minimum and to ensure continuity and high performance across their fleets. They will generally go for the same tyres each time and we'd have a good idea what they're going to be looking for. Semperit and Bridgestone are very popular for trucks, and Bridgestone and Michelin for vans. We'll order in the best value premium tyres and make sure we have everything to meet their needs."
City-wide coverage is another key strength of the business. "Because we used to be based in the Northside, we still cover that area and do a lot of work in Dublin Docks as well. One of our customers, J Toner & Sons, is in Gypsum in Cavan and we go down there two or three times a week for him. Basically, you go where your customers need you. We also have good, reliable contacts in Cork, Limerick etc. who we can ring if one of our customers is in difficulty there and we can also do work for those contacts in this area as we are right beside the Naas Road and have good coverage from here.
"A lot of proactive customers are now coming in and getting advice and having checks done before they encounter any trouble, which cuts down on the need for call-outs. For regular customers, we will happily go in and go through their fleets and give them free tyre checks.
"We're busy both in the garage and on the call-outs and there's plenty of work to keep us going."
Gainful employment is generated for six –Stephen and his brother Gareth, their father Denis, uncle Cliff and Cliff's daughter Amanda, plus the long-serving Billy, who Stephen says is "practically family as well".
"Because customers have access to the internet, they do their own research now and you have to keep abreast of everything that's happening in the tyre industry. We receive a lot of newsletters and updates from suppliers and we also take on board all the feedback from our customers. Nobody knows better than a Transport Manager what's happening with the tyres on a vehicle. We listen to them more than anybody else because they are the ones who really know how particular tyres are performing."
Looking to the future, Stephen is confident that John Collier & Sons Tyres can continue to go from strength to strength: "We'll keep it going,"he concludes. "We have grown from what was essentially a Northside shed to where we are today and managed to come through the recession without having to let anybody go. We took a hit from a few companies that went under but we absorbed that and business is steady now.
"We plan on taking on more business, especially as there are a lot of new units being built here in this industrial estate and they all have company vehicles. We opened here nine years ago and moved to the new facility in 2014. I'm 36 and Gareth is 23 and there's plenty of energy left in us to push the business forward.
"I also have sons myself –Ross who is 13 and Ben who's ten –and it would be nice to have something here to hand over to the next generation. For the time being, it's going well and I think we will remain busy once we are prepared to keep putting the work in."
John Collier & Sons Tyres,
Unit 11,
Block 503,
Grants Row,
Greenogue Business Park,
Rathcoole,
County Dublin.
Tel: 01 4019006
Mobile: 087 2542582 / 2550553
Email: [email protected]
Taken from Irish Trucker & Light Commercials magazine, Vol 19 No 9, October/November 2016