A-Lidl recognition goes a long way
24/04/2017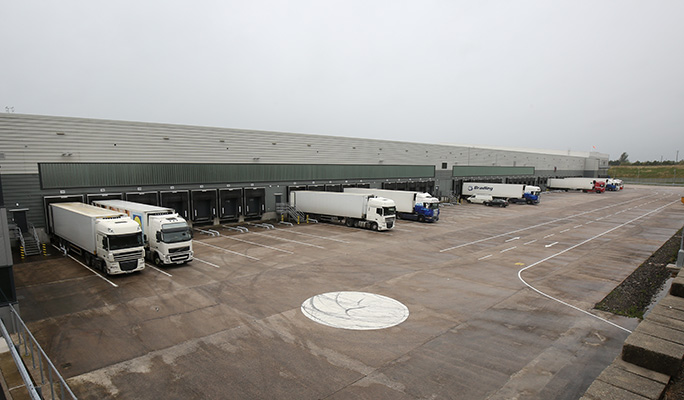 Lidl Northern Ireland has gained welcome national recognition by being named as 2016 Logistics & Warehousing Specialist of the Year at the annual Transport & Logistics Awards. We caught up with Dermot McGirr, Logistics Executive at Lidl Northern Ireland's Nutts Corner Regional Distribution Centre, to find out more about day-to-day activities at this exceptionally-efficient hub.
At a glittering ceremony at the Ramada Hotel, Belfast in early September, representatives of the Lidl NI team were presented with the much-coveted Logistics & Warehousing Specialist of the Year accolade at the 2016 Transport and Logistics Awards. This was due recognition of the sterling work that goes into coordinating an excellent supply chain to Lidl's 38 stores province-wide from the well-appointed, state-of-the-art Nutts Corner RDC.
Lidl Northern Ireland is part of a group that has over 10,000 stores in 27 European countries, with further expansion into the USA planned in the coming years. Built in 2003, its Nutts Corner logistics centre is strategically-placed to deliver daily to a network of 38 Northern Ireland stores - and the facility has just benefited from a £20 million investment, increasing its size to over 34,000 square metres.
This provides a state-of-the-art logistics environment, which includes multiple temperature-controlled areas serviced by cutting-edge refrigeration systems using natural refrigerants and utilising heat recovery to provide heat in the warehouse, significantly reducing energy consumption.
The centre employs over 160 staff from Lidl's 760 strong Northern Ireland workforce, utilising lean techniques and systems to ensure productivity is maximised throughout a finely-tuned, award-winning logistics process.
Pick by Voice technology, for example, is used to pick orders daily, shipping 30,000 pallets per month to stores. The centre receives goods from suppliers all over Europe and is proud to work with over 40 local suppliers providing fresh products.
Lidl Northern Ireland also works in partnership with Fareshare NI to provide surplus food which is re-distributed to local charities promoting a more ethical solution to the disposal of waste. The company is continually striving for innovative solutions to streamline its operations and just launched a brand-new, bespoke SAP-based warehouse management system, becoming the first Lidl warehouse in Europe to do so.
As Logistics Executive at Lidl NI's, Tyrone man Dermot McGirr is responsible for overseeing the entire logistics programme for Northern Ireland, encompassing: the Goods In department and management of associated stock; the Selections department, which picks orders for stores; and the Transport department, which ships stock to stores and also handles waste management and recycling.
It's a vast brief –every pallet seen in a Northern Ireland store passes through Nutts Corner –but Dermot is very quick to divert the praise when it comes to discussing the prestigious Logistics & Warehousing Specialist of the Year Award: "I would like to pay tribute to the entire WH team, that are led by Paul McKee, Jonathan Strain and Gary Butler, for their hard work and dedication in helping to achieve this award,"he notes. "It's a fantastic award for all the staff, who work diligently and have put huge effort into getting us to where we are today. It's nice to get some recognition for all the hard work that goes on here –our warehousing staff work really hard and they deserve to be acknowledged."
The actual transportation itself is subcontracted out to five carefully-selected hauliers, who handle the physical distribution on Lidl's behalf. "We manage all the route planning and what stock goes where and at what time,"says Dermot. "That information goes to the Transport Manager of the haulage company concerned, and they in turn provide the trucks and drivers. It's quite a simple process in that we work with dedicated, high-quality, professional hauliers.
"In terms of what we expect from our hauliers, they must have dual-temperature-controlled refrigerated units so that they can ship refrigerated and ambient produce in one run –chilled at 4 degrees and fruit and veg at 14 degrees, all of which is closely monitored. They have all been installing Blue Tree Systems upon our request and this results in greater transparency of temperature control of trailers en route to stores.
"The hauliers are all using their own livery at the moment but we are going to look into the possibility of having removable Lidl livery installed at some point in the future. Each trailer is equipped to carry a full selection of products –frozen, chilled, bread, fruit & veg, ambient, meat and non-food."
Activities at the hub generally start at 6am and continue up to midnight. On a daily basis, between 16 and 18 lorries leave the Nutts Corner RDC, each of them delivering to two stores, while up to 60 trucks come into the facility per day, dropping off deliveries from suppliers. While it might sound like a complex chain to manage, Dermot points out that Lidl have streamlined and perfected the system through their experiences on the international stage:
"The processes we use are similar to what are used in the Lidl network throughout Europe,"he confirms. "These processed have been refined throughout every single warehouse and it's a very simplistic approach to moving stock from A to B. All of our staff are trained to use these processes. It's a very efficient business model which Lidl have developed and refined over the years."
Further growth and expansion is on the cards for Lidl Northern Ireland. "It's a very ambitious company and the plan is to keep growing the business and increase our market share in Northern Ireland,"Dermot concludes. "We believe there are opportunities for growth, which includes increasing the network of stores in both Northern Ireland and the Republic of Ireland.
"We've just completed a £20m investment in the RDC to futureproof our business to cope with this projected growth. The state-of-the-art refrigeration system has reduced our energy consumption, which makes us more efficient, while improved racking and storage systems have also been installed, which will also be of tremendous benefit going forward in terms of helping to optimise our overall efficiencies."
Lidl Northern Ireland,
Dundrod Road,
Nutts Corner,
BT294SR,
Crumlin,
County Antrim,
Northern Ireland.
Taken from Irish Trucker & Light Commercials magazine, Vol 19 No 9, October/November 2016