More than 10 years of success for McKeon Tyres
13/04/2017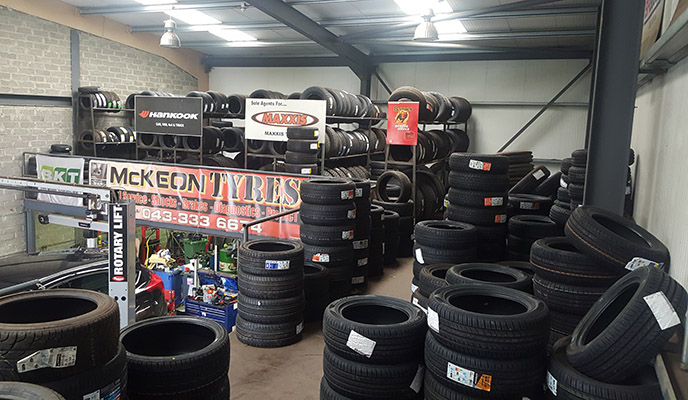 Over the past decade, McKeon Tyres Ltd in Co Longford have built up a glowing reputation for offering its customers competitive prices across their range of tyre brands. Irish Trucker spoke with Managing Director Anthony McKeon to get all the details.
Since taking the reins of the company his father started in September of 2006, Anthony McKeon hasn't had to look back.
Indeed McKeon Tyres Ltd still possesses the rock solid reputation it earned from 10 years ago as a leader when it comes to supplying top brand tyres and their use of quality products.
For Anthony, offering his customers the best possible service and products is paramount and, from the outside looking in, would seem to be the main reason why they continue to provide him with repeat business.
Customer satisfaction is something which had never been taken for granted, by either of McKeon Tyres Ltd's directors, as Anthony goes on to outline in this article.
"We're based here along the Ballinalee Road at Templemichael Business Park in Co Longford,"he explained.
"The company will be established 10 years now this September and we've four staff working here at present.
"When we first started it was myself and my father Pat that were here and he handed over the reins about five years ago. The reason that we got into tyres was for a haulage point of view because we had lorries ourselves.
"So we saw the niche in the market and we decided to go for it and get out of the haulage business and into the tyre business."
The decision was a bold one to take at the time, but the father and son combo saw something there and a decade on McKeon Tyres Ltd still continues to welcome its customers through its doors.
Their tyres are categorised into Premium, Quality and Economy, so they have stock to match your car and your financial circumstances, and all prices quoted include fitting and balancing. McKeon Tyres Ltd also carry a wide range of van, 4x4, truck and Agri Tyres.
Well-known brand tyres at McKeon Tyres include; Bridgestone, Pirelli, Dunlop, Michelin, Goodyear and Hankook.
So how's business at the present time?
"Business is steady. We're going ok right now and can't have any complaints –we're just keeping our heads down,"said Anthony.
The other aspect of the business which is keeping Anthony and co busy all year round is the 24-hour emergency breakdown service that they provide.
If you have an emergency breakdown in Longford and you need a tyre replaced, changed or fixed, McKeon Tyres offer a 24 hour callout service. If it's car, truck, van, 4x4 or Agri machinery, they are there to help. So if your vehicle runs into a problem, just them us a call they'll be out to you within the hour.
McKeon Tyres are also a member of the Irish Tyre Industry Association (ITIA), which means they will always be able to act as your point of contact no matter where you are in the country. When you give them a call they will be able to refer you to a local breakdown service in the area where you are stuck.
Their mobile tyre fitting unit in Longford is fitted with the latest equipment tyre changing machines suitable for all types of tyres, pneumatic air jacks and they also have credit card payment facilities.
"We provide a 24-hour breakdown service, four wheel alignment and the full mechanical side as well,"explained Anthony.
"We cover the whole range of tyres and as we speak I'm working on a tyre for a forestry machine right now. So we do everything from cars to earthmovers and exhausts would be another aspect of the business as well.
"We've always had the 24-hour breakdown service here and we service all kinds of customers. Just to give you an indication, we're often busiest around May and June when agri contractors are at their peak time."
Take into account that McKeons also offer services on cars and vans, brakes, pre-NCT, exhausts, headlight alignment and diagnostics plug in, it's little wonder why so many come to them first.
Some of their other services can be carried out while you wait, such as fitting in banner batteries, which have a two-year warranty, wiper blades and new bulbs.
For Anthony, customer satisfaction is number one and he feels his company provide them with an excellent and reliable which sees them happy to come back time and time again.
He credits his members of staff for making sure that those things continue to run smoothly and that customers are satisfied, with particular praise for one office staff member that helps to hold the fort when he's out on the road on a call out.
"Most of our customers are local and we've had many of them since we started up 10 years ago,"said the MD.
"I think they choose us because we provide a reliable and fast service along with a friendly customer service as well. We've good people here and Michelle (Mulryan) in the office here keeps the showing running when I'm not here.
"I do a lot of the call outs myself, so there has to be someone in there and credit to Michelle she does a terrific job."
Needless to say, that after a decade in business Anthony has learned that customer satisfaction is the first priority aspect and (fingers crossed) over the next 10 years it is going to stay that way.
In concluding, the Longford man revealed that McKeon Tyres will be celebrating their 10th birthday in October during a significant week on the calendar for the Irish transport industry.
"We're celebrating 10 years in business this year, so we'll be running something around October time during Road Safety Week to mark the anniversary,"he said.
"I'd like to sincerely thank our customers that have stuck with us over the last decade and given us their loyal support through the years."
McKeon Tyres Limited
Address: 3A Templemichael Business Park, Ballinalee Road, Longford, N39 X0H3
Tel: 043 3336674
Web: mckeontyres.ie
E-mail: [email protected]
Taken from Irish Trucker & Light Commercials magazine, Vol 19 No 9, October/November 2016