Devlin Haulage delivers
24/05/2017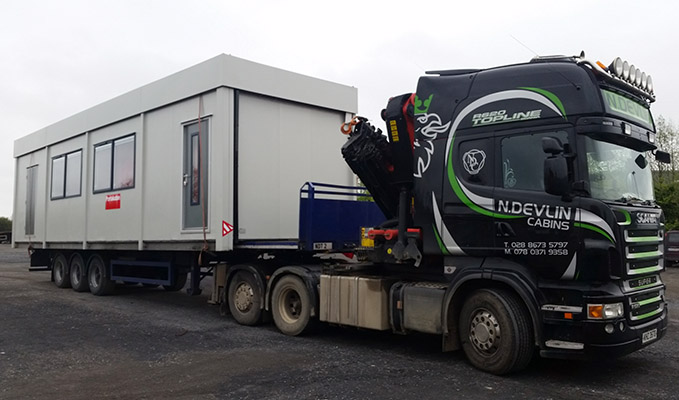 Celebrating 25 years at the forefront of the heavy haulage industry, Devlin Haulage is an outstanding road transport company operating out of Ardboe, County Tyrone. We caught up with proprietor Nigel Devlin to find out more about the history and current well-being of this forward-thinking family business.
Offering clients dedicated logistics, road haulage, warehousing and distribution solutions, Devlin Haulage specialises in heavy loads and container transport as well as being established as a specialist modular building supplier.
From the heart of Northern Ireland, a complete range of services is provided to a wide variety of clients –from sole traders to blue-chip companies - across Ireland and the UK.
As the complete transport and freight management solution provider, Devlin Haulage boasts a quarter of a century of expertise serving the agriculture, FMCG, high-tech electrical, automotive, oil & gas, forestry and marine sectors, using industry-leading vehicles with low emissions, each fitted with the latest technological equipment and supported by advanced technologies (vehicle telematics, GPS tracking, load monitoring, geo fencing, in-cab systems and driver interfaces etc.).
The highly-flexible, customer-orientated, RHA-certified company boasts an excellent track record in everything from bulk haulage to general haulage and groupage but founder Nigel Devlin is not resting on his laurels. To the contrary, he has identified a number of potential growth areas and has invested accordingly to ensure that an exciting and successful future lies ahead for one of Ireland's premier transport, logistics and road transport entities.
Having added a brand-new 62-metre Palfinger crane to his impressive fleet during the summer, Nigel has greatly enhanced his capabilities and now has the opportunity to diversify more into specialist areas such as boat and wind turbine transportation. So the future looks as bright as the past for this highly-respected business, which would never have got off the ground were it not for the crucial input of Nigel's late father, John Devlin, who sadly passed away in April of this year.
"He would have started the whole thing off,"Nigel confirms. "It was my father who got me involved in haulage and I've been at it for 25 years myself now. He started out as J Devlin originally and did a lot of haulage for distillers. That's what got me interested I got started with the lorries myself from a young age."
Nigel currently runs a fleet of three Scanias as well as twelve assorted trailers including extendable low loaders and extendable flat trailers. He purchased his 2008-reg R620 only last year and has paired it with the new crane. He also introduced new trailers to the fleet in both 2014 and 2015 …the investment is set to continue:
"I'll keep expanding and bringing in more specialist trailers so that I can carry more and more specialist loads,"he reveals. "I'm hoping to start moving boats with the Hiab and there are always new avenues to go down and different doors to open; we're always on the look-out for new business and new opportunities. We've recently moved some blades for a windmill and I'd also be hoping we will get more work out of that. In this line of work, you always hope to keep finding new business."
In an ultra-competitive marketplace, there are always others bidding for the same work –but none of the competition are as well-placed a Devlin Haulage to provide cost-effective, prompt, safe and professional solutions right across the board. "It's a cut-throat business and you are pricing against other people but we have been doing this to the very best of our ability for 25 years now and we have developed a vast amount of experience and expertise. We are fully-insured, fully-certified and fully-competent and we're recognised in Ireland and the UK for the quality of our services. We never have to advertise. Word of mouth has served us extremely well and we get a lot of work through referrals from existing customers."
Work undertaken on a regular basis includes the transportation of portable buildings between Ireland and the UK as well as modular buildings, with clients including EcoMod, Portakabin Ireland, Cabinspace and Anaconda Equipment. Nigel also buys and sells high-quality second-hand portable buildings.
"The Hiab will bring us a lot more work,"he notes. "We'll be able to diversify into moving a lot of other equipment such as compactors and recycling balers.
"We've always done the large modular mobile homes and this is an area where we predict more business going forward. It's a specialist area where we have amassed a great deal of experience, handling everything from splitting and shifting them to craning and putting them back together. It's a big job and a lot of work goes into it, even beforehand. We use specialist trailers and also bring in a team of joiners, plumbers and electricians to help split the building and put it back together. We offer that service within Ireland, from Ireland to the UK and also within the UK."
In 25 years of existence, quality has been a constant at Devlin Haulage, who place a huge emphasis on Health & Safety, which has contributed enormously to their excellent track record. "Safety is a priority with every load that we handle,"the Tyrone man concludes.
"We give a good service when we take on any job and we always do it to the very best of our ability. We treat every job as a priority and will continue to make sure that every load is delivered on time, safely and at a reasonable rate."
Taken from Irish Trucker & Light Commercials magazine, Vol 19 No 9, October/November 2016