Fresh look for Fyffes fleet
07/04/2017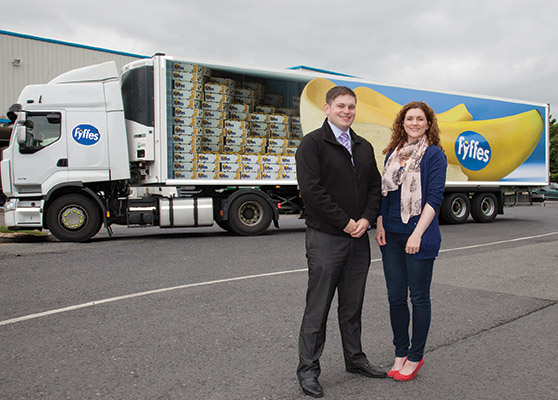 Banana importer Fyffes recently unveiled its new truck livery which is being rolled out across its 30-strong fleet of heavy good vehicles. And there has already been a very favourable reaction to the new 3D image design.
The move forms part of what Fyffes'marketing manager Emma Hunt-Duffy describes as "an international brand enhancement programme", the impact of which will be seen across the organisation's key corporate and brand communication platforms throughout its core European markets.
Among those elements subject to modification, the most visual change will be seen in the positioning of the company's familiar blue, oval-shaped logo, coupled with a new communications initiative entitled 'Discover More', which is aimed at encouraging more consumer curiosity and engagement.
Another significant change sees the firm's website, www.fyffes.com, being redesigned to incorporate a number of new elements, which make up the Fyffes global story. Among these is the work that Fyffes has been doing to promote the natural qualities of fruit; measures to educate young people and their parents in relation to the growing and harvesting of bananas; and matters relating to corporate social responsibility reflected in the support being given by Fyffes to fund activities aimed at improving the living standards of farmers and their communities.
Overseeing the changes along with colleagues from the UK and European brand teams, Hunt-Duffy said: "The improvements now being made across our brand communications will portray an even more modern and progressive image for the successful global enterprise of Fyffes. In addition, the improvements being introduced will have the parallel goal of building awareness of the Fyffes name and brand in those new market territories and food product categories in which the company is engaged."
"The Fyffes banana and our distinctive blue label is the focal point of our new truck livery,"says Ciaran Sweeney, general manager of Fyffes'ripening and distribution centre in Swords.
"As the first 3D image within the Irish transport sector, it has captured the imagination of many people. It's a very progressive, modern image which is part of a wider brand review and enhancement that's taking place within the company."
While Fyffes is most closely associated with the banana, the brand is also applied to pineapples, melons and more recently mushrooms. Specialising in the production, procurement, shipping, ripening, distribution and marketing of bananas, the stock exchange-listed company is the largest importer of bananas in Ireland and Europe, and the fourth largest in the world. It distributes circa 44 million cases of bananas in Europe and 10 million cases of bananas in North America annually.
Fyffes bananas are procured from Central and South America under long-term supply contracts with its growers. The company's long-term relationships with growers and the advice and structures that Fyffes provides ensure that its fruit is always Fyffe Times Better.
The company transports it produce on state-of-the-art ships under controlled conditions to ensure that all Fyffes fruit arrives at its destination in premium condition, consistently every week of the year. Fyffes owns and leases seven banana ripening centres in Ireland, the UK and Germany as well as a large melon distribution centre in Florida. Bananas are carefully unloaded into ripening rooms where the fruit can be ripened under controlled conditions to meet the highest customer specifications. Fyffes'sub-contracted fleet of temperature controlled vehicles carefully transport its premium produce to all the major multiples as well as to a vast network of wholesale, convenience and foodservice customers.
Fyffes has been importing bananas for more than 125 years, with the first shipment to the UK in 1888. The famous Fyffes blue label first appeared in 1929, making it the world's oldest fruit brand. Only the freshest produce selected from the most reliable producers is allowed to carry the Fyffes label.
Fyffes ripening centre in Swords has a ripening capacity of 55,000 boxes, which equates to about six million bananas per week.
Ciaran Sweeney explains how the process works: "Our bananas are shipped directly from Central America to the ports of Ringaskiddy (Cork), Tilbury (London), Antwerp (Belgium) and Bremerhaven (Germany). We have a number of other routes to Russia and China also. After they are unloaded in Ringaskiddy, the bananas are brought to Swords for ripening. They take nine months to grow, two weeks to ship and one week to ripen for one day on a supermarket shelf, so there is a fast turnaround in terms of distribution.
"About 30 loads leave the building every day of the year serving the 32 counties. We only find out at 6.30 each morning from our customers where the loads are destined for."
He continues: "With a product as perishable as bananas, you need reliable hauliers. As a staple food for hundreds of thousands of people in this country, it's vital that the deliveries are on time. You are only as good as your last load in this business.
"Our fleet of trucks and refrigerated trailers are among the most modern and reliable in Ireland. We insist on the bananas being transported at +14 degrees Celsius."
Fyffes employs 6,000 staff in 12 different countries. Its Irish head office is located at North Anne Street, Dublin, while the company has had a presence in Dundalk going back to 1902. About 60 staff are employed at the Swords ripening centre, which is the real hub of the operation.
Fyffes has proudly supported Dundalk FC from the relative low of their Airtricity League promotion / relegation playoff final against Waterford in 2012 to the dizzy heights of this year's Champions League campaign.
"We've had a super partnership with them for the last four years,"enthuses Ciaran, who is a Dundalk man himself.
"Under Stephen Kenny's guidance, they won back-to-back league titles in 2014 and 2015 and have enjoyed a tremendous run in Europe this year. Their progress has been fantastic for the town and the League of Ireland. As a company whose roots are firmly in Dundalk, we are very proud to be associated with them."
Irish Head Office
Fyffes plc
29 North Anne Street,
Dublin 7
Telephone: +353 1 8872700
Fax: +353 1 8872755
Fyffes Dundalk
The Ramparts,
Dundalk,
Co. Louth.
Telephone: +353 42 9335451
Fax: +353 42 9339470
Fyffes Swords
Swords Business Park,
Swords,
Co. Dublin.
Telephone: +353 1 8074882
Web: www.fyffes.com
Taken from Irish Trucker & Light Commercials magazine, Vol 19 No 9, October/November 2016