Clavin Transport Services is your strongest link
06/04/2017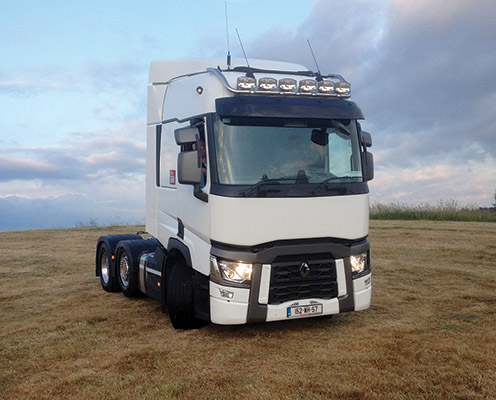 Celebrating 10 years in business in 2017, Clavin Transport Services Ltd is a successful transport operator based in the midlands. Located centrally between the midlands gateway towns of Athlone, Mullingar and Tullamore, the award-winning company's business model is based on developing strong relationships with its customers by providing innovative and cost-effective transport solutions.
Serving the construction, agricultural and waste industries, Clavin Transport Services provides 'Best in Class'service and information availability through its real-time web tools which allow customers to manage inventory levels and monitor loads in transit. In-cab scanning technology allows POD availability to the customer on their own paperwork immediately after a load is delivered.
"We have worked closely with Philip Godkin of Streamline Logistics Solutions to develop an IT system which is integrated with most of our clients'systems,"explains Clavin Transport Services Ltd's youthful managing director Lenny Clavin.
"It's a low-cost model which provides real time information to the client and allows our drivers to scan delivery dockets in the cab of their truck. The system basically eliminates the need for us to have an office.
"I went to college with Philip and I can say without any hesitation that he is the most intelligent man I know in transport. He can tailor a system for any haulier."
Lenny was only 24 when he set up the business in 2007. Prior to that, he had worked as a driver while studying for his BSc Degree in Transport & Logistics at DIT before becoming an operations manager. Clavin Transport Services defied the odds by growing through the recession by offering an unrivalled transport service to the agriculture, horticulture, construction and waste management sectors.
"We provide a bulk transport, palletised freight transport and bulk sales service to over 100 customers,"explains Lenny, who runs the business from just outside the village of Streamstown, which is just a stone's throw from the towns of Kilbeggan and Moate, and the M6 motorway.
"About 90 per cent of our business involves bringing goods and materials into and out of the midlands region. We are on course to move about 100,000 tonnes this year. We specialise in fast moving consumer goods."
Among the agriculture and horticulture materials the Westmeath company moves are fertilisers, agri lime, composts, mulches and green waste. It also transports construction materials such as sand, stone and aggregates and waste and contaminated soils, and provides a nationwide collection and delivery of bulk waste products, holding waste collections permits for every local authority.
Partnering with industry, Clavin Transport Services provides 24/7 full load palletised freight services in and out of the midlands. The firm's web tool allows customers to monitor freight movements as they happen. Real time POD on customers'paperwork for every load and the ability to monitor overall monthly volumes enables clients to increase their customer service levels and eliminates management time spent chasing up information.
Sourcing from a nationwide network of suppliers, Clavin Transport Services can provide its customers with a wide variety of quality bulk products, including drainage stone (suitable for both agriculture and construction use), decorative stone, agri lime, SMS compost, sand, quarry dust and 804, quarry stone and building stone.
Having started out with a Volvo FH, Lenny now runs three Renault tractor units and eight trailers, which are double-shifted. He has two Renault T460s and one T480. The trailers, which include two new Schmitz Cargobulls, are a mixture of box vans and tippers.
"We have a three-year / 500,000km replacement policy on our vehicles. We like to keep them fresh. Renault Trucks in Dublin and Reynolds Commercials in Drumraney, which is only a few miles from us, look after our maintenance and servicing needs."
Lenny is full of praise for his seven-strong team of drivers, adding: "We have four full-time and three part-time. They are all very dependable lads who are on first-name terms with most of our customers. They also take great pride in the appearance of the trucks they drive, which is very important to us. In addition, we sub-contract work to Flynn Road Freight in Moate and Thomas Ennis-Lennon in Ballymore. We have struck up an excellent working relationship with both of them over the years."
Clavin Transport Services Ltd strives at all times to provide quality services that exceed the expectations of its clients. Its goal is to 'Best in Class'by continually evolving and strengthening mutually beneficial business relationships which focus on waste reduction and cost-effectiveness within its customers'supply chains.
"We will continue to expand with our customers,"the affable Westmeath man predicts.
"We've found our niche and things are going well for us. We're currently working on establishing a brand and the new white livery on our trucks and trailers is the first step in that process. Having your trucks branded with your corporate colours and looking professional is vital to any good fleet."
On October 13 last, Clavin Transport Services won the award for Regional Transport Operator of the Year at the Irish Haulier of the Year awards in Dublin's CityWest Hotel. The company was also shortlisted for the Owner Driver Hauler of the Year and Innovation Awards.
Clavin Transport Services Ltd
Ballinahiney,
Streamstown,
Mullingar,
Co. Westmeath.
Telephone: 044 9310277
Email: [email protected]
Web: www.clavintransportservices.ie
Taken from Irish Trucker & Light Commercials magazine, Vol 19 No 9, October/November 2016