Going strong for 40 years
05/04/2017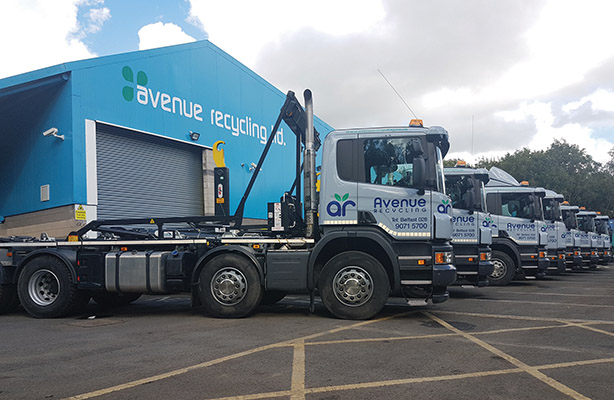 Operating in the south Belfast area for an even four decades now, Avenue Recycling Ltd continues to be a leader in recycling and waste management throughout Northern Ireland. Operations Manager Eddie Nesbitt told Irish Trucker all about the company and their busy fleet.
These are busy times for Avenue Recycling Ltd at the Ballygomartin Industrial Estate in Belfast, Co Antrim, having come through the recent tough ones.
An established company which has been operating in the south Belfast area for almost 40 years, the business operates out of a fully licensed 25,000 square foot waste management premises located along the Ballygomartin Road in Belfast.
Co Antrim native Eddie Nesbitt has been Avenue Recycling Ltd's Operations manager for over two decades now and gave us the lowdown.
"We're set-up 40 years and we moved to this new premises about 10 years ago,"explained Eddie.
"We've in and around 50 staff and I've been Operations Manager with them over 20 years now. Mal Lavery is the owner of the company."
Originally started as Metal Merchant Yard, Avenue Recycling has progressed down through the years into other areas within the Recycling, Waste Management and Environmental sectors.
The experience and knowledge the company has gained through the years has been invaluable in enabling Avenue Recycling to identify and implement best practice infrastructure for the safest and most efficient methods of working, thus ensuring provision of a high standard of service to all of their clients.
The clientele which the company carries out most of its work for is largely government based, as Eddie outlined.
"We do all the haulage for Belfast City Council. We do a lot of electrical waste and all the fridges for every council in Northern Ireland,"said the Operational Manager.
"We do the scrap metal work for Belfast and Lisburn City Councils and the dry recyclables for Belfast.
"Our business is mostly council and government based, but we do have a major contract with the TV show 'Games of Thrones'for the past six or seven years now. We remove all the waste from their sets."
To date Avenue Recycling Ltd possess an extensive portfolio of contracts ranging from the collection and recycling of Waste Electrical Equipment to total waste management and cleansing services at Belfast Continental Markets and lately the Tall Ships event in 2015.
The company recently won a contract with Newtownabbey and Antrim Borough Council in December 2015 for a call-off service for the collection of black bins when they are unable to provide the service for whatever reason.
The contract is for the provision of a kerbside and back door (assisted lift) collection service for residual waste from domestic premises throughout the Borough of Antrim & Newtownabbey.
Avenue Recycling have already provided the Council with the service on seven occasions, including over Christmas and New Year.
On those occasions, they have supplied three refuse collection vehicles with three fully trained men per vehicle and in some instances within 24 hours of notice.
"Business is good right now,"Eddie stated. "We have been very busy as of late and right now we're in the process of moving on and hopefully expanding a bit.
"We feel that our clients our coming to us first because of the service that we're supplying them. We feel that we supply a first class service to our customers and it's one of the main reasons why they keep coming back to us."
Along with a renowned first class service, Avenue Recycling are operating from two fully licensed, top class waste facilities, one located in the city centre and the second larger of the sites in the west of the city.
Both sites are licensed to receive hazardous and non-hazardous wastes. Avenue Recycling also hold accreditation with the Northern Ireland Environment Agency (NIEA) as a fully licensed Approved Authorised Treatment Facility (AATF).
The company are a Registered Waste Carrier, accredited to ISO 14001, 9001 and OHSAS 18001 Management Systems and hold affiliated membership with the Chartered Institute of Wastes Management (CIWM).
As for the machinery they're operating with, Avenue Recycling have an extensive fleet of vehicles and a dedicated team of fully trained and experienced operatives available to carry a vast range of work, safely and efficiently.
Scania has been the brand of choice lately for the company, according to Eddie.
"We have a fleet of 40 vehicles and at the moment we're buying a lot of Scanias, but we do have Volvo and DAF here as well. We bought an Ulster trailer as well sometime in the last six months,"he stated.
Avenue Recycling currently employs two full-time company mechanics with two fully equipped service vans and one fitter all of whom are readily available in the event of any breakdowns to vehicles.
The fleet of vehicles which the company operates is as follows: Builder Skip Vehicles (3), Hook Lift (Roll On) Vehicles (12), Curtain-Side Vehicles (7), Hi-Ab Vehicles (4), Refuse Collection Vehicles (7), Big Bite Collection Vehicles (5), Mini-Mac Compaction Vehicles (3), Mechanical Sweeper (2), Fully equipped Service Vehicles (2), 2016 Iveco Van and Ford Transit Tipper (2), Split Body waste collection vehicle (1) and Forklift (LOLER Certified, 3).
From the list of current vehicles above, Avenue Recycling use the best vehicle to carry out the required work, whether it is the use of a curtain side lorry for collection of loose material, refuse vehicle for emptying of bins to use of mechanical road sweeper.
The range of vehicles at the company's disposal ensures that they are a 'one-stop shop'when it comes to collection of waste.
The age of the fleet ensures that the vehicles meet with the latest EU standards on Euro 5 and Euro 6 engines, emissions and operate more efficiently and economically than an older fleet would.
All vehicles intended for use in provision of these works and corresponding documentation are available for inspection as part of the evaluation process. Driver licensing documentation is also available for inspection on request.
The vehicles listed are available seven days per week and are fully equipped to provide the service required 24 hours per day.
Collection of scrap metal can be collected on an Ad-Hoc basis or on a scheduled basis depending on requirements. Should a collection be required on a more frequent or scheduled basis this is something which Avenue Recycling can facilitate.
Avenue Recycling are in a position to supply open top roll on containers for waste collection, builder skips, cage containers or euro bins. They have a large stock of the above ready for use and all of their hook containers contain deflector plates to meet HSE guidance.
Avenue Recycling

Recycling & Waste Management Enquiries (HQ):
Unit 1 Ballygomartin Industrial Estate
Belfast
BT13 3LZ
Tel: 028 9071 5700
Fax: 028 9071 5707
Out of Hours number: 07738 543556
Web: avenuerecycling.co.uk
Taken from Irish Trucker & Light Commercials magazine, Vol 19 No 9, October/November 2016