Delaneys boast a proud family heritage
30/03/2017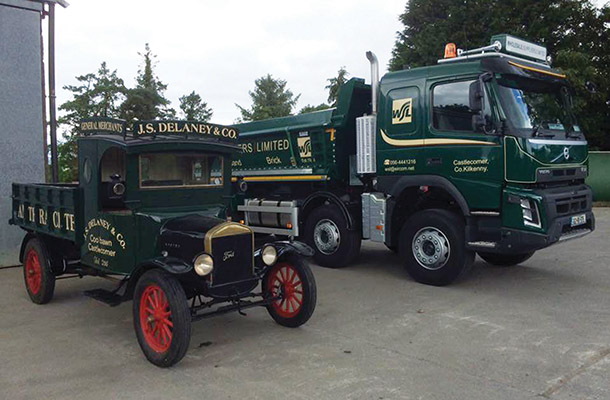 The Delaneys from Castlecomer in County Kilkenny have been synonymous with providing top-class road transportation solutions for almost a century. We caught up with cousins Harold and Errol, who currently head up the renowned sand and gravel company, Wholesale Suppliers Ltd.
Having come through the worst that the recession could throw at them, Wholesale Suppliers Ltd. –an outstanding fourth-generation family business - now have their eyes fixed firmly on the future. To this end, they have recently invested in a stunning brand-new 162-reg Volvo FMX13.420 from McCarthy Commercials, complete with Gleeson tipper and finished in the company's eye-catching dark green and yellow livery.
At the time of writing, another new truck was also on the way…"As well as the four-axle rigid, we've also purchased a new five-axle rigid,"confirms Harold Delaney, a man with a tremendous passion and enthusiasm for all things truck-related. "We had gone through a rough period from 2007/08 and we were badly affected when a local brick factory that we'd hauled for for 40 years closed down. There wasn't really much of a market from '08 onwards but it was time to either step out or step in so we decided to invest in the fleet again."
It's a significant investment and the new units will be a major asset to the Castlecomer headquartered operation going forward as they continue to provide unrivalled sand, gravel and stone delivery services across counties Kilkenny, Waterford and Carlow. Indeed, when the local brick factory closed down the Delaney's started importing and selling builders brick and now it is an important part of the business.
As well as delivering sand and gravel, decorative pebbles and drainage pebbles to home owners, farmers and builders, Wholesale Suppliers have also been doing tipper work for Roadstone out of their Bennettsbridge quarry for the past thirty years and it is a business relationship the firm is very proud and grateful of.
The roots of this excellent operation go way back almost one hundred years to the early part of the 20th century…"Our grandfather, Jonathan Delaney, would have started the business in 1918,"reveals Harold. "There were no lorries back in those days. He started with a horse and cart, drawing coal, and would have worked at that until 1924, when he purchased a Model T Ford –the first in the area and a very big investment at the time. [Indeed, as a link to this piece of history, the Delaneys still have a vintage Model T in their fleet!] He subsequently bought a truck manufactured by Beardmore, who used to make war tanks, and diversified into selling timber, cement and hardware. In the 1950s, he bought the sand pit and started into the sand and gravel work."
Over the past six decades, four generations of the Delaneys have been providing a superb sand and gravel service –founder Jonathan; his sons George and William; George's son Harold and William's son Errol; and Harold's son, Craig. Meanwhile, Harold's wife, Dorothy, also makes a key contribution, looking after accounts and administration –a role that was previously undertaken by Errol's mother Mary.
First cousins Harold and Errol are the current directors. "It's very much a family business and we pride ourselves on providing a very good service with a personal touch,"the former notes.
Every consignment is delivered professionally, safely and on time, every time, using excellently-maintained trucks operated by experienced and highly-qualified drivers. This is why Wholesale Suppliers has been able to secure steady work with a partner of the status of Roadstone.
The two new additions to the fleet leave the long-established family business in a very strong position going forward, although Harold points out that prices could do with coming up a bit to make things a little more viable. It's a tough business but clearly the Delaneys are in this for the long haul:
"First and foremost, we look after our customers and we are easy to deal with,"says Harold. "Myself and Errol know exactly what's going on and we keep on top of things to ensure that customers are getting the best possible service.
"We also have our own workshop and do a lot of maintenance work on the fleet in-house, while McCarthy Commercials handle a lot of the bigger stuff for us."
The association with McCarthys and Volvo goes back 40 years. "We bought the first Volvo back in 1978,"says the Kilkenny man. "We had Dennison and Hino and Leyland before that but they are all Volvo now. Errol and myself are qualified mechanics and we know Volvos very well and they are very good to work with. Also, the back-up we receive from McCarthy Commercials is second to none and they are also local, which is extremely handy."
At present, gainful employment is generated for a team of nine. The work is pretty seasonal but Harold is optimistic that this might change. "At the moment, we're busiest during the summer and autumn, especially as that's when farmers are busy, but I'm hoping that the building might take off again with more new programmes starting up."
Patience is a virtue in the haulage sector in Ireland, especially when one is closely associated with the construction sector, which has been volatile since the Celtic Tiger breathed its last breath. Is Harold ever tempted to ride off into the sunset?
"No, that wouldn't be for me,"he concludes. "I'd have to be dragged away from this. I love trucks and always did and this is my passion. Granted, there are no big fortunes to be made but this is what I love doing. You'd have to love it because it's a tough business now with all the legislation that's been introduced and you have to be in it 100%. There are no half measures."
Wholesale Suppliers Ltd.,
Coolbawn House,
Coolbawn,
Castlecomer
County Kilkenny.
Tel; 056 4441216
Taken from Irish Trucker & Light Commercials magazine, Vol 19 No 8, September 2016