A true partner of the haulier
27/03/2017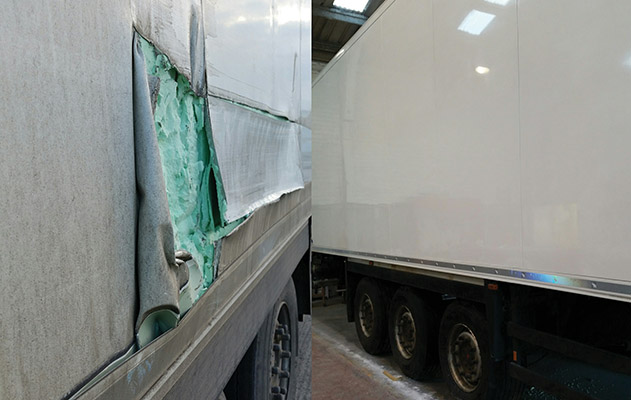 As the name implies, Transway Fleet Solutions provides a full range of fleet management and maintenance services to operators across the capital and beyond. We dropped into their well-appointed, state-of-the-art, one-stop-shop facility in Clondalkin Industrial Estate to discuss the longevity of this multifaceted operation with owner Brian Balfe.
Since its genesis in 1984, Transway Fleet Solutions has grown and developed year-on-year by providing transport companies with an ever-expanding range of exceptional services. Today, they offer a comprehensive list of specialist solutions to hauliers from their modern Clondalkin HQ.
This includes management and scheduling of fleet maintenance; general maintenance, end to end; specialised refrigerated trailer body repairs (including service and repair agencies for Schmitz and Krone); light and heavy commercial vehicle repairs; blasting and spray painting; CVRT testing; and other specialist services, including the manufacture and repair of curtains.
Transway Fleet Solutions also assist customers with RSA compliance and are specialists in brand management –placing an emphasis on the aesthetics of the vehicle as well as the functional aspects - so it really is an all-encompassing operation, providing a total fleet maintenance service right across the board.
The longevity of the company speaks for itself. For any business involved in the heavy transport sector to not just survive but thrive over the course of 32 years and counting is a truly remarkable achievement - one that could only be achieved by implementing the very highest standards of excellence, professionalism and customer care.
Proven experts in every facet of truck and trailer repair and servicing –from axle and suspension systems to air, electrical, ABS & EBS, bodywork and refurbishment etc. –Transway Fleet Solutions operate a six-bay trailer repair workshop, six-bay commercial vehicle repair shop, an on-site CVRT test centre for HGVs and LCVs, an NSAI-licensed tachograph, speed limiter and plating centre, a curtain manufacturing facility and a 3,000 sq m parts department as well as offering fleet scheduling, reporting and budgeting, 24/7 breakdown and vehicle shot-blasting, painting and refurbishment services, all from their ideal location within close proximity of the N4, N7 and M50.
As sole agent in the Republic of Ireland for repairing and servicing Schmitz refrigerated units, as well as agents for Krone, Transway Fleet Solutions attracts work in this highly-specialist area from all over the island. "The food industry demands that they look great and perform to the highest level,"says Brian. "We service them and also repair crash damage, inside and outside. We provide a full bodywork and respraying service."
Transway Fleet Solutions boasts a 15,000 sq ft workshop dedicated to body repairs, from a total operating space of 25,000 sq ft across three buildings in Clondalkin Industrial Estate, with employment provided to a team of up to 50 fully-qualified and highly-experienced personnel.
Regarding the original activity that got the business up and running –trailer maintenance and repairs –Brian notes: "As a specialist in this area, we tend to take full responsibility for your fleet, including implementing a programme of RSA compliance, scheduled maintenance and recalling trailers when they are due."Frequent service inspections are carried out using a mobile unit to make sure everything is as it should be. All records are stored on computer and are available upon request.
"Everything is done in line with RSA requirements and we have full technical support from the manufacturers,"Brian stresses. "With the stringent testing that's taking place nowadays, the quality of maintenance is everything.
"When it comes to scheduled maintenance, we can work on all makes of light and heavy trucks as well as vans, with a 24-hour breakdown / collection service provided and a full repairs service.
"Fridges have become a very important specialist area and our technicians have been trained to carry out these repairs in accordance with exact Schmitz requirements here in Ireland. It was a real honour to be chosen as the agent to represent these manufacturers and we have all the systems, procedures, personnel and equipment in place to not only meet their standards but to exceed them.
Transway Fleet Solutions manufacture custom curtains for the local market and are agents for Roland (in Poland), the biggest manufacturer of curtainsides in the world. They are also agents for Load Lok and manufacture and supply soft-wall and hard-wall internal doors for fridges.
They also do some second-hand trailer sales. "We feel we have all the bases covered at this stage and the goal moving forward is to continue to develop the business by providing outstanding service levels across all these highly-specialised areas."
Transway Fleet Solutions,
Unit 4D, Besser Drive,
Clondalkin Industrial Estate, Clondalkin, Dublin 22.
Tel: 01 457 3420
Fax: 01 457 3920
Email: [email protected]
Web: www.fleetsolutions.ie
Taken from Irish Trucker & Light Commercials magazine, Vol 19 No 8, September 2016