Delivering the goods
23/03/2017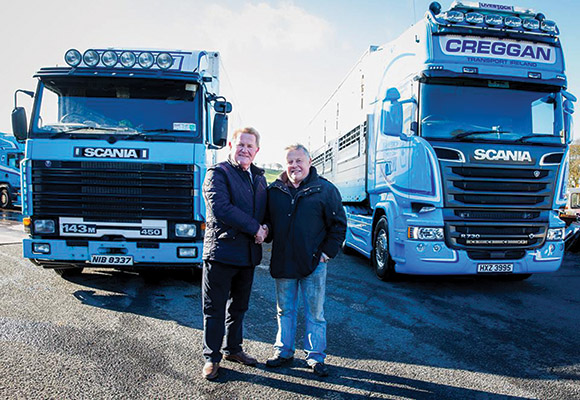 One family run business that is celebrating 35 years in business is Creggan Transport which was established by Gene Boyle. These days, Gene's son Eugene has taken over the reins of the business and for this month's edition of Irish Trucker, we profile this haulage firm which is based in Co Armagh.
Creggan Transport operate from their depot in Creggan, just outside the town of Crossmaglen. The company specialises in a number of areas including general haulage and livestock.
"When my father first set up the business, he was doing some general haulage and then some bulk work, with the latter ceasing in the late eighties," said Eugene. "In 1999, there was a gap in the market for livestock haulage and we have been working in that area ever since as well as maintaining the general haulage."
The transportation of livestock is a specialised area in the haulage industry that is practiced by just a number of hauliers both north and south of the border. This sector is thoroughly legislated and companies must obtain the necessary paperwork to perform their daily duties.
"We transport all types of cattle including commercial, pedigree beef cattle and dairy cattle as well as pigs, sheep and goats. All animals are handled with due care and attention and we always make sure that there journey is as stress free as possible."
Eugene admits that there is a lot of legislation to be adhered too in the industry and he stressed that they are fully licenced to carry out their duties on a daily basis.
"Legally we have all the required licenses and certificates needed to operate a livestock transportation business. We also hold full livestock transportation insurance encase of an unlikely accident. There is a lot of red tape to go through, but it is all there for a purpose and it helps regulate the industry. The safety of the animals is paramount and that is our main focus on any journey."
To carry out their duties, a state of the art fleet is required and to this end, there are few that rival the fleet at Creggan Transport, which is kept in pristine condition at all times.
"When My father and even when I started out, you could get by with an older truck, but things have changed since then. It all comes down to efficiency now, and if you haven't got the best equipment available to do the job and aren't willing to give the best possible service, you are finished before you ever start."
That is why Creggan Transport prefer to use Scania trucks for all their haulage needs.
"We deal with Roadtrucks when buying our Scanias, we find that they give a great service and Scania are the most reliable truck on the road in my opinion.
"Most of the maintenance is done by ourselves as there is a full time mechanic here. Preventive maintenance is huge now and it is something that we like to keep on top of all the time."
Customer satisfaction is something that all hauliers strive to achieve and to do so is to ensure that all deliveries are made on time, every time.
"We are dedicated to providing a top quality service and we try to go that extra mile for our customers. If they are not happy with us, they will go elsewhere, but fortunately we have a good relationship with all our customers and long may that continue.
"There is a reliable workforce too from my mother Judy and Olivia in the office to the mechanic and drivers, all are very experienced at what they do and that makes life that bit easier."
Experience is a vital commodity in the haulage industry and Eugene and the team at Creggan's have this in abundance, which can give the customer the peace of mind knowing that their animals are in capable hands.
"We are keeping our heads above water and that is all you can do at the moment. There are so many overheads in this industry to contend with that every decision has to be made with the utmost care, but there is definitely a better optimism now.
"If we can continue to keep the customers that we have, happy and maintain the level of service that we have been providing, then I'm confident that we can meet our goals over the coming years."
Creggan Transport
67 Newry Road,
Crossmaglen,
Newry,
County Down
BT35 9BW

Phone:+44 28 3086 1368
Taken from Irish Trucker & Light Commercials magazine, Vol 19 No 8, September 2016