We pride ourself on customer service and reliability
21/03/2017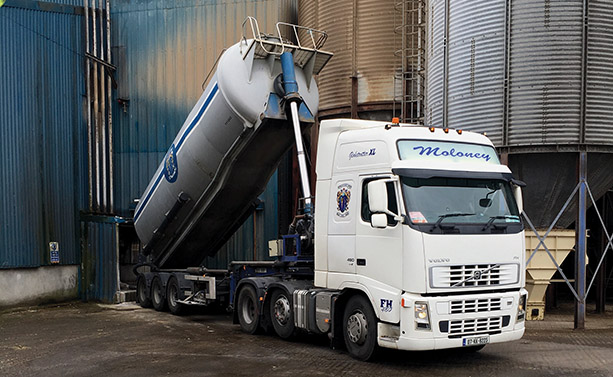 Professional expertise and a commitment to quality and superb customer service have really put Barry Moloney Transport Ltd of Kilkenny on the map. They are specialists when it comes to bulk tanker, bulk tipper, low loader and curtainsider work and Irish Trucker magazine recently caught up with Managing Director Barry Moloney who says the signs are encouraging for the future.
TASCC (Trade Assurance Scheme for Combinable Crops) was developed because farmers and end users wanted to be sure that crops of grain, oilseeds and pulses were treated responsibly once they left the farm.
That includes wheat processed by flour millers and malting barley for the brewers and distillers in the drinks industry. It provides independent verification that the trade is meeting food safety laws.
The scheme is audited and certified by an independent certification body, in accordance with the internationally recognised standard EN45011.
This means that the certification body is itself independently assessed every year to ensure that the standard is implemented and administered consistently and fairly.
The scheme dovetails with UFAS and with the UK livestock assurance (Red Tractor) schemes which the major supermarkets make a requirement for the home-produced livestock products they buy.
TASCC is also recognised within the food industry as being essential to maintaining traceability of assured combinable crops after they have left the farm.
The Scheme is made up of a Scheme Manual and four codes of practice (Storage, Haulage, Merchants and Testing Facilities).
The Storage Scheme is operated to a joint scheme with the Grain and Feed Trade Association (GAFTA) covering combinable crops and feed materials.
As a TASCC approved operation, Barry Moloney Transport is renowned as a name you can trust when it comes to meeting those all-important deadlines. A family-run affair, you should look no further than the Skeoughvosteen, Co Kilkenny-based company when it comes to bulk tanker, bulk tipper, low loader and curtainsider work throughout Ireland and the UK.
"My father Michael started up is business, which traded as Mick Moloney Transport, in 1987,"remarked Barry when explaining the background to his business. "I grew up in the business as such and I took over from him in the last few years. My dad and brother Brian work with me and we employ 10 in total.
"I started out in 2011, ran as a sole trader first few years then registered as a limited company two years ago. We's doubled our fleet from five to 10 trucks in that time."
With a modern and well-maintained fleet of 10 trucks, which includes six Renault and four Volvo, on the road, Barry's aim is to provide top class services to all of his customers whilst delivering excellent value for money.
They have successfully gained an enviable reputation through building strong, trusting and long lasting associations with satisfied customers.
By choosing them, you have selected a company that is committed to providing a quality service. Valued clients such as Connolly's Red Mills, Carlow Warehousing, Provimi (Naas), Kelly's of Borris, I.A.M Agricultural Machinery and Bennetsbridge Limestone Quarries can vouch for that.
"We're extremely fortunate to have developed good relationships with our existing customers. We pride ourself on customer service and reliability.
"The TASCC approval is important when it comes to traceability and it keeps everyone operating at the same level. It also emphasises quality."
The current economic climate is proving to be kind to the ever burgeoning business...
"Business is steady enough at the moment. It's hard to know how Brexit will impact on things but animals will always have to be fed so we hope that we'll be able to stay growing as we move ahead.
"We'd be confident enough about what the future holds in store."
Led by a knowledgeable and experienced management team and supported by motivated and reliable staff, Barry Moloney Transport Ltd is committed to providing quality service at all times –at a reasonable cost.
Give Barry a call at the numbers below to find out more.
Barry Moloney Transport Ltd
Gurteen
Skeoughvosteen
Co Kilkenny
Tel: 059-9775277
Mob: 085-1060811
Email: [email protected]
Taken from Irish Trucker & Light Commercials magazine, Vol 19 No 8, September 2016