Practical solutions, successful partnerships
16/03/2017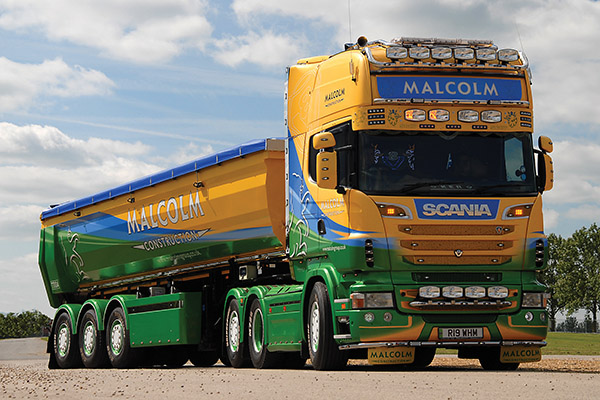 The late Donald Malcolm was known and respected as one of the greatest and most enigmatic businessmen ever seen in the Scottish Road transport industry. Donald sadly passed away in 2003 but his sons Andrew and Walter continue to enhance his rich legacy.
Originating as a family-owned business in the 1920's, The Malcolm Group has become one of the leading providers of Logistics, Construction and Maintenance services in the UK.
The success the company has enjoyed since the 1920's is largely due to the hard work and business savvy of one man – Donald Malcolm – who inherited the coal-round business from his late father Walter Hattrick Malcolm. With entrepreneurial foresight and prudent investment in vehicles, plant and depots, he is responsible for building the business which we know today.
By 1960, when the firm was acquired by Grampian Holdings, Donald had built it up to a fleet of 37 vehicles - plus seven items of plant. Consistent investment in the business, often ahead of market trends, lifted the company to its current status as a respected player in the logistics and construction markets.
On 18th January 2002, Grampian Holdings plc was renamed The Malcolm Group plc and was fully listed on the UK Stock Exchange.
In May 2005, after 45 successful years in the "public" domain, the Group was once again taken into private ownership by the Malcolm family. The company is today led by brother's Andrew and Walter Malcolm, the third generation of Malcolm's to manage the business, while the 4th generation of the family are also now involved in the business.
"That has enabled us to make the right decisions to protect the future of the Group, We're a family business. We don't look at the contract, we look at the start of long-term relationships and we're very protective of the customers we have. Any company is only as a strong as its workforce and our employees share the 'can do, will do' approach which Donald was renowned for." explained CEO Andrew Malcolm.
"I myself started out with the company at the age of 16 in 1978 and have worked my way up through the organisation alongside a number of our senior management team. This experience allows us to have a greater understanding of the business and our customer's needs allowing us to see opportunities and respond quickly which is critical," Andrew elaborated.
Malcolm Logistics, a division of The Malcolm Group provides fully integrated Road, Rail, Warehousing and Bonded Warehousing services throughout the UK and has a long established focus on operational and service quality which has earned a strong reputation within the industry.
Strategically placed distribution centres provide 24-hour vehicle scheduling. The intermodal service offers end-to-end distribution of products through road and rail integration. Warehousing facilities encompass 5 million square feet of warehousing space, spread over 10 locations, 3 of which are rail-side. The business also manages considerable warehousing activities at a number of customers' locations.
Malcolm Logistics is committed to offering value added solutions to their customer base, through innovation and challenge.
Malcolm Rail provides a substantial range of intermodal services benefitting a wide range of users in many sectors, typically integrated with road to offer the coverage required by customers. Intermodal Railfreight is an attractive freight option as it can provide an efficient method of distribution for many types of cargo. There are daily train services operated between three strategically placed terminals nationwide providing a crucial link between ports, production facilities and distribution terminals.
"We've a large involvement in rail distribution and it's a real 24/7 operation as we offer the full end-to-end supply chain," noted Andrew.
Malcolm Construction provides comprehensive civil engineering and groundwork services. They have earned an enviable reputation as a quality service provider, solving complex problems but moreover for successfully delivering projects on either a stand-alone basis or as part of a consortia, offering a larger package to major contractors, local authorities and consulting engineers.
Malcolm Construction is in a unique position to provide end-to-end solutions to the most challenging construction projects by engaging with its specialist group companies. Among these is Charles Lawrence Surfaces, a leading technical innovator in the specialised field of synthetic sports surfacing and Woodholme Construction, leaders in laser controlled paving and specialist skills in the preparation and full construction of all-weather surfaces.
Malcolm Maintenance employs a team of highly skilled HGV mechanics, spray painters and MOT testers. Their expertise is second to none and this is reflected in the excellent condition and reliability of their in-house fleet. Their maintenance team manages their fleet, utilising their workshops at depots nationwide.
As well as maintaining the group's extensive fleet, Malcolm maintenance provides a full range of routine and statutory maintenance services, mechanical and bodywork repairs and MOT testing.
Summing up what is responsible for the continued success of the Malcolm Group Andrew stated: "Our greatest competitive advantage is our people. We have a highly skilled and motivated workforce which has a passion for delivering the very best service. There are now a number of 3rd generation employees in the firm. This demonstrates in a very direct way the strength of the two way loyalty between WH Malcolm as an employer and our employees.
"As well as this we have a hands-on management team that is very much focussed on the long term sustainability of the business with a focus on quality, not quantity and always invest back in the business whenever possible" Andrew concluded.

Malcolm Group
Group Head Office
Brookfield House, 2 Burnbrae Drive
Linwood, Renfrewshire, PA3 3BU
Tel: 01505 324321
Fax: 01505 333335
Taken from Irish Trucker & Light Commercials magazine, Vol 19 No 8, September 2016