Nightline rolls out Premium fleet as delivery schedule extended
16/03/2017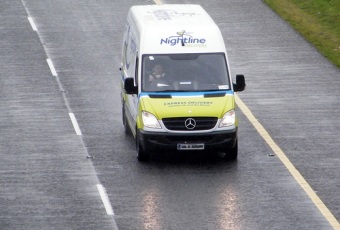 Ireland's largest independent delivery firm has announced the creation of a 'Premium' fleet of vehicles to handle its growing volume of same-day deliveries.

The launch by the Nightline Group coincides with the firm's decision to expand its delivery schedule in order to meet the needs of consumers across Ireland.

Group CEO John Tuohy explained that the company was now making deliveries both to homes and its award-winning network of Parcel Motel lockers seven days a week.

He added that home deliveries were also available from early morning until late evening.

"It's all part of the necessary evolution of our delivery cycle due largely to the continued impact of e-commerce.

"Not so long ago, things such as track and trace and next-day delivery were seen as exceptional, whereas they almost have become standard across the industry. Even greater emphasis is being placed on making deliveries quicker and more convenient.

"As a result, clients are having to deal with an ever-increasing number of consumers demanding same-day and time-specific shipments and that's something that we're happy and able to help them deal with.

'We have taken on extra drivers and added smaller and more nimble vehicles to our fleet so that customers can have the option of taking delivery of purchases either before they set off for work or when they arrive home in the evening.

"In an effort to provide even more convenience, we are making weekend deliveries the norm. Previously, they have only been regarded as a way of processing goods bought during the traditional pre-Christmas peak."

Mr Tuohy said that Nightline had acquired 40 Volkswagen Caddy vans to spearhead the premium push.

He described how the amount of packages being routed through Nightline's Parcel Motel lockers had reached a new high.

More than 300,000 subscribers have now signed up for the system with several hundred new members joining every day.

Mr Tuohy revealed that as well as a greater number of individuals choosing to use Parcel Motel, there was a more constant flow of items through the network.

Mr Tuohy pointed out that Nightline, which in late November reported a 25 per cent rise in parcel traffic since the UK voted to leave the European Union, was now processing more than 1.2 million packages per month for the first time.

Founded in 1992 by Mr Tuohy and Nightline Group COO, Dave Field, the firm now boasts more than 1,000 employees and 13 sites across both the Northern Ireland and the Republic.

Its depot network includes three facilities - in Dublin's Swords district, Omagh and Kilbarry, County Waterford - unveiled as part of €3 million investment by the company which was lauded by Ireland's Minister for Jobs, Enterprise and Innovation, Mary Mitchell O'Connor TD, last September.