Solid as a rock
09/03/2017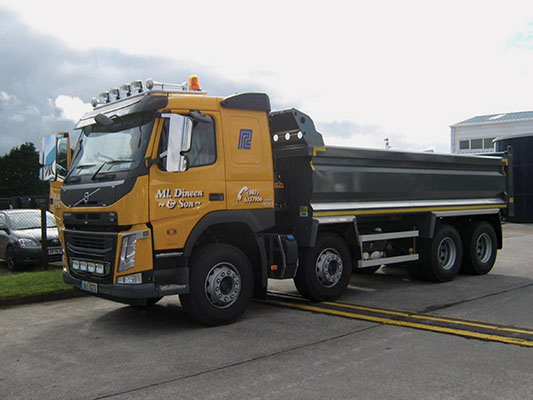 Michael Dineen has been providing a top-class transportation service to Roadstone from their Ballygarvan site, south of Cork city for the past three decades. To mark his purchase of a stunning brand-new Volvo FM Automatic, we travelled to the Rebel County and caught up with the hard-working owner-driver to discuss his career behind the wheel to date.

Michael Dineen has been drawing concrete products for Roadstone for 30 years. He went out on his own in 2000, establishing Michael Dineen & Son, but had been a direct employee of the company for 14 years prior to that, working from their Ballygarvan facility some ten kilometres outside Cork city.
By focusing totally on one area of activity, the Cork man has become an expert in his chosen field, providing Roadstone with tipper solutions that are quite simply second to none. "When I worked for Roadstone, I used to draw concrete, mortar and blocks and did tipper work, too," he reflects. "Today, it's all tipper work, delivering stone to different locations across Cork city and county, predominantly within a twelve- to fifteen-mile radius of Ballygarvan."
Stone is duly dropped off at construction sites and roadworks projects within the aforementioned catchment area, while Michael has also been extremely busy recently delivering to the home of Cork GAA, Pairc Ui Chaoimh, which is in the process of a massive €70m redevelopment which will see the Cork city venue transformed into a stunning 45,000-seater stadium, due to be opened for next year's Munster championships.
At the start of May, to ensure the ongoing provision of a high-quality, cost-effective service, Mike took possession of a beautiful brand-new N3 type Volvo FM13420 from McCarthy Commercials in Watergrasshill, complete with Fitzgerald tipper body. The new unit boasts sleeper, air conditioning, night heater, alloy fuel and air tanks, factory GSRs and a reverse monitor and will enable the Cork man to continue to serve Roadstone with the same unrivalled service levels that he's become synonymous with over the past three decades and counting.
He felt the time was right to take the plunge… "I had bought a couple of new trucks in my time but had to settle for a second-hand one during the recession, and didn't like it," he confides. "So, seeing as this is probably going to be my last one, I decided to go back to new.
"I intend to retire in four or five years, so I wanted a bit of style and comfort for my last years in haulage – and hopefully a few extra quid in my pocket as well!" As any trucker will readily testify, sometimes spending money is the best way to save it… "When you factor in maintenance costs and parts etc., it's probably costing the same as the old one. You save in the long term and you will also get the value out of it at the end as well when you sell it on. It's a great lorry and I'm very happy with it so far. My previous truck was an '07 so it's a big jump up for me. I'll be working it hard and I'm sure it'll meet my expectations and those of Roadstone."
Regarding his long association with Ireland's leading supplier of construction and building materials, Michael adds: "I've never had any problem with them. They are a good company to work for and there's never a problem with pay or anything. Whatever you are owed, you will get. They're a great company and I'm very happy to have worked for them for 30 years.
"They have treated me very well and I couldn't speak highly enough of them. They know what they are doing and they are all really good men. They look after me and I do all in my power to look after them as well.
"We're all part of one big team here in Ballygarvan. Martin O'Donovan, Gerry Curnane and Michael Cahalane are the other drivers here who work for Roadstone and we all get on well. I'd like to pay tribute to the staff at Roadstone for all their help and cooperation down through the years as well as the team at McCarthy Commercials, who have also looked after me extremely well."
Michael Dineen hasn't had to concoct any magic formula to guarantee customer satisfaction and keep the show on the road. He has simply concentrated on doing things properly. "I get on with the job and there's no messing," he says. "I give them a good service and the lorry is never off the road. It's a two-way relationship – I can depend on them and they can depend on me."
Looking to the future, Michael intends to keep the shoulder to the wheel for the foreseeable future: "I'll keep going at it for the next five years, anyway," he concludes. "We have a new manager here in Ballygarvan now, Danny Long, and he's a good man and it's a bonus to have him here with us. We have everything we need here and all the products are in stock ready for immediate and convenient delivery to customers in the local area. It's a smooth operation and I'm just happy to be part of it."
Michael Dineen & Son,
Mileens,
Kilbarry, Macroom
County Cork.
Tel: 087 6337956
Taken from Irish Trucker & Light Commercials magazine, Vol 19 No 7, August 2016