TAB Tyres & Batteries Ltd - a quality service
03/03/2017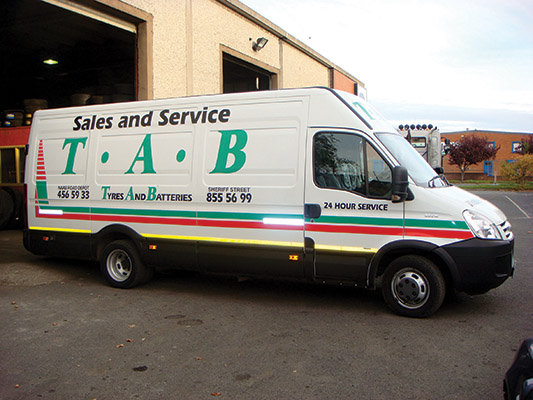 Your tyres, being the only part of your vehicle to touch the road, are critical to ensuring safe motoring. Tyre maintenance and timely replacements will actually save you money and help avoid accidents.
There are many standards to be met with regards the quality of tyres used on vehicles these days and with new regulations that have been introduced, the tyre industry and indeed motorists are benefitting hugely.
EC regulation requires tyres to have performance labels, with the aim of encouraging people to purchase tyres with superior environmental and safety performance, and also encourage tyre manufacturers to produce tyres whose performance exceeds the minimum requirements specified.
There are many tyre companies around the country that supply tyres, but few have the experience and expertise that Dublin based TAB Tyres & Batteries Ltd can offer.
Established in 1980 by Philip Lynch, the company operates from two premises in the capital located in the Western Industrial Estate on the Naas Road and Castleforbes Industrial Estate, just off Sheriff Street and close to Dublin Port.
Both of these locations give the TAB Tyres' team and indeed their customers' easy access to the outlets and the city in general.
Philip spoke to Irish Trucker for this month's edition and he told us about the services that they provide and what sets them apart from their competitors.
"The business was established 36 years ago, I had worked for Advance Tyres for seven years previous to that and decided to set up my own company," revealed Philip.
"Fortunately with the contacts that I had I was able to establish the business and it has grown ever since.
"TAB, through its Managing Director Philip Lynch and highly experienced staff, provide a wide range of services including new tyres for cars, light commercials, trucks, agricultural vehicles and plant equipment. We also provide a wide range of batters for cars, light commercials and trucks, while other services include Laser Wheel alignment, computer balancing, puncture repairs, alloy wheels, breakdown service, 24Hour nationwide cover."
There are four mobile units covering breakdowns and these operate 24/7, 365 days a year and Philip stated that regardless of where a breakdown in Dublin may occur, there was a set fee for all.
"Our vans would also be fully stocked, so there is no need for the drivers to come back to the depot and they can head straight to the customer. Whether it be a tyre or battery issue, we can solve both."
TAB Tyres and Batteries have alliances and partnerships with all the major manufacturers - Bridgestone, Dunlop, Goodyear, Michelin, Pirelli, and can supply all makes of tyres including Aeolus, Apollo, Avon, BF Goodrich, Boto, Chengshan, Continental, Debica, Double Coin, Falken, Federal, Firestone, Fulda, Hankook, Kumho, Maxxis, Mitas, Nankang, Nexan, Othsu, Sava, Toyo, Triangle, Uniroyal, Wanli, Zeetez etc.
They are main dealers for Boto tyres and Monbat batteries and when it comes to price and service, TAB Tyres & Batteries are as competitive as anyone.
In Philip's experience, he believes that paying for a good tyre saves the customer in the long run, even though a lot of people go for the cheaper option of second hand tyres.
"A lot of people seem to think that they are getting a good deal by buying second hand tyres, but they are not. They will only last a quarter of the length that a new tyre will last, which means that they are buying four times as many tyres then they should be."
TAB Tyres give their customers the safety of mind that when buying a tyre, they know that they are getting a good product at a competitive rate.
"We offer the most competitive prices across our vast array of tyres. We don't compromise on quality or safety with any of our tyres and expect only the best from the brands we stock."
Safety is paramount and good tyres on a vehicle are essential in order to avoid any unnecessary accidents.
"As your tyres are the only part of your vehicle to have contact with the road it is important to ensure that they are of the desired level of quality."
Philip added that the experience and knowledge that himself and his team of ten employees can offer is critical to the success of the business.
"We offer our customers a wealth of knowledge and know how, accumulated through 36 years' experience in the business. The motor industry is a fast-paced and competitive industry, which is why we are constantly striving to improve our level of service.
"This is done both through the advancement of technology and by keeping in touch with the changing needs of our loyal customer base. We adhere to the highest safety standards to ensue your vehicle is fully functional at all times."
Each branch is fully set up with high-tech computerised equipment needed for the tough demands of modern motoring.
TAB Tyres & Batteries offer electronic truck wheel balancing, which is a service provided by only a handful of operators.
"We work around the clock to satisfy our customer needs and we have the necessary equipment to suit the customers every requirement. We are continually investing in the business and the employees play a big part in the success of the business.
"Our fitters are very experienced in the commercial sector, some with over 20 years' experience. The size of our fleet allows us to dispatch a breakdown van immediately to minimise you're downtime."

TAB Tyres & Batteries Ltd
Unit 8 Western Ind Est,
Naas Road
Dublin 12
Phone: 01 4565933 Fax: 01 4566489

Additional Location:
North Wall Branch: TAB Tyres & Batteries Ltd
Unit 212, Castleforbes Ind Estate
off Sheriff Street
Dublin 1
Phone: 01 8555699/8555919
Fax: 01 8555919
Taken from Irish Trucker & Light Commercials magazine, Vol 19 No 7, August 2016