Impressive waste fleet getting a makeover
21/02/2017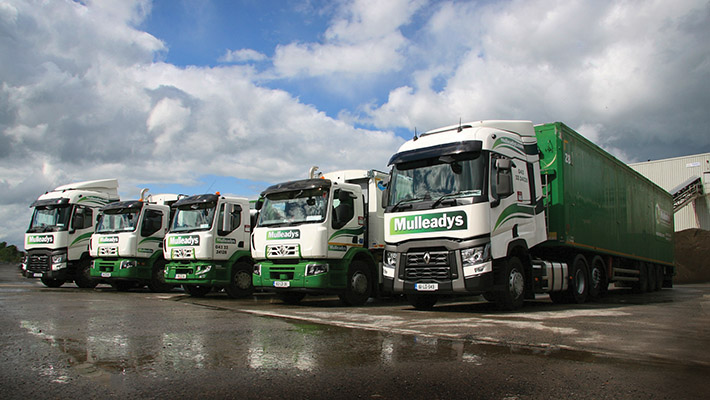 Mulleady's Waste in County Longford took possession of a brand-new Range D skip loader from Renault Ireland on the Long Mile Road last year (January 2016). We caught up with director Niall Mulleady at company HQ in Drumlish and found out that the new acquisition is part of a major fleet renewal programme.

Having kept their powder dry for a number of years, Mulleady's Waste have started to invest in adding new models to their fleet again. At the start of 2016, they collected a new Range D 18 280hp skip loader featuring VBG coupling to pull a double-axle Chieftain trailer. Niall Mulleady says there have been more additions already this year as they continue with the policy of refreshing their 50-strong fleet.
"We're starting to add new units again," he confirms. "It's a case of having to because the garage bills were starting to get too high. We bought a new one last year and will add at least four more in 2016. We're also in discussions about a fifth and sixth one, so we're investing a good bit of money and that will bring the age profile of the fleet down significantly."
Traditionally, Mulleadys have been running a lot of DAF units, as well as some Mercedes-Benz, but they are now opting for new Renaults. "We have an agent here close by, Jimmy Kelly, who gives us an outstanding back-up service," Niall explains.
Between bin lorries, skip lorries, hook loaders, artics and flat bodies with cranes, the Mulleady Group operates some 50 trucks, plus a vast array of trailers including walking floors, ejectors, curtainsiders, flats, water tankers and cement tankers."
Waste wasn't Mulleady's original area of expertise but it has developed into their core business over the past two decades and more, with exceptional domestic and commercial wheelie bin collection services provided to customers across counties Longford and Westmeath (as well as parts of Leitrim, Meath and Cavan) in addition to a wide range of skips for households and businesses, ranging from 4 cubic yards to 12 cubic yards.
Mulleady's also operate civic amenity sites in Drumlish, Longford town and Mullingar, where members of the public can drop off recyclable goods. Roll-on skips are also provided as well as water consultancy and tanker services (removing septic tank waste, waste water treatment sludge etc).
"We've been doing waste for over 20 years now," says Niall. "Longford / Westmeath is our main catchment area and we are just trying to expand within that market. If we can expand inside that jurisdiction and consolidate what we have, we would be happy. It makes more sense to concentrate on customers within your own region rather than chasing markets that are further away."
Waste, of course, has become ultra-competitive – undoubtedly one of the most competitive sectors of all. In order to stay ahead of the pack, service levels have to be of an exceptionally high level. This is an area in which Mulleady's Waste excels:
"We are renowned for our excellent service. We have worked hard to earn that reputation and we intend to hold onto it. We will always pick up the bins, even in bad weather. We realise how important it is to customers to have their waste collected and bins emptied on time, so we fulfil the service and never let anybody down."
At present, Mulleady's Waste provides gainful employment to a team of 75. Within the Mulleady Group as a whole, some 120 people are employed. "We're experiencing a small bit of growth at the moment but this isn't why we've decided to invest in new lorries," Niall continues.
"It's more a case of us realising that we have to replenish the fleet in order to maintain our high service levels. There was very little investment in the fleet for a few years up until 2014 and our garage bills were increasing. Considering that there is also a small bit of expansion, it makes perfect sense to buy some fresher lorries."
The roots of the Mulleady Group go back almost half a century. "The first company in the group started 45 years ago. We started as Mulleady Construction and then started Longford Precast & Prestressed Concrete Products Ltd. before expanding into waste 23 years ago," Niall reveals.
The family business was established by Anthony Mulleady and his late brother Frankie. Both men's families are now involved in the day-to-day running of the group, which boasts its own commercial vehicle workshop on-site in Drumlish. Mulleady Commercials look after all their own vehicles as well as carrying out third-party work on behalf of local operators.
As for the immediate future goals of Mulleady's Waste, Niall says: "Our first priority this year will be to consolidate what we have, to become more cost-efficient and to expand within our own catchment area. Having purchased a facility in Mullingar, we are confident that there is scope for growth in both Longford and Westmeath."
Recycling will remain very much at the forefront of what Mulleady's do. "You try to recycle whatever you can, both for environmental reasons and also to keep disposal costs down," Niall concludes. "There is obviously a cost involved in that, too, so getting the balance right is a big factor. We have already become very efficient and we are running a very lean business but we will squeeze every last drop out of it in order to be as efficient as possible. Ultimately, the goal is to continue to provide a good service and we believe we have the infrastructure in place to do that."

Mulleady's Waste Ltd.
Cloonaugh, Drumlish, County Longford
Tel: (043) 3324128 / 3324145
Fax: (043) 3324731
Email: [email protected]
Web: my.mulleadys.com
Taken from Irish Trucker & Light Commercials magazine, Vol 19 No 7, August 2016